Your First Step to Win Big in the Market
Jan 8, 2020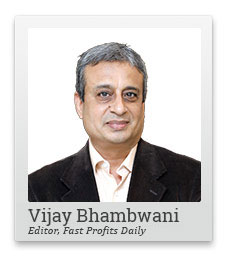 Hi, this is Vijay Bhambwani in the Fast Profits Daily.
Today, I want to talk to you about something very important for a trader: How does your mind play tricks on you?
And what can you do about it?
Is it in your destiny to lose money?
Surely, not!
Then why is it that most traders lose money?
I will attempt to answer this question in today's video. I think understanding this is the very first step to making big money in the market.
I would love to know what you think about this. Let me know in the comments below...
Hi, this is Vijay Bhambwani and I am back with you again to talk about a very important aspect in the market as to how the mind can play tricks on you.
Why is it that people hold on to a losing position only to surrender it right at the peak or in the case of long positions, right as the bottom? It's all because of the mind.
I remember watching the Rambo series in the 1970s and 1980s. It was Rambo 2 in Vietnam that I saw Sylvester Stallone go into the American airbase at Laos and be apprised of all the modern equipment that the American forces have built to kind of infiltrate his erstwhile camp in Vietnam and then he remarks, all this equipment and machinery is fine. I think the mind is the best weapon.
I completely agree. As a behavioural technical analyst, I do completely agreement Rambo that the mind is the best weapon.
What I'm about to tell you is not meant to infringe on your religious or your personal beliefs but this is a study of behavioural science put fought by none other than Charles Faulkner, arguably one of the leading proponents of NLP or neuro linguistic programming.
Charles Faulkner basically says that we, in our professional lives, are nothing but an extension of our personal lives. So how we behave at home, the kind of mindset and personalities that we have, also reflects in our training and our investments.
And how a society behaves at lunch and dinner times, in public eating joints, restaurants, diners, and dining halls etc, the way we watch our movies, the way we basically go out and interact with each other, reflects a lot about us.
He gives an example of how typically Southeast Asians and Southeast Asians are, unfortunately, a little less intellectual because of their lower levels of financial education and more emotional because of a little higher level of superstition and beliefs, personal beliefs.
So, he says, for example, if you were to actually go out there for a movie, assuming that it is the first day first show of a movie and you want to go and see this movie without fail before the movie is houseful, you go a little early and stand in the queue outside the box office with this Rs 100 note in your hand.
Modern day to day life style being what it is, your mind is worrying with 10,000 thoughts about what you want to do after you reach home. Your boss has given you some assignments. If you are a student, what you need to study after you hit home. If you're a parent, what you're going to do for your kids, etc.
And the movie, it is assumed, the ticket is exactly Rs 100 and what you're holding in your hand is exactly a Rs 100 note.
What happens next is if, without realising, you were to let Rs 100 note slip out from between your fingers and by the time it's your turn at the box office, you realise the note has slipped, and you look around and you realise that the note has been picked up by somebody, majority of the chances are you will tell yourself hey, I thought I'll spend Rs 100 bucks on the movie ticket and Rs 100 bucks more on the popcorn and coke. So my budget was Rs 200. Tough luck to me. The Rs 100 note has fallen. What I'm gonna do, is fish out another Rs 100 note from my pocket but I will cut out the Coke and Pepsi.
So still, for 200 bucks, I've seen the movie. Since I've come all the way from home, I might as well see the movie.
Cut out to scene 2.
What if you actually reached the box office. You did not lose the currency note and you are then given the ticket?
Remember, in your eagerness to see the movie and hey, it's the first day for a show. There's a great chance of it being houseful, you actually have to wait outside for the movie hall doors to open and in that case, you're holding the movie ticket in your hands. Remember, it's still that Rs 100, exactly Rs 100.
Because you've reached early, the movie theatres doors haven't opened. You're holding the ticket and you're lost in thoughts about what you gonna do after you go home, you let the movie ticket slip out of your hand and lo and behold, somebody happens to pick it up and walk away. What happens then?
Now this is something that you need to answer to yourself as honestly as possible.
Chances are that in spite of the fact that the financial loss in situation A, where you lost the Rs 100 note, and in situation B, where you lost a movie ticket exactly worth Rs 100, in the second case, you will feel depressed.
You will start to feel that the friend who was requesting you not to go on Friday first day first show because he or she could not come with you, has cursed you.
You will start to think that there is some divine message in your losing this movie ticket because God does not want you to watch that movie or you are not destined to watch that movie.
How many times have you been told, 'Ye mere taqdeer me nahi hai?' It is not in my destiny to do this. Charles Faulkner asks us this question. Where did God, destiny, or divine intervention come into this? Your loss is exactly the same; Rs 100.
If, in the first situation, you could fish out another Rs 100 note cutting out the coke and Pepsi and popcorn, why can you not fish out another Rs 100 note, assuming that the movie is still not houseful and buy another ticket?
This is the difference why people, after having bought a stock, ride it all the way down and at the bottom, start to feel that they are not destined to make money in trading.
Remember, many of us consider trading, or at least the older generation consider trading, equate it with gambling. Believe me, my 80-year old mother still tells me that I'm a gambler because I trade for a living, right?
So I've heard many people say I tried my hand at trading. It was gambling. I lost my money. 'Mera taqdeer me satta karke paise banana nahi hai.'
'Just because I lost 60% of my capital, I'm gonna put this amount of money at 6% interest in a bank fixed deposit and in 10-years' time, I would have recovered this loss and therefore, I will never come to the market again.'
I ask you the question that Charles Faulkner asked you. Where is the divine intervention in this?
Like I said earlier, I do not want to hurt your religious feelings or question your personal belief systems.
But if you are coming to a market which is mathematical and logical in nature, you need to win with mathematical and logical mind sets.
So, by all means, cut out these self-defeating superstitious thoughts and think mathematically about investments and trades, as commercial activity, without any kind of emotional baggage.
This is the first step towards winning big in the market.
It's your mind that matters. Remember, we traders are brain warriors. We fight and win our battles, and we make our money through our brain power. If your brain is cluttered, you cannot win. It's as simple as that.
I'll bring you more videos on the sensitive topic in the near future, depending on your feedback.
In the interim, if you're watching this video on YouTube, do not forget to click like on this video. Do by all means, share it with your family and friends.
In the comments section, do let me know what you think of this video and what other topics you would want me to cover about emotional baggage and behavioural science of trading and investments and do not forget to subscribe to my YouTube channel.
Till then, till we meet again, this is Vijay Bhambwani signing off. Please do take very good care of your mind.
Thank you.
Have a profitable trading day!
Warm regards,

Vijay L Bhambwani
Editor, Fast Profits Daily
Equitymaster Agora Research Private Limited (Research Analyst)
Recent Articles