Your Safe Income Options for 2020
Jan 9, 2020
Editor's note: Dear reader, I thank you for sending me your kind feedback ever since the launch of Fast Profits Daily. I'm happy to report that Fast Profits Daily now reaches over 20,000+ people every weekday before market hours. Of all the videos which have struck a chord, a few have proved to be very popular. This is one of them.
I was convinced by the response to this video that many of you would like to know more about investing for 'income' as opposed to investing for 'capital gains'. So today, I'm sending you this video again and also announcing a free online summit for anyone who would like to know more about income investing. Register for my Instant Income Summit here.
---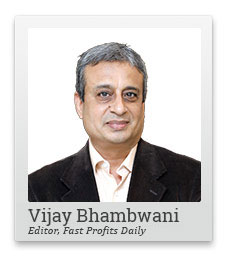 Hi,
In today's video, we will have a look at safe income investments.
If you've a senior citizen or a millennial, it is important that you earn regular income from your investments.
So where can you invest, i.e. what are your options?
In this video, I share my views on this important topic.
Enjoy!
Hi, this is Vijay Bhambwani and I'm back with you today to talk about how senior citizens and traders and investors who believe in asset allocation should be investing in the year 2020.
We have all heard of the old saying, Do not put all your eggs in one basket, which means you must segregate your money and put it into various asset classes so that your income is a) protected and b) gives the optimal amount of return on investment.
This typically means that you must allocate certain amount of money in good quality income yielding paper; fixed investments.
The problem in 2020 as we've talked about earlier, has been that I am expecting a lower interest rate regime, which typically means that for every lakh of rupees that you invest in fixed income securities, your interest component is going to go progressively lower.
Now, this is not exactly very good news, but since we are living in a falling interest rate regime, we have to learn to live with this.
What if you do not really want to take excessive amount of risk because of your risk profile, age or physical health, or any matter? What if you have limited amount of choice?
What we can do is take a look at some of the options available to us.
Number one; the post office savings schemes.
Do you know that the post office is a central government body or an institution and far safer, than even PSBs or public sector banks?
Invariably, your deposits in the post office are offering you are slightly higher yield per lack of rupees invested in those schemes. To make the offer even more attractive, the post office now offers you cheque books online banking, net banking, mobile apps etc to make it at par with any other public sector bank.
You should also consider good quality sovereign investments. Sovereign bonds would be again a good idea.
Here, if it all you want to plan out the amount of money that you would receive at regular intervals, you can resort to what is known as 'laddering'.
Just as a person climbs up step by step higher on a ladder, you can invest in sovereign bonds, which typically give you interest every six months. You can invest in sovereign bonds with a gap of 3 to 6 months, so that the redemption or the maturity of these bonds occurs every three or six or nine or 12 months, depending on how frequently you would want the money.
So, you can stagger your investments by way of laddering so that not only do you receive interest but also principal in a timely manner.
You can also consider Public Provident Fund, or PPF. Here again, you are allowed to invest up to 1 lakh rupees per financial year, on which you will receive 8.3% as we speak, by way of interest free income, which translates to over 12.5% taxable income and this is guaranteed by the central government.
Secondly, to make it even more enticing, this comes under EEE or exempt exempt exempt. So, when you deposit money into your PPF account, it is exempt from tax. The interest that you receive from the PPF account is exempt from tax, and when you withdraw money at redemption or earlier, it is exempt from tax. So, it's a high yielding income investment avenue, which has again got a government backing.
You can also consider very good quality corporate bonds. You have blue chip companies that need to raise money periodically by offering you either bonds or non-convertible debentures. Make sure that these are very highly rated: triple A plus or triple A at least.
Nothing in the world actually comes to a standstill. So irrespective of how much bad news you get out there in the financial markets and media, the static that you basically hear on television, the World Wide Web, or read about in the newspapers, nothing actually stops forever.
Neither will business, trade, and commerce. So good companies will remain. Ss long as you invest in good quality paper of solid companies you will get a higher than bank deposit rate of interest.
I admit that in private sector companies the default risk is higher than sovereign guaranteed bonds but which is why, the interest rate is also higher.
So this is Vijay Bhambwani signing off for now but before I do, let me remind you, if you're watching this video on YouTube, please do not forget to click on the like button, subscribe to my YouTube channel, and do not forget to share this video with family and friends.
Also in the comments section, do let me know what you think about this video and what other topics you would like me to cover in my forthcoming videos.
Thank you and please do take very good care of your investments.
I hope you found the video informative.
If you would like to know about a more profitable income strategy, I recommend you join me on 21st January for my Instant Income Summit.
Have a profitable trading day!
Warm regards,

Vijay L Bhambwani
Editor, Fast Profits Daily
Equitymaster Agora Research Private Limited (Research Analyst)
PS: Join me on Tuesday, 21 January, for my Instant Income Summit. I'll share my strategy (which I've kept secret until now) to make tens of thousands of rupees in income within minutes. This online summit is free to attend. Please register here. I look forward to seeing you there.
Recent Articles