My Latest Stock Recommendation
Jan 10, 2020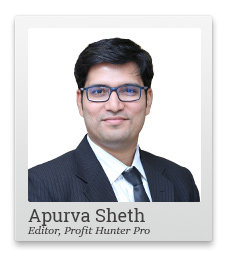 Hi, I'm Apurva Sheth and this is the Fast Profits Daily.
In today's video, I want to talk to you about my latest stock recommendation to subscribers of the Fast Profits Report.
I believe this stock has a potential upside of 50% to 60% in the next 3 to 6 months.
Clearly, I'm excited about this stock...
...and so is Vijay!
Today, I'll talk you through the reasons why I recommended it.
Hi
I'm Apurva Sheth and I welcome you to this brand-new edition of Fast Profits Daily.
Natural Resources.
We're surrounded by them. We need clean air to breathe, fresh water to drink, and good food to eat for a healthy living. Despite this, we ignore these simple necessities of life.
Similarly, in trading as well, natural resources are very important if you want to make money from the markets.
Now, natural resources provide humongous opportunity for profits and that's the reason why you should never ignore them. Now take an example of a bread manufacturer. Can he ignore the prices of the flour at the flour mill or the prices of wheat at the mandi?
Absolutely not. He cannot ignore any of these.
And now, if you were to trade the stock of this bread manufacturer, can you ignore this? It's absolutely not possible because the prices of wheat, the price of flour, and eventually the price of bread which trades in the market, which sells in the market, all three are related to the company's profitability and eventually, this will also affect the stock's price itself.
So, this is a simple example of how each of these things, each of these natural resources are related to the eventual stock price. So now you know the importance of it.
Now, Vijay and I have teamed up at the Fast Profits Report.
Now, Fast Profits Report is a premium stock recommendation service, where Vijay picks out large trends in the natural resources and I pick out stocks based on technical analysis.
So, in this month, the commodity that we have picked his natural gas.
Now, natural gas is primarily a commodity used for heating. Now, as you wouldn't likely know, that the demand for heating goes up in winters and so the price of natural gas also shoots up in the last quarter of every calendar year.
Now, as you will see in this chart out here, the blue arrows which are marked out here are the last calendar quarter of every year. So, as you can see, the price of natural gas normally tops out at the end of every year, and it drops subsequently in the next few months.
So, this is a seasonality in natural gas and seasoned traders like Vijay have identified such trends in natural gas and many other commodities, to trade profitably from them.
Now, how do we, as traders in equity markets, benefit from this knowledge?
So natural gas is a primary component for many of the companies. Companies like fertilisers or specialty chemicals, plastic manufacturers, the gas distribution companies, transportation companies, all these companies, even pharma companies.
So, all these companies use natural gas as one of the inputs in their final product. So, if the prices of natural gas falls, then that would be beneficiary for the producers of these products and the companies which I just spoke about.
So, this month, the stock which I've picked up for my our readers, is a fertiliser company. Now this company derives one-third of its revenues from fertilisers and two-thirds of its revenues from the speciality chemicals business.
Now the stock has been beaten down over the last couple of months and right now it presents a very good entry opportunity. It is currently trading around its multi-month support levels and I see a possibility of generating about 50% to 60% returns in the next 3 to 6 months.
So this is how we pick stocks from the equity markets, which there some or the other way, related to natural resources and that is how you could also find stocks or investments if you want to make a big profits from this market.
So that's all from me for today. I hope you enjoyed watching this video. Now, in case if you did, then please like, share, subscribe to this video and our channel.
Now, before I sign off, I would also like to remind you to sign up to the Instant Income Summit, which will be held on 21st January.
Vijay will be speaking at this summit and registration to this summit is absolutely free. Vijay will be talking about on interesting way to generate income from the markets. So please don't miss it and do sign up for the summit.
So that's all. Thanks a lot and have a nice day.
Before you leave, I have an important announcement.
Vijay has been working on perfecting a strategy to make thousands of rupees in income from the markets on a regular basis.
The income in this strategy is not generated over weeks or months...it is generated instantly.
Vijay has successfully used this Instant Income strategy for many years and will now share it with you.
Join Vijay for the Instant Income Summit on Tuesday, 21 January and he will share all the details of this highly profitable strategy with you.
Registration for the summit is absolutely free.
Have a profitable trading day and a great weekend!
Warm regards,

Vijay L Bhambwani
Editor, Fast Profits Daily
Equitymaster Agora Research Private Limited (Research Analyst)
PS: Join Vijay on Tuesday, 21 January, for the Instant Income Summit. Vijay will share his strategy (which he has kept secret until now) to make tens of thousands of rupees in income within minutes. This online summit is free to attend. Please register here.
Recent Articles