Focus: Power Sector Stocks
Jan 11, 2022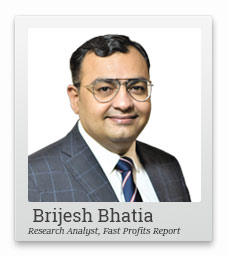 I've made many sector-specific videos in the Fast Profits Daily. They're have been well received. I'm glad you like them.
Yesterday, I shared my view on auto stocks. Today, I'm continuing the sector-specific series by covering power stocks.
In this video, I'll show you why I think you should have power stocks on your watchlist and at what levels you should buy them for fast profits.
Watch the video and let me know your thoughts. I love to hear from you.
Hello viewers. Welcome to the Fast Profits Daily. Myself, Brijesh Bhatia.
Alert: Discover the Makings of Potential 'Crorepati' Stocks from Richa Agarwal
In this video, we will be discussing about the power index. Well, if you remember, power index has seen a stellar rally between August to October or November, where Tata Power was the one which has led a stellar rally from 130-135 levels to around 220-230 levels. And since then, it has gone into the consolidation phase.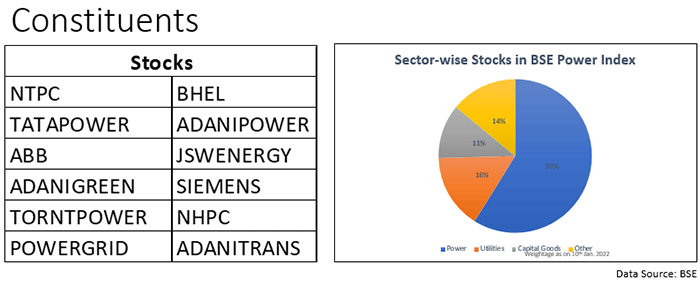 First, let's look at the BSE power index constituents, the stock which are there in the BSE Power Index. The stocks are NTPC, Tata Power, ABB, Adani Green, Torrent Power, Power Grid, BHEL, Adani Power, JSW Energy, Siemens, NHPC, and Adani Transmission.
If you look at the BSE power index, these are comprising of another four sectors. It is largely led by power, which holds around 59%, utilities which hold around 16%, cap goods which holds around 11%, and a few others which hold around 14-14.5%. So the power holds the huge weightage over here, and I believe the power is really on a verge of fresh momentum being built up.
BSE Power Weekly Chart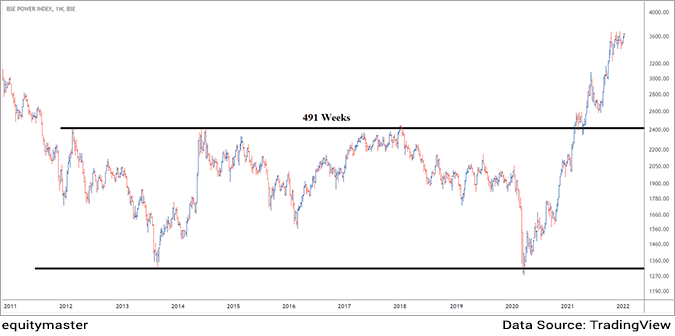 Let's look at the first chart over here, which is the weekly chart of the BSE power index, and if you look at this chart over here, prior to breaking out, it consolidated in a form of a rectangle structure for around 491 weeks.
If I take it into months, it's 113 months of consolidation. Remember 113 is a Fibonacci number and when the price breaks out on a Fibonacci level, they tend give a fast and furious rally. That's exactly what we saw when it broke out in 2021. A rally, a stellar rally from around, 2,400 to about 3,600-3,700 levels. Then it went into the consolidation.
Does it mean that the rally has been fizzling out and it is an end of the momentum? I think, no. Still a huge stem of momentum is left into the rally.
BSE Power Daily Chart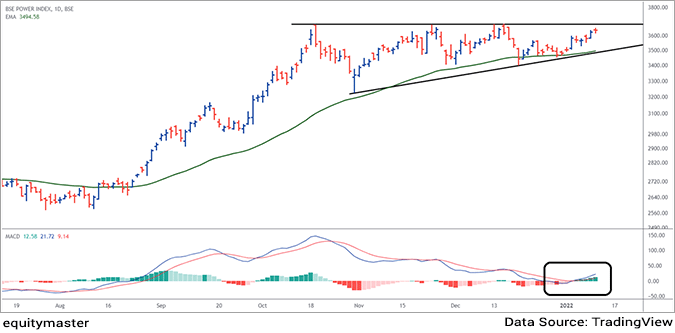 Let's look at the daily chart, which I generally use in top down approach going from weekly back to the daily now. If you look at the daily chart over here, it's been consolidating in a form of a triangle structure.
If you look at the recent lows, which has held around 50 days exponential moving average, which is the lower end of the triangle and it went on the higher level. Now this consolidation is nearly if I look at the trading days, it's around 59 trading days, considering today, and I believe generally the triangle breakout happens around 62 days +/- 2 or 3 days here and there because 62 is the Fibonacci number, where we say 61.8 is the golden ratio.
Considering the 62 as a Fib Time structure, I believe sooner we might break out into the daily chart of the BSE Power Index and for next 2-3 months, this rally can continue. And that's the reason I believe, that focus on the power index for this quarter, which is 1Q 2022 January-March. This can be the strong upside momentum.
Now look at the lower panel for why I think that it is a time that it might break out. If you look at the MACD, which is moving average convergence divergence, the green bars, if you look at the histogram, it has moved above the integer line, which is a sign of bullish momentum. Averages are now giving a positive cross over which is again a bullish momentum.
So believe the price is breaking out of the triangle structure. The MACD is indicating a strong bullish trend. Prices have tested their 50 days exponential moving average and heading higher.
Once it moves above 3,700, the index, which is somewhere trading around 3,645-3,650 levels, I see this momentum going fast and furious towards a 4K level, which is again a 10% gain post the break out, 9-10%. If the index breaks out around 9-10%, we might see stocks gaining a strong upside momentum.
So keep a watch on this power index for this first quarter of 2022. I believe there is a huge trading opportunity once the index breaks out around 3,700.
Signing off, Brijesh Bhatia.
Warm regards,

Brijesh Bhatia
Research Analyst, Fast Profit Report
Equitymaster Agora Research Private Limited (Research Analyst)
Recent Articles