Buzzing Sectors Before Budget 2021
Jan 12, 2021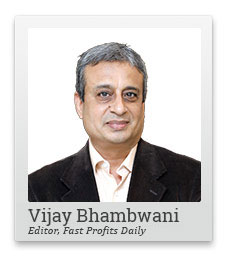 In this video, I'm going to talk about the budget. Specifically, about stocks which will move pre and post budget.
Since the budget is less than three weeks away, I have decided to record a couple of videos on the same.
Consider this as the first in the series of my videos on the budget.
In this video, I'll cover the sectors which would basically see the highest amount of expectation, buying and selling momentum.
Traders have already started placing their bets on these stocks.
Find out if you should too.
Hi, I'm Vijay Bhambwani and in this video, I'm going to talk about the budget. Since the budget is less than three weeks away, I have decided to record a couple of videos touching upon the budget. So consider this as the first in the series of my videos on the budget.
In this video it would be more of an introduction of how the markets behave before the budget. What the sectors would basically see the highest amount of expectation, buying momentum, and slowly we will build up towards how the markets actually behave once the event is over.
This is Vijay Bhambwani, your host for this video. I hope my videos have been helping you become better traders and solving a lot of your queries and sharpening your tools in the market, deciphering the signals of the market better than what you were before you started seeing my videos on this channel. This is your channel for your benefit and we're here for you to help you to become better traders. So keep interacting with us and we are gonna custom make videos to your requests.
JUST IN: Limited-Time Access to Full Transcript of Our Urgent Broadcast on India's Revival
Now, three weeks before the budget, the traders have already started second guessing, trying to basically place their bets in the markets in anticipation of what they expect the budget could possibly do.
The fact that the honourable finance minister, Nirmala Seetharaman, has said that this is a budget which is going to be a budget like never before, has naturally set the expectations soaring. Is this going to be a very populist budget where the government is going to give away a lot of sops and therefore, they trade, industry citizens and consumers are likely to have a party time?
Or is this going to be an austere budget where the government is going to pull up in socks and say, look, this is the time where an average citizen is expected to contribute to the nation's kitty because these are pandemic times and this is the first big pandemic in 100 years, and therefore we have to tax you a lot more.
Between these two extremes is a third possibility of you give some you take some. What will really happen we will only know on the budget day, but as of now, my computer trading screen tells me some expectations that I am witnessing in the budget before the exercise has even been announced.
Remember the old Wall Street saying, 'buy on expectation, sell on news.' This works even for the budget. People normally tend to get emotional before they take financial decisions, although emotion is a matter of the heart and finance should be a matter of the mind.
But invariably, as human beings, we tend to mix up the two, and therefore we wind up making emotional trading decisions. So anticipation based buying is something that I am going to talk about in this budget.
Claire Barnes in her a path breaking book, Asia's Investment Profits, in the very introduction of the book, has written that Asia, unlike Europe and America, is very different ball game to be altogether, where investments are concerned.
Here you are looking at the population, which is relatively less rich, then their Western counterparts. Thanks to information technology, the electronic age and easy availability of audio and video, we see what the West is doing. We aspire to follow the West in their lifestyle, in their expenditure in their earnings and therefore all political endeavours or the budgets, elections, etc are all towards promising a better standard of living.
Like the old saying goes. It's all about money, honey. I myself feel that whatever happened in the financial markets happens for a reason, and the reason has to be financial in nature. So this budget is basically going to touch upon our lives, our finances and what is the market making out of this budget, based purely on the price action that I am seen on my screen?
You know, the markets actually communicate with us. The only thing is that they communicate in the language of numbers, and we human beings understand the language of text better than numbers. I myself wasn't really very great at mathematics in schools, but I just got by. Now here coming in the stock market, I trained myself to understand numbers, especially the ones that are coming on my screen a little better.
So what my screen tells me is that the markets are expecting some kind of sops to the automobile sector, both the commercial vehicles as well as passenger vehicle. So the CVs and the PVs. Maybe there will be something thrown in for good measure, even in the two wheeler segment. So that's what I'm seeing on my screen as I speak to you since the last few days.
Everybody in the last one decade or so has invariably talked about giving a roof on the head of almost all citizens. So low cost housing, housing, construction, real estate, property development is something that is in the top of the mind recall of all investors look at the stocks of real estate shares. You will find them going up steadily since the last few weeks.
If you haven't really joined Equitymaster's Telegram channel, I would strongly urge you to do so for a reason. I put in a lot of research matter out there. At least three post market reports based on in house statistical trading model, which we call the barracuda, which will basically give you a snapshot in numerical form. Very easy to understand, jargon free, clutter free and an eighth standard school child can understand.
So I basically tell you how the sectors are getting rotated every evening. I put up this data if you are a part of the Equitymaster's Telegram channel, which goes by the handle Equitymaster official, you would have seen in the last few weeks how infrastructure, real estate development, property developers and builders, their stocks are moving up. Today, on my screen itself, I am seeing frontline real estate company's stocks are up approximately 12%. No names, please.
Automobiles, like I told you, look at the stocks of passenger vehicles, commercial vehicles, even two wheeler stocks in the last couple of trading sessions. You see what I mean?
The third thing that we basically have seen since the last couple of decades, if not decades, definitely a decade or more is that there is almost an expectation, it's taken for granted that there would be a sin tax. By sin tax, I mean additional punitive taxes on those items, which the government does not want us to consume.
You see taxes are means of the government nudging you into either doing something which it wants you to do or stop you from doing something which they do not want you to do. So by giving tax breaks, for example, section 80 cc. When the government announces higher exemption triggers under 80 cc, they are basically nudging you into saving more money because you will save more taxes and by imposing sin taxes or consumption taxes on certain items for example, sugary, aerated drinks, ice creams, alcohol, cigarettes, they're basically stopping you from consuming those items.
So look at the share prices of tobacco companies. Some alcohol manufacturing companies portable alcohol, I mean daru, booze, you'll see those company's stocks basically getting the jitters because traders are anticipating, Oh my God, here comes one more tax hike.
So these are expectations that I am seeing on my screen as we speak. The third one is that food is always a rising need of the government. Our population is growing. Maybe the population growth statistics have slowed down, but our population is growing and remember, we have something called National Food Security bill. Two thirds of a population has been assured of either affordable or good quality meals at reasonable prices.
Which means that farmers have to be given fertilisers and subsidised rates, which means the fertiliser stocks keep going up in anticipation of further sops, further incentives, tax cuts, call it what you want, call it what you want, but this is another sector which I am seeing where there is a buzz around their shares in the last few trading sessions.
The other sector that I am seeing some amount of buzz is the generic pharma stocks. Health for all. Affordable health for all is even better. So maybe some generic drugs, especially the ones that we used day to day, some even life-saving drugs etc, there is always an expectation from the traders in the market before the budget that the government would try to give its citizens more affordable medication and healthcare. So you will basically see these stocks which are into generics and life-saving drugs at affordable cost, their share prices in this sector going up.
These are observations that I have seen from my trading terminal so far into the budget. Remember, this is first in the series of my budget videos. More coming up in the immediate future. On this promising note, I bid goodbye to you in this video not before requesting you, if you are watching this video on YouTube, please click like on this video, if you agree with what I said.
Subscribe to my YouTube channel, if you haven't already done so and click on the bell icon to receive instant alerts about new videos being uploaded. In the comments section, do let me know what you think about this video and what you would want me to record next. I'm waiting patiently to hear from you and help me reach out to fellow like-minded traders who are looking at knowledge based investments and trades by referring my videos to your family and friends.
Have a very, very profitable day and take very good care of yourself, your health, your family, your investments, and trades. Vijay Bhambwani signing off for now. Thank you for watching. Bye.
Warm regards,

Vijay L Bhambwani
Editor, Fast Profits Daily
Equitymaster Agora Research Private Limited (Research Analyst)
Recent Articles