Time to Buy Energy Stocks
Jan 12, 2022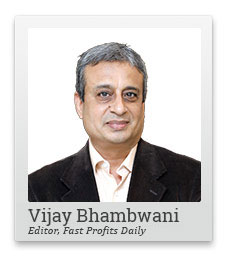 I usually don't do sector specific videos but this time I want to make an exception.
The charts are telling me energy stocks are all set to take off and I believe you should take full advantage of this opportunity.
In this video, I'll show you why it's the right time to start investing in energy stocks.
Watch the video and let me know your thoughts. I love to hear from you.
Hello friends. This is Vijay Bhambwani here.
I hope you're staying safe in this pandemic and markets are treating you well. I also hope my videos are helping you decipher the signals of the markets better, and you are able to make more money out of your trades and your investments.
Alert: Discover the Makings of Potential 'Crorepati' Stocks from Richa Agarwal
Friends, last year I recorded a couple of videos which were sector specific, and I covered the hotel industry, I covered the sugar industry, and I covered the alcohol industry. Now in this video, I want to discuss a growth prospects and therefore investment opportunities in a sector that's basically likely to shine and give a good deal of return on investment to the patient investor. Remember, I'm talking about investing and not about trading.
You see, the year 2022 is likely to see people getting more and more outdoors because the kind of initial shock and all that we saw the covid pandemic in the year 2020 is unlikely to be there. So there is going to be a pick up in the manufacturing sector. There's going to be pick up in transport, pickup in convenience, and travelling and outdoors activity, all of which requires power. All right?
And we are seeing how crude oil and natural gas are getting pricier, which means power companies are likely to raise tariffs. They are going to pass on the kind of rate hikes and input costs on to the consumer and the demand for energy is likely to remain in elastic, inflexible, non-negotiable. Which means people will have no choice but to absorb higher rising, progressively rising costs. This means most of these companies should be doing well.
Now, in this video targeting the NSE Energy Index, the Nifty Energy Index, please do not mix this up with the NSE Oil and Gas Index. Both are different in their composition. They're unique and they stand out due to their weighted stocks that they are formed off. So I am referring to the NSE energy index.
How well has this index done? That can be gauged from the fact that it saw a low of 9,750 in the last week of March 2020. That's when the lockdowns were imposed and they saw a high of, this index saw a high of 25,343 in the last week of October 2021 which is less than one quarter away and it's not that this index is too far away from that peak. It's within a whisker's distance and it looks like it will hit and break out into new highs in a very brief period of time.
Now, this index is basically comprised of 10 stocks which are calculated on a free float method basis, and this index was launched on first of July 2005. The base date that it takes his first of January 2001.
How have the returns been? Now one year returns have been 38.38%. I'm talking of total returns. Fantastic a kind of return on investment. Over the last five years, 20.16 and since inception, 18.83%.
Now, how volatile is this index? If you are even slightly statistically inclined, you will understand the concept of Beta. Beta is pure price volatility. Now this index over the last one year has seen a Beta of 0.92 versus the Nifty where one is the base. Over the last five years, it has been enjoying a Beta of 0.94, and over the last 17 years since inception, it has a Beta of 0.96, where one is the base.
So what we can very clearly see is that this index is not as volatile as the Nifty. If you are an investor, you basically want an instrument that is comprised of stocks that are not as volatile as others in relative comparison. So the volatility metrics is a clear advantage.
Now, correlation coefficient, which means how often does it move in the same direction as the Nifty? Over the last one year, it's seen a correlation coefficient of 0.73, where one is the base. Over the last five years 0.78, and over the last 17 years or so 0.84. Which means it need not fall with the Nifty, and therefore the correlation tends to be loose.
Why do I feel that this index has the ability to remain an outperformer and the composite stocks that it is made off can give higher than average returns? Now for that, we basically open the hood and check out as to what the engine inside looks like.
Now those 10 stocks that this index is made up of are Reliance, highest weightage in the index very clearly at 32.83%, Power Grid, 11.65%, NTPC, 9.86%, ONGC, 8.66%, Tata Power, 6.24%, BPCL, 6.14%, Indian Oil Corporation, 4.73%, Gas Authority of India ltd, 3.92%, and of course, the Adani Twins, Adani Enterprises and Adani Power.
Now that you've seen that the stocks that they're very heavily weighted in this index and have outperformed the markets by a long shot, are Adani Enterprises, Reliance Industries, Tata Power, to a certain degree BPCL and Gas Authority of India ltd also and these are all companies that are dealing in energy where the demand can only rise over the next 1, or maybe 2 to 3 years also.
Which means I'm not really concerned about the returns on investment, unless something really, really unexpectedly negative comes. That's a risk that we always have to take. But out of all the kind of weighted stocks that I did mention, I do feel that the relative outperformers can be Reliance Industries, Tata Power, BPCL, and Gas Authority of India ltd.
So, friends, I would suggest you take a long term exposure onto this index and the weighted stocks that I did mention amongst them. Of course, these are not short term intraday trades, but these are something that you buy, nurture, and hold over the longer period of time, because that's when the returns will start to kick in.
On this optimistic note, I've bid goodbye to you not before reminding you to click like on this video. Subscribe to my YouTube channel. Click on the bell icon to receive instant alerts about fresh videos being put up out here.
Good, bad or ugly, I always look forward to your feedback in the comments section, and please help me reach out to fellow like-minded investors and traders by referring my video to your family and friends.
I wish you stay safe and very profitable in the markets. Thank you for your patience and watching my video. Till we meet again in my next, this is Vijay Bhambwani signing off for now. Take care. Bye.
Warm regards,

Vijay L Bhambwani
Editor, Fast Profits Daily
Equitymaster Agora Research Private Limited (Research Analyst)
Recent Articles