Critical Update on Our Latest Trade
Jan 13, 2021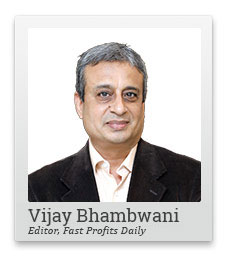 Trading commodities is not an easy task.
There are many permutations and combinations, imponderables, and unexpected data to contend with.
Unexpected events can effect our trades at any time.
One such event has effected our latest short sell trade in natural gas. It goes by the name of 'Polar Vortex'.
You may or may not have heard about it but it is so important that the markets have taken notice...and we must too.
Allow me to bring you up to speed...
Hi, this is Video Bhambwani here, and this video is specifically about an update on what's happening in natural gas.
Friends, similar to a video which I recorded on 23rd of December wherein I advocated that we should not short sell crude oil, which has proved to be correct because the Saudis have recently at the GCC meeting announced a surprise output cut of one million barrels per day.
This, of course, was not known to me when I recorded that video on 23rd December, but for the reasons that I have specified in the video that we should not be selling crude oil, which has turned out to be very prescient.
Free Signup: The Smallcap Fortunes Summit
Now I have made videos right from December 2019 about how natural gas is cyclically as per my cash calendar, a good short sell around winter-time say, Christmas to New Year time, especially since the vernal equinox results in a steep decline in gas prices.
Unfortunately, we commodity traders have a whole lot of permutations and combinations, imponderables, and unexpected data to contend with. Call these occupational hazards for a want of a better word.
So if, like in 2019, we had the unexpected and without any warning, any kind of a pre-emption of any strike as such when Khurais and Abqaiq facilities were bombed by drones in Saudi Arabia. Oil prices shot up. We also had to encounter a lot of volatility in oil prices in January 2020 when Major General Suleiman of the Iranian army was killed by drone attacks.
Similarly, we have had problems in the hurricane season in 2020 with our natural gas trading because historically, hurricane season tend to basically wind down by September every year but in 2020, this season extended up to November. The hurricane activity was the highest in 116 years. That's right, in almost one and a half century of records that the US Hurricane Centre and the Meteorological Department has.
This is something similar to the hurricane season, only thing is that it has come as unexpectedly as the killing of major general Suleiman or the bombing of Khurais and Abqaiq.
You see, every year in the Arctic Circle, we basically have gusts of warm air, which breaks apart the formation of cold air, which is typically localised over the Arctic Circle. This disrupts the clouds of cold air and pushes it southwards by North America of course, because it is closer to the Arctic Circle, than we are as Indians closer to the equator.
So North America, Canada etcetera, feels the chills as and when these cold air formations break apart from the Arctic Circle and head south over Canada and the US. For example, in 2019, when the polar vortex occurred over the US for a brief period of time, the temperatures and Chicago, can you imagine, temperatures in Chicago fell to levels, which are seen on the North Pole!
That's colder than what you and me as average Indians are used to. This year around, the disruption in the weather has been so extreme that the temperature in the Arctic Circle has shot up. This might come to you as a surprise, has shot up from minus 92 degrees F to plus 8 degrees F. Obviously, the formations of cold air, which was fused together, is splintered.
Just like you have a lake which is basically solidified and once the summer comes in, the ice starts cracking and breaking apart, this formation of air has started to break apart. Meteorologists in America, and scientists together have discovered this process and suspected this to be a full-fledged polar vortex only on fifth of January 2020. That's about six days prior to me recording this video.
Now this polar vortex is a direct result of global warming. Since the last 30 years, the Arctic Circle temperatures have been rising at twice the speed of what they used to be earlier. Now scientists are calling this phenomenon arctic amplification, which means escalation of the rising temperature, which is sending out cold waves across the US and Canada and therefore disruption in the climate.
Now, what had happened this year is that there are chances that the polar vortex or the gusts and formations of cold air my just splinter into two. One of the legs would go over the US and Canada and the other could head over Europe.
Remember, we are talking about the weather and like the typhoon in Hong Kong about which I made a video it actually fell flat and did not hit the mainland and cause as much damage. Remember, I also recorded many, many videos about how many tropical storms failed to become full-fledged hurricanes and petered out in the mid ocean itself.
So whether this vortex will actually cause a lot of hardship over Europe and the US, we have completely no way, no clue of knowing with certainty. We cannot put a finger over this event and say, I can predict the weather. I seriously cannot.
But what it has resulted in is a spike in natural gas prices to the extent that Japanese have started grabbing hold of LNG liquefied natural gas cargoes at whatever price is they can lay their hands on.
Also do remember, that this year the financial markets have been unusual. It's a very polite way of saying crazy. The markets have been crazy this year because of all the unbacked currency that's been printed this year. Asset prices are flying off the kilter.
Any and everything has been is being bought, and especially if something hasn't moved, people perceive that to be basically undervalued and are therefore grabbing things with both hands. Think of how the Nifty or any other stock that you want to talk about, which is based in the Nifty or in the Sensex. See how they are jumping up.
So whether the polar vortex is likely to escalate or it will peter out or might just cause a temporary chill over the US and Europe, we have absolutely no way of knowing.
But financial markets talk to the trader and in this case, I to urge you to see the prices in the three futures series that are available to you on your trading terminal. Once you see the difference in prices, it will become clear to you why Vijay Bhambwani has been telling you to stick to a particular series or a particular expiry. It will then become very apparent to you that the polar vortex is also something which is factored into the expiry dates. This is the markets way of saying that any untoward situation will therefore be adjusted in the cost of carry or the rollover costs and the differential between the three expiries.
I am keeping my years to the ground, and I might advocate corrective action if and when it is required. This is something that Weekly Cash Alert subscribers have been receiving in the morning mailers have been telling you that this year's volatility in natural gas has been completely off the charts, and this kind of volatility is not something that veteran gas traders have witnessed in the last few years.
Unfortunately, we have this polar vortex now to contend with. No matter. We will basically take prompt corrective action as and when needed and if it all needed. I am keeping my ears to the ground. I'm watching out on your behalf.
On this assuring note, Vijay Bhambwani signing off from this video not before reminding you if you like this video please click like and subscribe to my YouTube channel if you haven't already done so and click on the bell icon to receive instant alerts about fresh videos being uploaded here.
In the comments section, do let me know what you think about this video and what you would want me to record in mind next. Also help me reach out to like-minded investors and traders by recommending my videos to your family and friends.
Do take very good care of your health, your family, your investments, and trades. Have a very, very profitable day. Vijay Bhambwani signing on for now. Thank you for watching. Bye.
Warm regards,

Vijay L Bhambwani
Editor, Fast Profits Daily
Equitymaster Agora Research Private Limited (Research Analyst)
Recent Articles