Should I Change My View on Crude Oil Prices Now?
Jan 14, 2020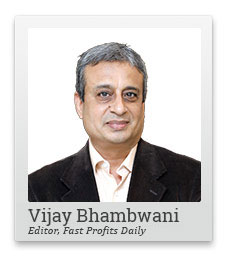 Hi, this is Vijay Bhambwani coming to you in the Fast Profits Daily.
Today's video has been pending for a while. It's about time you know where I stand on my views on crude oil and natural gas after the recent tensions between the US and Iran.
Should I maintain my view or is it time for a re-look?
Find out in the video below!
Hi, this is Vijay Bhambwani and I'm back with you again to talk about a subject that I had promised you, I would cover up again. The outlook on crude oil and natural gas.
A lot of water has flown from under the bridge after third of January 2020. On Friday, Major General Qassim Suleimani of the Islamic Republican Guards Corps was killed by the US drones in Baghdad.
Expectedly, crude oil prices along with natural gas spiked up. There was clear panic in the oil and gas markets, more in the oil markets than gas markets, about supply side disruptions.
So does my earlier view of bearishness on crude and natural gas still hold true?
I would say, yes.
As a matter of fact, I believe that the crude oil price, which spiked up, fell much more faster that the price declined after the Saudi Aramco drone attack in September 2019.
What is actually happening is that there has been a sea change in Saudi Arabia after the Saudi Aramco IPO. It is now a listed entity with some small holding of shares in public hands. There's accountability and there's public money at stake.
The stock price of Saudi Aramco cannot really be allowed to fall too much. The reason is, as I specified in my earlier video, that the Saudis will need to mop up a far bigger amount that they moped up in the Aramco IPO to the extent of US$ 25.6 bn, by way of fresh bond sales, in order to redeem their existing bonds, and use money for their infrastructure and social welfare spending.
The Saudis are actually egging on the Americans not to escalate the issue, so that the region may have its calm and quiet back again.
After the Iranians hit back at the Baghdad airbase occupied by the Americans after Major General Qassim Suleimani's funeral, it would seem that the scores have been settled.
Will Iran hit as the Americans again?
The mathematical probability of what I understand that the ground level says, that an outright military attack seems to be a low probability affair.
Even if the Israeli government, led by Benjamin Netanyahu, who's Likud party is known to have a hard line anti-Iranian outlook an election manifesto, has been sabre rattling about pulverising Iran.
In spite of that, I think this war between the Iranians on one end and the Israelis and the US on the other, will be a shadow war.
You see, Iran, in the last few years, has mastered the art of cyber-attacks.
My gut feel is that Iranians will use the low-cost warfare afforded by cyber-attacks, rather than conventional military weapons. Which means majority of the attacks that will be conducted on Israeli and American organisations, may not even come out in the public domain.
Which means that the oil and gas markets will not really feel the ripples or the shocks of this confrontation.
Let's also not forget that the Saudis, clearly the biggest influencing members of the OPEC, need to collect more than US$ 32 bn by way of fresh bond sales.
So financial and capital market considerations are actually bringing peace to the Middle East, where the absence of stock markets or listing of this public entity, in the absence of which there was a whole lot of animosity.
Development of this financial market is actually leading to peace. So I am optimistic that my outlook, which I have been laying for since a few months now, that oil and gas prices are likely to head lower.
Gas is somewhat of an outlier here because Iran is one of the top three exporters of high grade natural gas. If at all it wants to disrupt anything, the probability of disrupting natural gas is slightly but mathematically, higher. Which is why you're seeing natural gas prices not declining as fast as oil prices.
But over a period of time, as I have laid out in my earlier videos, once the winter starts to recede in the western countries, even natural gas prices are expected to go down.
Let us not forget that there is a huge pipeline being built from Russia to Germany. The Israelis themselves are building a gas grid of their own to ensure continuous energy supply. Which means there is going to be a glut or an excess supply of natural gas, starting in the second half of 2020.
All and all, I would say that my blueprint still remains in place and nothing really has changed much, apart from the fact that you might see some amount of sporadic friction emerging on the geopolitical front and therefore some minor spikes here and there.
But the larger blueprint remains in place.
This is Vijay Bhambwani signing off for now but not before reminding you to join me on Tuesday the 21st of January for my Instant Income Summit, which is absolutely free to participate in.
And before a sign off do not forget to click like on my YouTube video. Subscribe to my channel and share this video with your family and friends.
In the comments section, please let me know what you think about this video and what topic you would want me to cover in my next video.
Do take very good care of your investments and trades. This is Vijay Bhambwani signing off for now.
I hope you enjoyed today's video. I'll be back again tomorrow in the Fast Profits Daily.
Before I go, I would like to remind you to join me on Tuesday, 21 January for my free online Instant Income Summit.
Have a profitable trading day!
Warm regards,

Vijay L Bhambwani
Editor, Fast Profits Daily
Equitymaster Agora Research Private Limited (Research Analyst)
PS: Join me on Tuesday, 21 January, for my Instant Income Summit. I'll share my strategy (which I've kept secret until now) to make tens of thousands of rupees in income within minutes. This online summit is free to attend. Please register here. I look forward to seeing you there.
Recent Articles