How to Profitably Trade Futures
Jan 16, 2020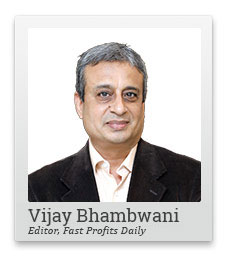 Hi, this is Vijay Bhambwani in the Fast Profits Daily.
Today, I want to talk to you about a topic which many of you have requested: futures trading.
The futures market is exciting because you can make big profits at a faster pace than the regular cash market.
But you could lose your shirt if you don't know what you're doing!
So here's a primer for you. I've stuck to the basics in the video. I believe this is the non-negotiable info you need to have if you're going to trade futures.
So let's get straight to it!
Hi, this is Vijay Bhambwani and I'm back with you again in this video to talk about something that a lot of my viewers have specifically asked about.
Hey, guys, keep your feedback coming. It keeps us going and motivated to do better and better for you.
A majority of the viewers have sent me messages asking for more videos on derivatives.
Since derivatives per se is too massive a topic to cover totally in one video, I think I'm gonna split it over the next few videos.
So today I am going to tell you about futures. I'm sure futures is where a lot of activity is concentrated and this is what excites a lay trader or an average trader or even a professional one as compared to options. We will, of course, touch upon options at a later date.
How do you actually go about choosing what individual stock or the index and what are the nuances of trading the future?
How do you treat a future as a tradable instrument and what separates it from a delivery based investment into the underlying asset?
First of all, what we all know is that futures are a fixed market lot as determined by the exchange and SEBI.
For example, the Nifty futures, which is the future of the Nifty 50, the 50-stock index, has a market lot of 75 units.
State Bank of India, on the other hand, a future of which the underlying stock being the cash market shares of SBI has a market lot of 3,000 shares.
So the amount for the number of shares that you want to buy in futures can never be determined by you. It is predetermined and therefore, rigid.
On an average, you will be paying a margin of 15% to 16% on individual stock futures and approximately 10% on index futures, which is the Nifty and the Bank Nifty or the Nifty Bank, as it is now known.
Is the margin constant? Not really.
In addition to the span margin or the initial margin, there is also an exposure margin.
The market wide position limits, which is the actual exposure in futures and options as compared to the maximum permissible limit, is known as market wide position limits. So if at all, the market wide position limit crosses 60% of what is totally allowed in that particular future, the exchange starts to raise the margin on that particular security.
Obviously, when the margin goes up, the traded turnover tends to fall a little. You need to keep this practical aspect in mind before actually committing funds into the future.
A lot of retail investors make the mistake of looking only at the chart or looking only at the screen and then taking a decision based only on the price.
When you are treating trading as an income and trading as a business, you need to take care of all particular aspects, including the financial outlay, your stop losses, your capital protection, your capital management, and keep a cushion amount of money, just in case there is any escalation or increase in the margins.
This is not even counting the notional loss, which is the mark to market loss, that you have to pay to the exchange.
For example, if you were to buy a future at Rs 100 and if the price at the end of the day was to close at Rs 90, and you have not yet squared it up, you still have a notional loss of Rs 10.
Unless you the Rs 10 before the market opens on the next trading day, the broker is supposed to square up your order at a loss, and stop your trade out there.
So you need to look after the finances. If it all you're going to trade any future, make sure that the market wide position limit in that stock is either way below 60 in case your funds don't allow you any kind of a capital outlay in the future.
Secondly, the margin will progressively rise from 60 to 70, 70 to 80, and 80 to 90. Once the market wide position limit crosses 90%, no more fresh exposure is allowed in that future. So that security goes into a ban period.
For this particular reason, you must always be aware about the market wide position limits. If it all you are overlooking this point and getting into a future which already has a MWPL or market wide position limits of 89.5% and after you enter into that derivative contract, you're locked... because once you get out of that contract and you try to get back in, the exchange will not allow you.
There is a stiff penalty for putting in fresh trades, if it all your system allows you to put in a fresh trade that is, and you will lose more money to penalties than trading profits.
Now, these are subtle nuances which professional traders know. Unfortunately, retail investors miss out on this point.
Where do you get this data?
Number one, you get it on the exchange website.
Number two, as per SEBI, each and every brokerage firm is supposed to have a website and not only give you a market wide position limit and the span margin and exposure margin payable on each and every stock but this data should be available at least one hour before trading begins on any routine training session.
So between eight and nine am spend time on nothing else but monitoring these financial aspects of the market because these will determine how volatile the underlying security, including the derivative contract of that particular stock, index or currency, commodity, etc, will behave.
These are not points that will show up on your technical analysis charts. These are not points which will show up on your screen or your snap quote window but they definitely exist.
Overlooking this aspect of the market is like trying to cross the street with your one eye closed. You can't do that. You suddenly feel very uncomfortable because your three-dimensional view, has now turned into a unidimensional view.
But how many traders are actually taking a three-dimensional view and checking the financials of their trade and not just the price?
I agree in Hindi, it is said, bhav Bhagwan hai, which means the price is God in the market, but to be able to take care of the price, if the trader is supposed to fork out an excessive amount of money, believe me, the volume on that futures contract will be extremely poor.
Which brings me to the liquidity of the contract.
On an average, we do not get into any futures contract which does not have an average traded volume of at least 3,000 lots in a routine trading session, at least in the last five proceeding sessions.
In the case of commodities, I want at least 20,000 lots. In the case of currencies, it's not really a problem because the USDINR witnesses anything between 15 lakh lots to 25 or even 28 lakh lots being traded.
But if it all you were to take any exposure into the other smaller traded currency lots there, the Japanese Yen v/s the INR is very thinly traded, which makes the volatility extremely higher.
What happens if you were to get into a contract in which, say, for example, a stock future in which 3,000 lots are not traded in any trading session?
That difference between the buy and the sell price will be very, very wide. Which means that you're actually enriching the market maker or the market forces, by playing paying a huge spread and therefore cutting down on your take home profits.
I am sure this is not something that is available out there freely in the public domain but we at Equitymaster, want to look after your interests like nobody else can.
I am going to cover more and more aspects of futures trading in my next videos.
But before I sign off for the day, let me remind you to please click on like button on this video if you're watching this on a YouTube channel.
Please feel free to share this video with your family and friends and in the comments section, let me know what you think about this video, and what further topics you want me to cover in my forthcoming videos, so I can help you trade better.
I also remind you to join me on 21st of January at five pm on Tuesday in my Instant Income Summit, wherein I will disclose my secrets to trading an exciting new product.
See you there on 21st Jan. Five pm.
Vijay Bhambwani signing off for now. Please take very good care of your trades and investments.
Thank you.
I hope you enjoyed the video. Rest assured I'll publish more videos like this simplifying not just making money in futures but in options too!
Stay tuned and have a great trading day ahead.
One last thing...
I would like to remind you to register and attend my free online Instant Income Summit on Tuesday, 21 January, at 5 pm.
I've been blown away by your response. More than 11,000 people have signed up so far!
At the summit, I'll share my secret strategy - which I've used for many years - to make regular income from the markets... all without buying or selling even a single share.
I'm excited and I hope to see you there.
You can register for free here.
Warm regards,

Vijay L Bhambwani
Editor, Fast Profits Daily
Equitymaster Agora Research Private Limited (Research Analyst)
Recent Articles