What Poker can Teach You About Trading
Jan 18, 2022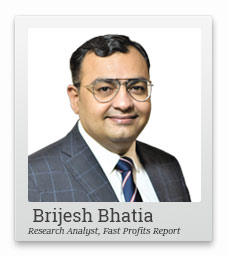 In today's video, I'm covering an interesting topic which might be surprising to some of you.
I visited Goa recently, and as is the custom there, I visited the casino.
I played poker and picked up 5 important lessons we traders can learn from the game.
Yes, a casino game can teach us a lot about trading stocks.
Watch the video and let me know your thoughts.
Hello viewers. Welcome to the Fast Profits Daily. Myself, Brijesh Bhatia.
Well, recently, in December 2021 I visited Goa with some of my college friends and when you are in Goa, a must visit is the casino, and we visited the casino, and we played poker over there.
So there are many similarities between trading and poker and the 5 lessons which I learnt while playing poker, I want to share it with you. So let's look at it one by one.
Before The Price Hike: Lock In Hidden Treasure at 50% Off Its Current Price
First is, be a risk manager first. Well, most of the traders, most of the players in poker focus on the rewards. But the most important point is when you manage your risk and the most is when you play poker, most of the people fold their cards because they think that the cards are not likely to make money.
That's the exact way a trader should look at it. If you think that your trade is not giving you money, is it slightly higher risk? Try to fold the trade, which means that you exit the trade when you are long or short, if it is that the trade is being a slightly higher risk and is not giving you money.
Second is leave your emotions at the door. It's the most important part. One incident which happened and I would like to share it. One of the players when we were playing had a triple two, a sequence of 2, 2, 2, and he was playing in the emotions that okay, this is a series and might win money for him, and there were emotions on his face when we were playing. But this was unlikely for the other players. We had being folding our cards because we didn't have much.
But one of the players who was playing with him was taking a risk, and there was a single number difference. The series of twos the player had, the other player who won had a series of 3, 3, 3.
So it was the emotions that he was showing that he had a slightly bigger card or probably was betting a slightly higher in the emotions. So I think emotion should be kept at the door when you are trading in front of screen.
So look at the trades where your conviction is very, very much higher and don't be in an emotion or in a hope I would say that your trade will give you money and hold on. There are chances that you might miss some of trades over there if you are holding on to the emotions.
Patience is the key over here. As I said emotions play when you are holding onto your trade, and sometimes it happens that you lowered down your stop losses saying in case you plant a stoploss somewhere around 1,000 and it went to around 990. You think that ok, I'll wait for 970. That's the emotions.
But when your trade is in the money patience plays a key important role and the highlight over here, which I think was pf patience, was because one player which was sitting on the table for nearly a couple of hours, he was just looking at the cards or playing on the cards, where he think that there could be the opportunity of making money. And the cards which were not good on the first hand, he used to fold out.
So again patience for him was key. Sitting for a couple of hours, though he might have played around 3-4 games. But the 3-4 games he played, made a huge chunk of money. So patience was a key important role, I think in trading as well. So let the trade come to you. Don't follow each and every trade. The trade set ups will come to you. Go with that trade and the patience plays a key, important role over here.
Treat it like a job. There were a couple of players whose main stream of income, was playing from the casinos, making more money from the casinos. Similarly in trading, people believe that this is my passive income. I can risk a slightly higher. I would say, treat it like a job where you are working from 9 am to 5 pm in the office, giving 100% over there. The work load which you have, complete it in your set timelines.
Similarly, if you are taking trading as an avenue to make money, treat it like a job and give your 100% to trading so that you make money out of it. Generally it happens that ok, I'll stay in the hope that I am getting a salary of say, x, y, z money and I'm okay with holding on to my trade. If there are losses, I'll pay M-T-M and all that stuff. Don't do like that. Manage your risk and treat it like a job because at the end of the time, there is a timeline in your job to complete the work.
Similarly, if your trade is not giving you money in a set timeline, I think it should be an exit and look for a new trade and patience again plays an important role.
The most important, which I think was the last one. Don't react and make it big make when you have a series of three aces. One of the member had these three cards. Three aces. I remember the way he was playing. I remembered the Wykoff theory. Richard Wykoff was the one who initiated this theory 100 years ago. I guess in the 1920s somewhere. He initiated a theory that when the smart investors are buying the stock, retailers don't come to know, get to know about what the stocks they are accumulating.
Though now we are into the computer age in front of screens every day, you have the proper way. At that time there was no daily data. Even the Wall Street Journal used to print on a weekly basis, The weekly data was printed in the paper. When the smart investors or institutions accumulate the stocks, these people don't know.
Still, the major learnings from that player I had was even though he had three aces, there was no reaction from him. He was adding the bets slow and steady. Slow and steady. That's the key important role as per Wycoff theory as well because Mr Richard Wykoff has clearly mentioned when you increase our stake at one go, say, for example, daily average volume of the stock is around 10,000 shares and at one go you want to buy around 30,000 shares, then either you have to take prices at 20-30% higher and accumulate each and every quantity, or you add in a staggered manner so that your price doesn't get hit.
The player who played with three aces, he was increasing betting by around, say, Rs 1,000, 1,500, Rs 2,000, he didn't bet at on go of Rs 10,000. The reason here, I want to highlight is to increase your bets slow and steady. The other players don't realise that you have three aces or one of the best cards on the table. If that happens, he might think that ok he has the best card, I have to fold down in case I lose the money.
But if you increase in a staggered manner, he believes that the opposite side of the player, he believes that I am taking a slow and steady risk over here. The player who had three aces was slow and steady accumulating the money or taking the money from the other players on the table.
That's what happens when the smart investors buy. They buy in a staggered manner. It might be an accumulation which might take weeks and months or years because depending on the average daily volume, the retailers don't realise that accumulation is slow and steadily happening.
That was the biggest take away for me. Even though you have the best of the cards in your hands, you should not react in front of the other players on the table so that they get into the panic and fold their cards. Even if you had 3 aces and you are not making money it's a foolish thing.
So this was the learning for me or the 5 learnings from poker for a trader and you should definitely think on these lines when playing poker or trading. Before I sigh off, my colleague, Rahul Shah, is coming up with the Lazy Millionaire event. In case you haven't subscribed, click this link to subscribe.
Signing off, Brijesh Bhatia.
Warm regards,

Brijesh Bhatia
Research Analyst, Fast Profit Report
Equitymaster Agora Research Private Limited (Research Analyst)
PS: To learn how to get started on the path to become a millionaire, please click here.
Recent Articles