The Market and Our Latest Trade
Jan 19, 2021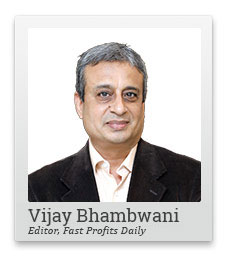 Last month I made a video about the market falling in January.
I got some very naive comments from newbie traders about how the market could only go up!
It doesn't and in this video, I'll tell you what I think about the Nifty right now.
I'll also provide an update on our latest trade.
Let me know your thoughts. I love to hear from you.
Hi. In this video, I want to talk about a follow on of the two videos that have uploaded on my channel earlier. The first one was of 16 December titled Will There Be a Correction in January, which was repeated again on my playlist on end of December i.e.31st December if my memory serves me right and the second one was an update about natural gas.
In this video, I want to tell you what I think about these two items on my agenda whether the markets are undergoing a correction in the month of January and the update on natural gas.
Please do subscribe to my Equitymaster channel and click on the bell icon to receive instant alerts of future videos and in the comments section I'd love to hear from you what you think of my videos and what you want me to record next. Bouquets, brick backs, whatever it is that you want to give me feedback for, hey, I am looking forward to your feedback. So please keep it going.
Now let me first tackle the Nifty. Is the market undergoing a correction? Yes, I think so.
India's Revival: A Once-in-a-Generation Wealth Making Opportunity
If you actually were to analyse what happened in the market, according to a dow charts, or, if you want to use it, even candlestick charts, the signal of a reversal or having made a peak, reversal is too strong a word here, at this point in time as we stand, it's merely a correction.
So do remember that the Nifty has come down after making a high of 14,600 odd and come down to 14,200 odd. So, we have lost only 400 points, which is roughly approximately 3%. So you can't call it a very major reversal or a big correction either but this kind of correction is enough to worry the bulls.
Now keeping my ears to the ground, the feedback that I received from the market data, I believe in trusting data as a statistical systems trader and believing in behavioural technical analysis, I want to combine what goes on in a trader's mind and the traders bank balance at this point in time.
You see a 3% decline in the Nifty or 400 points decline in the Nifty would have resulted in approximately Rs 30,000 mark to market loss per lot. Now in November 2020 SEBI, Securities and Exchange Board of India, has tightened the margin norms and the penalty for non-payment of mark to market, the payments has been stepped up manifold.
I think the brokers will basically cut out long positions of any investor, trader who does not pay margin up front and mark to market payments on time.
If you go by NSE bylaws, you will realise that any clients having a mark to market debit, which means amount payable, who does not pay this money to the broker before the beginning of the trading session, which is 9 AM the broker is well within his rights, as a matter of fact, he is expected to not only is it right, but it is his duty and responsibility towards the exchange to square up the long position of the client who's mark to market payments have not yet been received.
So typically, what will happen is that the traders might be very gung ho. They are hopeful that the market up move might start, which it might, but the point is that financial considerations might just throw out a lot of traders. So you see what will happen is, as per the Dow Theory of bear market or a big reversal comes only when the market surrenders 20% from its recent peak.
You may not get 20%. 20% is a far-fetched cry. I don't expect 20% decline to be very honest. You will not get a 20% decline.
But even a 5 to 7 to 8% decline would mean a lot of people would have been evicted or thrown out of their long position and therefore be forced to book losses.
This time around, the complacency in people is so great that I'm hearing stories about how people are so reckless, they feel that going long is the only way forward. You buy at 9:15 and sell out at 3:15. If you don't get a profit, wait for the next day. By next day, you will definitely get a profit.
I commented on my social media pages about how the market might just correct in January, and I received shocking feedback from rookie traders who basically we're not even born when I started trading in 1986. 'Sir why are you saying this? The market can only go up. The markets only go up. They don't come down ever.'
This is shocking. As somebody who's seen three of four major bear market collapses during my career in the last 35 years, I find that the people's attitude that markets can go up only one side, can only mean that they have over traded and now it is their positions which is making them talk all bull with pun intended. I think the duress will be significantly higher because people are over leveraged.
What should you do if you're over leveraged? I think you should bring back your positions to manageable levels.
The rule of the thumb in behavioural technical analysis is the only way to know if your position is over the size of your comfort level is if you are unable to get sleep in the night and you're waiting for next morning's trading session to open because the suspense is killing you, it means you have over traded.
If you are biting your nails rather than eating of food at lunchtime, you are over leveraged. You're your position is far bigger than it should be. So cut down your exposure and manage your position well.
Think of a worst case scenario where you can afford to pay mark to market payments and nurse only those kinds of positions.
Let me now come to natural gas. Now I have been talking about my cash calendar or making a cyclical aspect of trading in commodity markets, depending on which time of the year we are currently.
I have often said in my videos since November, December 2019 that the best way to trade natural gas is to start shorting it around Christmas or New Year. Nurse those position and come the vernal equinox in the month of March, which is the onset of summer, you will see gas prices coming down super sharp.
Unfortunately, this year the polar vortex, the cold snap in the North Pole has basically resulted in temperatures hitting freezing levels in parts of North America, Canada, and northern Europe. So gas prices went through the roof and human emotions being what they are, people got carried away. Many countries, I'm talking of countries, not companies, many countries went to the spot market and in panic started buying natural gas in the spot deliverable aspect.
Now avenue by deliveries, the price goes up. There are some deliveries which have been transacted very small ones, though, which have been transacted at 22 year highs. Now to a guy who has been trading commodity markets for donkeys years, this was shocking. This is something that we know. The prices will not sustain.
Well enough, on Monday, you're seeing a lower circuit in the prompt month futures of natural gas, which is the January futures. It has already hit one circuit and is trading below that level comfortably well.
So do remember that natural gas as a commodity is so abundantly available that the International Energy Agency is off the opinion that mankind has approximately 300 to 400 years of forward supplies still under the ground, and we are still making new discoveries.
Remember my video last year of how Saudi Arabia is developing a super, super giant gas field? I am talking of gas, not oil at Jafura. It's going to spend approximately US$ 108 to 120 billion to develop this field.
The Abu Dhabi, a national oil company has discovered a giant belt of natural gas in the desert in the UAE. So you can have this gas coming into the market pretty soon. Qatar, one of the most prominent leading natural gas exporters in the world, is talking about stepping up its natural gas output by 500% in the next 5 to 10 years.
And Saudi Arabia, which had militarily blockaded Qatar in 2017, has now become best buddies with Qatat with Prince Moment bin Salman receiving the Qatari emissary at the GCC meeting in Saudi Arabia. So all's well that ends well and enemies have now become friends. We can expect that prices will go the way we expect them to.
Of course, there will be lot of hiccups. This is not going to be smooth trading. Think of it as a military exercise when nothing goes as per plan and variables will hit you just when you are complacent. It is said that the best laid plan of men and mice often go helter-skelter, when least expected. This is what has happened to natural gas. We're hoping that equilibrium returns soon.
On this optimistic note, I'll bid goodbye to you not before reminding you, if you're watching this video on YouTube, please subscribe to my YouTube channel. Click on the bell icon and in the comments section do let me know what you think about this video. Thank you for watching my video.
Have a very, very profitable day. Vijay Bhambwani signing off for now. Bye.
Warm regards,

Vijay L Bhambwani
Editor, Fast Profits Daily
Equitymaster Agora Research Private Limited (Research Analyst)
Recent Articles