This is How I Trade the Market for Fast Profits
Jan 20, 2020
Editor's note: Tomorrow's the big day, dear reader. I'll be live online at 5 pm at the Instant Income Summit. If you haven't registered for it yet, spare a minute of your valuable time and do so now before watching today's video. Here's the link to sign up for the summit.
---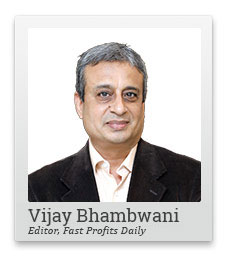 Hi,
This is Vijay. I welcome you to the first Fast Profits Daily edition for this week.
I want to thank all of you for sending me your kind feedback on the futures trading video last Thursday.
Of course, that video was about the basics.
However, I'm encouraged by your feedback to dig a bit deeper for you into the world of futures trading.
In today's video, I think it would be a good idea if I showed you, how I trade in futures, as opposed to telling you what to do.
I have tried to keep technical jargon to the bare minimum needed to do justice to the topic.
I hope you enjoy this video and keep sending me your feedback. I love to hear from you.
Hi, this is Vijay Bhambwani and I am back again to talk about something that really interested my viewers and for which I have received a good amount of feedback on my social media pages.
How to trade derivatives better?
In my previous videos about trading, I discussed about futures, and I wish to continue about futures again as well in this video. Please keep your feedback coming and let me know how much deeper you want to go so I can take it to the next, the next, and the highest level.
So last time in the video, we talked about how turnover is very important because you want to get into liquid contracts and not pay too much of a spread between the bid and the offer of the buy and the sell.
We talked about liquid contracts. We talked about the market wide position limits, which, ideally should not be too high and definitely not bordering on 90% because you're risking going into a stock which can go into a ban period.
This time around, I wish to talk about what I would do for a change, rather than what you should do.
I'll talk about what I would do in an ordinary trading session, a routine trading session. The number one thing is, I would Google search the background or any news flow about that particular company whose stock I'm going to trade today.
The idea is to take into account any kind of news flow or fresh events or developments that could have occurred after I went to bed last night, but before the market opens in today's trading session.
The other thing that I would keep in mind is what happens in the first 5 to 7 minutes. You see, there are various kinds of traders in this market's and they take positions in the markets, depending on their mindset, their aptitudes, and their attitudes.
What we are in a personal life, that kind of trading and that kind of mindset, aptitude and attitude filters down to our professional life as well.
So high risk takers will take extremely risky bets whereas low risk takers or risk averse traders, will go in for low momentum or low beta items, low volatility items.
Now what really happened in the first and last five minutes of trade? There are various types of traders as I told you. Some are intraday traders. They would enter into a trade when the market opens and square up their position before the market closes. Whether a profit or a loss does not matter.
This is called going flat out. Remember the ECG, which you see, which is flat of a dead person, their order book or their trade book goes flat, which is dead.
If there is a loss, they go back to the drawing board and attempt to recoup that loss on the next trading session.
If there is a profit, that's fine. They want to add on to that profit to the next trading session but overnighters, or carry forward of that position is not allowed.
Now, there are other kinds of traders, like swing traders who enter into a position, wait for a couple of trading sessions till the stop loss or the target price is hit.
The third kind of traders are BTST and STBT traders. BTST stands for buy today and sell tomorrow. STBT traders are short today and buy tomorrow. These traders would typically enter into a trade on day one, 2 to 3 minutes before the market is about to close so that they are as close to the closing price as far as possible and on the very next day, they would square up their position within the first few minutes so that they receive a price which is as close to the opening price as far as possible.
By now, you would have guessed that the last three minutes of a trading session and the first 3 minutes of a trading session are dominated by the BTST and the STBT traders and therefore there is extreme amount of volatility in prices.
Think of it as churning. You know, very frothy waters. There's a lot of foam and the liquid is actually way down and there's a lot of foam on top and it's like a smoke screen.
So the first thing I would do is avoid entering into a trade and the first three minutes or the last three minutes of trading session.
This is sometimes the best time for big ticket strong-handed players to fool the people by creating gap ups or gap downs in prices. This is where rank and file retail trader gets sucked into making mistakes.
So if you were to avoid the first in the last three minutes of trade. Do your math. Maintain a trading journal as to what time you enter the trade and why, what time you exited and why, and what was the net result? A profit of a loss?
I am sure you will realise that many a times you could have simply avoided a loss by timing your entry and exit.
The second thing I would do is try and avoid any trade on the long side, where the current market price is below the average traded price for the day.
Where can you find this?
On your trading terminal itself. Whether it's your mobile phone, it's your desktop application or a browser based application of a trading terminal.
You can always see the average traded price for the day, which is an average of all the trades taken place from the market open till this very second. So if you want to go long, make sure that the current price is above the average traded price.
On the flip side, if you want to go short, the current market price must be below the average raided price which tells you that you have a higher probability of success because you're going with the flow in the market.
I am sure you receive a lot of gyan in the morning on WhatsApp. I normally tend to avoid it, but once in a while, a few pearls of wisdom do filter in.
One, which keeps cropping up in my WhatsApp inbox every couple of months is, 'Do not tell me what you feel about me. I will gauge your thoughts about me through your actions.'
which is actually distilled wisdom of life. People can say whatever they want about a stock. It's what they do in the market that impacts the price. So apart from all the fluff that is created in the public domain across various platforms, what happens to the price, which is the current market price, versus the average traded price (ATP), tells me whether money is going into that counter of flowing out of it.
I would never want to break this golden rule of trading futures ever because that would leave my flanks open to a vulnerability of a loss.
So go with the flow. See where the people are actually putting in or taking money out of and stay with the majority.
You might want to play contrarian, which is what I have mentioned in a video a couple of months ago about me calling Indonesia's bluff in Nickel.
Now that is a contrarian call, which spanned over many, many days and weeks. That was not about day trading.
When I'm telling you now about futures, the current market price being above the ATP for long and below the ATP for shorts, that is day trading. You do not want to violate this rule.
And then again, please do note about the traded volumes. Do not get into anything which is traded less than 3,000 marketable lots in the last five trading sessions on an average per day. So 3,000 lots per day. The higher, the better. So that the spread is thinner.
More about trading futures in my next video. So do keep watching this YouTube channel. Do not forget to click on the like button. Subscribe to my YouTube channel. In the comment section do let me know what you thought about this video and what else you would want me to cover in my future videos and feel free to share this video with your family and friends.
This is Vijay Bhambwani signing off for now. Do take very good care of your trades and investments.
Thank you.
Before I go, a quick reminder that tomorrow, at 5 pm sharp, I will be live online at the Instant Income Summit. I'm humbled by your enthusiastic response. More than 16,000 people have already registered!
I assure you, we will live up to your expectations and deliver a great summit. I'm excited to share with you my strategy to make regular income from the market, without having to trade any shares.
I've ued this strategy for many years and it has made a ton of money for me... and now it's your turn! Join me tomorrow for the Instant Income Summit at 5 pm. Free registration is still open. Please sign up here.
Warm regards,

Vijay L Bhambwani
Editor, Fast Profits Daily
Equitymaster Agora Research Private Limited (Research Analyst)
Recent Articles