Why the Bond Market is a Billion Dollar Market Trigger
Jan 20, 2022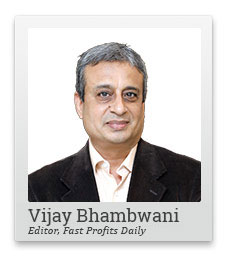 In this video I'll tell you about a very important bullish trigger point for the market.
And the trigger comes from the bond market.
Too many investors and traders focus on the stock market and not enough on the bond market.
But the smart money knows better.
Watch the video and let me know your thoughts. I love to hear from you.
Hello friends. This is Vijay Bhambwani here. I'm come back with this video to tell you about a very important trigger point, a bullish trigger point for the market.
Access Now: Equitymaster's Premium Small Cap Research at 50% Off
Last time I talked about this trigger, the Nifty was at 17,532.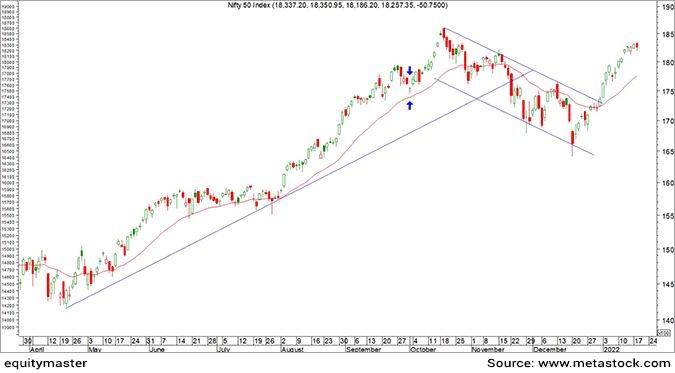 As you can see on the chart on your screen right now, in spite of the fact that crude oil has run up, natural gas prices have run up, there are worries and talk about interest rate hikes the world over, and inflation is raising its head all over the world, the Nifty has not only managed to hold firm, but it has a risen from that data point.
As I record this video on Tuesday, I am seeing that the market is falling off sharply, but we are still above this level. So what's really keeping a market up in spite of the fact that FIIs seemed to be selling equities, there is general sense of despondency and worry in the market?
Of course, we also have positive triggers and hope of a budget, which is predominantly a bullish period and in the run up to the budget, people trade with bullish expectations.
I am gonna share something with you with you, which is, in my humble opinion, being vastly overlooked by the overall market watching segment of traders.
Now, on first of October 2021, I had recorded a video in which the title of that video, by the way you can scroll down in this playlist, you can see that the title of the video was Get Ready for a Boom and my logic for saying that I am expecting a lot of money in India through a source which is not being monitored enough. People in the know, the smart money light are definitely watching it, which is why the market is up.
Now, recently, I chanced upon a very bullish kind of breakthrough the bond collections by private sector companies, starting with Reliance Industries, SBI, JSW Infra, Sriram Transport. These are all listed companies and there was one unlisted company called India Clean Energy. All these companies put together between first of January 2022 to 14 of January 2022 collected US$6 bn. That's right, US$6 billion. That's a little under Rs 45,000 crore. Now this happens to be three times more than what corporate India did in the year 2021.
Now we have an even bigger, even bigger trigger coming in where FII money will come in through the bond route. But unfortunately, people are fixated on looking only at FPI inflows into the stock market. Am I saying that the market will never fall? I'm not saying that at all. I am not saying that all. The video is purely about a bullish trigger.
Of course, if the markets have to undergo a correction due to other reasons there are a whole lot of other triggers. Corporate earnings, taxation, elections, act of God, manmade crisis is like a geopolitical strife, stress going on in the Middle East and in Europe, Eastern Europe. So all those can take a toll and the markets might correct.
But I stress upon the fact that Indian markets will not correct as much as their global peers. As I recently said, even in my video last week about why Indians should not worry about the taper tantrum that is expected after the Fed starts to raise interest rates.
Now the Indian sovereign bonds. These are bonds issued by the Reserve Bank of India on behalf of the government of India, which are guaranteed by the central government of India. These are called sovereign bonds. I have made ample number of videos, if you go down in this playlist, I have even given you a window of opportunity called the Retail Direct G-Sec scheme on the RBI's own platform wherein you can buy and sell bonds without any intermediaries, without costs, commissions, and other execution costs.
So the government has played a very smart move and asked for inclusion of the Indian sovereign bonds in the global bond indices. If that happens now bond investors will want to align with the same weightage.
You see it's like buying an index mutual fund, an index fund or a Nifty ETF. The fund manager buys all the stocks that are in the index in the same weightages that they are present in the index, so as to match the index returns.
So after India's sovereign bonds are listed in the global indices, a debt fund manager, a global debt fund manager, will by force have to include Indian sovereign bonds, which means every year, if the official estimated figures are to be believed, every year, anything between 25 to 40 billion dollars will come into India through the bond route.
You could argue that this is debt. Yes, it is. But remember one thing that this will provide ample amount of working capital to the government of India, and if for any reason we fall short of the disinvestment target or due to any other collections going down from any other sources, this is a very healthy buffer that the government gets to play around with, and don't forget this is not hot money that flows out at a moment's notice.
This is long term money coming in from pension funds, coming in from institutional investors, who will not ask you questions for the next 7, 8, 9, 10 years. So it gives you a whole lot of breathing space. It allows you to carry out your infrastructure projects, your developmental projects, capex etc and this is, in my humble opinion, a very good thing to do.
I think a silent revolution is being triggered off by the bond market both on the domestic investors front, by way of the RBI's Retail Direct G-Sec scheme and inclusion of India's sovereign debt in the global bond indices. For the next 10 years or so, I would not worry about monetary inflows coming in from FIIs through the bond route. This is extremely healthy, extremely positive.
Like I said, markets will still correct if they have to due to some other worries, not because of taper tantrum, not because money is flowing out of equities. Hey, if that is being matched by inflows in the bond market, why should we bothered? Because it's still coming in dollars and on the contrary, equity money can come in and go out at a short notice, but bond money will stay here for minimum half a decade, if not a complete decade or longer.
So these are good times to be in the Indian markets, which is why the global fund managers are saying that the Indian markets are one of the finest places to be in, and to put your money in.
On that optimistic note, I goodbye to you, not before reminding you that my friend and colleague Rahul Shah, is going to share his secrets about making investing a whole lot easier in his Lazy Millionaire Summit on the 24th of January at 5 pm. Do make it a point to reserve your seat in this free summit and pick Rahul's brains and ideas for how to become a millionaire.
I also remind you to subscribe to my YouTube channel if you haven't already done so, click on the bell icon to receive instant alerts about fresh videos being put out up here. Good, bad or ugly, I always welcome your feedback in the comments section, and please help me reach out to fellow like-minded investors and traders by referring my videos to your family and friends.
On this optimistic note, I bid goodbye to you. Thank you for your patience and watching my video. Let's be careful out there from the omicron virus. Stay safe.
Till we meet again in my next, this is Vijay Bhambwani signing off for now. Bye.
Warm regards,

Vijay L Bhambwani
Editor, Fast Profits Daily
Equitymaster Agora Research Private Limited (Research Analyst)
Recent Articles