How to Handle the Physical Stress of Trading
Jan 22, 2020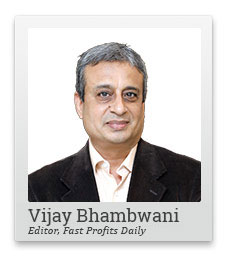 Hi, this is Vijay Bhambwani and this is the Fast Profits Daily.
In today's video, I want to talk about something very important which most traders unfortunately neglect: The physical stress caused by trading.
I used to suffer from extreme amount of painful back problems. It was a direct result of being a professional trader.
But I don't suffer from it anymore.
And it's not just back pain that traders suffer. Your neck, arms, and shoulders are all constantly under stress.
I strongly recommend you find solutions because if your body is feeling tired, your mind will start to feel tired too.
In this video, I want to tackle this problem head on...
Hi, this is Vijay Bhambwani.
I'm back with you again to talk about a supercritical area of trading.
Unfortunately, some of you may not really give this video and its topic too much importance but somebody who is a professional trader who trades for a living, will immediately associate what I am trying to say in this video.
So if you're with me, let's go!
Mohammed Ali or earlier known as Cassius Clay is undisputedly, the world's finest boxing champion and he had some kind of quotations and wisdom points that he used to frequently mouth at his conferences.
And the one thing that I remember reading in Mohammed Ali's interviews in the media was, 'It is not the height of the mountain, but the pebble in the shoe of the mountaineer that stops him from conquering the mountain.'
For a trader, this is of paramount importance. How you're beginning the trading day, actually determines how you're going to wind up your trading day, especially the profitability and the loss.
In my earlier video, I gave you a checklist of what the most famous speculator, Jesse Livermore, of his times, also known as the boy plunger, who created a record of over US$ 200 m in profits in a single day collapse in 1929, also known as a great recession, in the New York Stock Exchange.
In line with Jesse's checklist of what to do and not to do before a training session. Take, for example, my subscribers in Weekly Cash Alerts.
The commodity and currency markets open at 9 am. The currency market stops trading at 5 pm as by the Banking Regulation Act, during banking hours. The commodity market can very well go on trading till 12 midnight, which means you're gonna be sitting in a chair for 15 hours without having to stop.
The markets do not take lunch tea or other breaks. They're trading constantly. Over a period of time, your attention levels will fall. There will be attention deficit. There will be fatigue. You will want to take lunch breaks. You will want to go to the restroom, etc.
But many a times, such is the timing of the market that the prices do not budge for maybe an hour or so in commodities and currencies after I enter a trade. It is only when I want to go and relieve my bladder for the next 30 seconds that the trade hits a stop loss and then fatigue and demoralisation sets in.
Do not ever underestimate what Mohammed Ali said. It is not the height of the mountain but the pebble in your shoe, that stops you from conquering the mountain.
So it's extremely important that you trade so that your body and your mind are completely fresh, fatigue is kept to a minimum, and your attention levels are always like you just got out of bed.
So the first thing is, we all experience pain in a neck and in our bank when we are staring at a computer for very long periods of time. The first thing is your posture. If you're slouching forward, there is bound to be a certain amount of pain in your neck, your back, and your shoulders.
Sit straight. Secondly, if you're looking downwards, like most of us do at mobile phones, you're going to create pain in your cervical area, which means you must keep your computer trading terminal at your eye level. So you do not have to look down but stare straight ahead.
Thirdly, majority of your motor nerves, nerves that are responsible for your body movements, pass through the spinal cord and when you lurch forward, when you're sitting in a slouching position, the spinal cord is compressing some of those nerves. Which is want results in sciatic pain, pain in the shoulders, some amount of numbness in the fingers during trading hours, which also results in fat finger trades or punching an extra zero in price or in quantity. We have all seen that some point in time in our trading careers. To avoid the fatigue of the motor nerves, you must always have your spine in a straight position.
And you'd have at some point in time, experienced a friend or a relative undergoing sciatic pain. Pain in the lower back. The only plausible treatment for this is traction, which is to make a person lie down supine in bed and suspend weights on the feet so as to stretch the spine.
Mercifully, you don't need to go to a hospital to get the spinal stretch. Just go down for a walk in the garden. I am sure there must be some kind of swings, jungle gyms, pullup rods and what not. Just hang out there for as many seconds of minutes as you can. By the sheer weight of your body your spine gets a stretch.
It releases all the nerves and all the pains in your back, your neck, your shoulders, and your arms. Believe me, it does not take more than a few minutes. You will not be able to hang out there for more than 2 to 3 minutes, or maybe four minutes if you're very, very strong.
Releasing the stress from your motor nerves between the spinal discs is a game changer. I used to suffer from extreme amount of painful back problems but ever since I started doing this spinal stretch and keeping the computer at eye level, my fatigue levels have disappeared, and back makes all the difference between making mediocre profits and superlative ones.
So, as I told you, do not let the pebble in your shoe stop you from performing at optimal levels. The other thing is to take deep breaths at all times, especially during times of stress or mark to market losses.
Every 90 minutes and have discussed this in the Jesse Livermore video, every 90 minutes, sip a little bit of water. That dilutes your blood and carries more oxygen in the blood to the brain. That keeps your brain super fresh.
Eat a little bit of food, especially carbohydrates and proteins every three hours. That keeps your energy levels high and stops your body from feeling low.
There is a very clear inter lapping of the physical and the mental health of a person. If the body's feeling tired, the mind starts to feel tired too, and vice versa. So keep your body working at ship sharp condition, so that you are trading is always ship shape in position.
Before I sign off for the day, let me remind you, if you're watching this video on YouTube, please click on the like button. Feel free to share this with your friends and family.
In the comments section tell me what you think about this video and what else you would like me to cover in mind next videos.
This is Vijay Bhambwani signing off for now. Please do take very good care of your trades and investments.
I hope you enjoyed the video. I'll be back tomorrow.
Have a profitable trading day!
Warm regards,

Vijay L Bhambwani
Editor, Fast Profits Daily
Equitymaster Agora Research Private Limited (Research Analyst)
Recent Articles