One Chart to See Before You Sell
Jan 22, 2021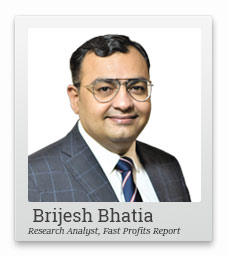 How do you decide when to sell a stock?
Traders and investors alike, put in a lot of time and effort when deciding to buy a stock but what about selling?
It does not get the attention it deserves.
You need a clear plan to sell. All professional traders have one even before entering a long trade.
In this video, I'll show you a chart that I use to take a selling decision.
I'm sure it will be very useful to you too.
Watch the video and let me your thoughts in the comments.
Hi viewers. Welcome to the Fast Profits Daily video series. Myself Brijesh Bhatia here, senior editor and analyst at Equitymaster.
So in this video, I will be discussing one important chart all investors should look at before exiting their trades.
Certainly, entering a trade is very much easier because you think that the stock is very much positive on all the fundamentals are very much good for the company, but you don't know when to book the profits.
One chart I will be sharing in this video on Nifty, where an investor should always keep an eye before exiting their portfolio or I would say, trimming their portfolios.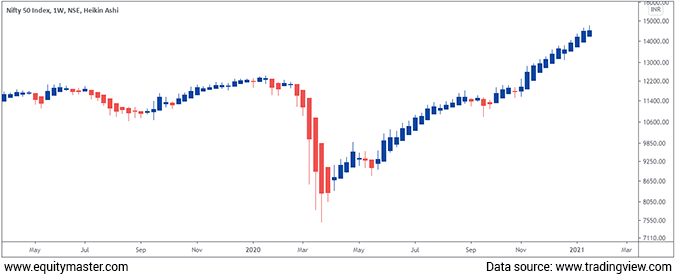 If you look at the chart here, Nifty weekly chart and this is basically the Heikin Ashi chart. If you can take an Heikin Ashi chart, if you look at the momentum, right from May, this chart is trending on a bullish trajectory? Why?
If you look at the candles over here, basically Heikin Ashi are modified candle stick and in case you wish to learn more about Heikin Ashi there are any number of videos to look at but just to give small introduction on Heikin Ashi, the candles where you find in blue, they have open and low equal which is sign of a bullish candle.
DISCOVER: How to Potentially Multiply Your Returns by Upto 5x...
The red or where the open and high are the same are known as the bearish and where you see a smaller body and the shadow of the wings on both sides with the uptick and down tick, they are physical known as doji.
So if you look at the screen, I have marked the three candles for you so that it will be easy for you to understand the chart. Now, if we look at this right from May to January now we are in the bullish trend.
Now, do you know how much since May, this chart is trending and giving returns? Its approximately 59%. Yes, 59%. It is into the sign of bullish momentum and till you don't fight any bearish candle on the charts, stay on to the long side.
For an investor, basically the weekly chart is a slightly bigger time frame chart which helped to indicate do you need to reduce the position or no.
But yes, this chart is trending very, very much bullish and you don't need to trim your position till it is showing a sign of bearishness. There could be early signs of bearishness movement, of which we have seen previously.
But for what I use is till the bearish candle is formed and the price the next week is not breaking the previous bearish Heikin Ashi candle, I would stay on to the long side.
This is then an indication that the markets are turning the tide because on a weekly scale turning the tide generally take time and you have to give up 2%-4% on the higher side, which generally markets give a correction, and then see an uptick in momentum.
So even if you see the recent momentum, we have gone from 14,600 plus level to 14,250 and back to the new all-time high of 14,753. Similarly, we have seen a momentum right from 13,600 to 13,250 and back to all-time highs.
Such kind of hiccups an investor generally feels a panic and thinks of sitting on cash but this chart really, really helps you to take a decision on trimming on the position or holding on the position, and it is not the first instance.
If you look at it right from 2016, I've taken 5 years of data for you so that you can understand the momentum or the sign which such kind of charts gave you as an investor. If you look at it right from 2016, we have seen huge rally. There could be some hiccups into the negative side where you could take a position and this negative sides are not a couple of percent or 4%. They are generally 8 to 10% and when the index falls 8-10%, think what your stock can do?
So generally, stocks have a tendency of falling. For midcaps generally they fall 1:4, 1:5 which means that Nifty if it is falling 10%, generally small caps or midcaps fall around 14-15%. It depends upon stock to stock but still, if you look at the average momentum, such is the scenario.
So till you don't find such kind of bearish momentum on the chart, I would suggest don't trim your position and this is very, very much important for investors to keep a watch, and here I just included the Nifty. You can look at the stocks which you are holding whether that those stocks are giving any sign of indications on the negative side or not.
As a trader, yes, there could be a small swing up and down, which a trader would be interested in trading but as an investor, exiting at right time, trailing the trades into the huge profits is also a bigger, bigger part of your investment portfolio.
So I would suggest look at this chart every time you think that the markets have run up. Keep a watch on this chart. When it turns the tide, see, you have to shed out 2 to 4 percent on the higher side but what if markets tend higher. So I would suggest keep a watch on this chart and trying to ride your positions as much as you can into the profits.
So that's all. In case you haven't subscribed our YouTube channel click on the subscribe button and click on the bell icon to receive a notification and do not forget to comment on the video. It help us to be motivated and bring up such kind of interesting charts, interesting subjects that our well-wishers are posting on the comments section, and it really helps us. So signing off. Brijesh Bhatia.
Warm regards,

Brijesh Bhatia
Research Analyst, Fast Profit Report
Equitymaster Agora Research Private Limited (Research Analyst)
Recent Articles