The Best Asset Class to Invest in 2020
Jan 24, 2020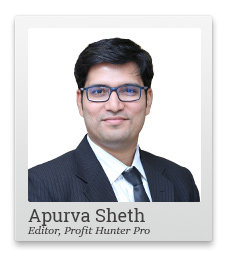 Hi,
This is Apurva in the Fast Profits Daily.
In this week's video, I want to share with you, my highest-conviction idea for the year.
Gold was my top pick for 2019 and I was right. The yellow metal was the star asset last year with a gain of 24%.
What about 2020? What do I recommend?
Today's video has the answer...
Hi, I'm Apurva Sheth and I welcome you to this brand-new addition of Fast Profits Daily.
Now, the year 2019 was very phenomenal. Right from RCom filing for bankruptcy in February, to PM Modi getting re-elected in May, to December recording the highest ever SIP inflows in mutual funds.
Now, markets have been through all this in 2019 and Sensex has moved up by 14% in the calendar year 2019.
However, there is one another asset class which has moved up much more than Sensex. It has beaten Sensex hands down. You would be surprised to know it is gold.
Now gold moved up by 24% in 2019. Not many people saw this coming. However, I was among the few who had picked this trend in gold correctly.
In fact, I had picked this trend gold much earlier in October 2018. That's when I published my first ever article.
Actually, I was getting married in December and one chart which was worrying me the most, was gold. I knew that I had to shop gold before it was about to launch and so I did and I even encouraged my readers to do that as well.
Now I am sure that including me, many of my readers are also delighted. However, why am I talking about all this today?
Well, the two things which helped me pick this trend in gold are suggesting me that this year in 2020 there is one another asset class which could do the same. So what are these two things?
First, of course is price action. Now the price action in gold, which included domestic price as well as international market prices of gold, were shooting high.
The USDINR exchange rate was also suggesting that dollar is likely to strengthen, which would affect the import price of gold. Apart from this, there are a few people whom I hold in high regard and they had similar views in gold as well.
So I knew that when all these things put together, if it's suggesting that gold is likely to head higher, then it definitely will and so it did.
So now in 2020, what is the best asset class to invest in?
Now the markets topped out in 2018. To be precise, the Sensex as well a small cap in mid cap stocks or mid cap index, topped out in January 2018.
They corrected for of couple of months and then recovered. However, Sensex recovered more than the other two in indices small cap and mid cap indices. Smallcap was beaten down the most, whereas Sensex continued its march and headed higher and it is even hitting new highs every passing day.
So now there is a wide divergence between Sensex and smallcap. Sensex is the darling whereas smallcap is the hated child.
So what's likely to happen in 2020? Well, I believe that this is going to change. Smallcaps are coming back in fashion.
Now what is the reason behind this, that I am saying it? Well, we'll have a look at this chart.
Now, in my previous videos, I have shown you greed and fear cycles in Sensex, in IT and Auto Index and I have also been using ratio charts for picking some of the best trading opportunities.
So as you can see on your screen now, this chart is plotted from 2005. Now the Sensex to smallcap ratio chart follows a cycle. Now this cycle is of 144 weeks.
Now there is no magic behind this number. I've chosen this because it simply works. Now you can see that Sensex stocks move up in when they are in safe more, whereas when the markets are in risk mode, people tend to take more risk and that's when smallcaps tend to outperform.
The first safe more than you can see out here, Sensex outperformed small caps by 50%. What does this mean in simple terms?
Let's say if smallcaps mowed up by Rs 100, then Sensex stocks, or Sensex, moved up by Rs 150, i.e. they outperformed the small-cap stocks.
Now in the risk mode that followed, the Sensex still managed to outperform the smallcap indices by 15%. Now This is an exception which we can simply ignore.
Now moving forward, in the next the safe mode Sensex stocks outperformed the smallcap index by 47%.
In the risk mode which followed later, Sensex stocks underperformed the smallcap stocks by 34%. Yes, smallcap indices beat the Sensex stocks by such a wide margin.
Now in the safe mode which followed next, Sensex stocks managed to outperform by 24%. Now we are into the risk mode and this means that market participants are willing to take more risk, which is good for the small-cap stocks. So they are marked in the green out there.
So the small-cap stocks are likely to outperform during this phase.
Now, this phase has begun from June 2019 and will last till March 2022. So we are already six months into this cycle and the smallcap indices have just begun it's rally. So I feel that this year could be the year where small-cap stocks or smallcap indices, manage to outperform the Sensex stocks.
Now that's on a raltive basis but you don't make money on relative bases. You make money when these stocks or indices outperform on an absolute basis. Now why I am saying that this could happen?
Now, that's when the second part comes up.
Now our Richa Agarwal, who's the editor of Hidden Treasure, is probably one of the best person to look at when it comes to the small cap space.
Now she has been writing a lot about the rebound in small cap space. Now, I'd like to share two charts with you here, which she has written to her readers. Now, as you will see in this chart, the small cap index has ended in the red for two consecutive years.
Now, this is an exception. Over the last 10 years, there has never been a year where in small cap index has fallen for two consecutive years. So simply going by this, the law of reversion to the mean would kick in and the small cap stocks are likely to move up.
Now in the next chart, you will see the changes in aspects like earnings, market cap, PE, and liquidity over the last two years. So, as you will see, the market cap of the combined Smallcap universe was down by 39% over the last two years. The price to earnings ratio dropped from 29 to 13, and the average liquidity is down by 50%.
However, one of the most important things is the combined annual profits of the small cap universe, which is up by 33%.
So now you see that the time cycle, the fundamentals, as well as the price action all three are aligned and all the three are suggesting that the small cap universe is likely to do well.
So this is the reason why I am saying that smallcaps could be the asset class to watch out for in 2020.
If you are planning for new investments, then smallcaps must be in your radar. You should not miss them.
Now what is the best way to capture these gains in smallcaps? A simple way could be to buy a small cap mutual fund or if you are willing to take direct exposure, then you can follow someone like Richa who has been tracking the smallcap space and picks small-cap stocks regularly.
And if you are willing to take some more risk, then even I am recommending trading opportunities in these small-cap stocks or, for that matter, any other stock, which the Equitymaster team has recommended.
So, under my service, even I recommend trading opportunities in these stocks and since the year began, I have recommended a number of small-cap stocks so far.
So the going has been good and the smallcap space is bouncing back. So you should not miss out on any of these opportunities coming your way.
That's all for me for today. Thanks a lot and have a nice day!
Please don't forget to subscribe to our YouTube channel and also don't forget to sign up to our newsletter Fast Profits Daily.
If you sign up to this newsletter, then you would get access to this free guide how to trade the markets like a pro. So don't miss it.
I hope you enjoyed the video. I'll be back next Friday in the Fast Profits Daily.
Vijay will be back with his next video on Monday morning.
Until then have a profitable trading day and a great weekend ahead!
Warm regards,



Apurva Sheth
Analyst, Fast Profits Report
Equitymaster Agora Research Private Limited (Research Analyst)
Recent Articles