You Are What You Believe
Jan 25, 2021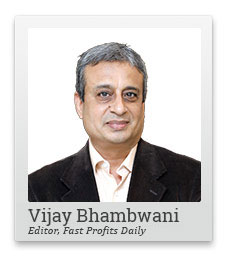 Last week the Sensex hit 50,000.
I was very happy just as, I'm sure, you were. Who doesn't like a bull market?
We all have investments in the market. When our portfolio's valuation goes up, nobody complains. We all want the markets to go up and get rich.
But what alarmed was all the kite flying going on at the exchanges. There was talk about how the indices would keep going up in a linear manner.
This is not only impossible but also ridiculous.
Find out why you should be wary about this kind of thinking and let me know your thoughts.
Hi, this is Vijay Bhambwani and I'm back with you in this video to make you a better trader, understand the markets better and of course not only to teach you what to do, but also what not to do, things that can basically result in pit falls in the markets.
If you think I'm adding value to you, to your trading and investment experience with my videos, please do take the time out to subscribe to my YouTube channel, click on the bell icon to receive instant alerts for fresh content being put up here, in the comments section, I'd love to hear from what you think of my videos and what you would want me to record next. I'd also want you to spread the word of knowledge based investments and trading by referring my video to your family and friends.
So dear viewers, let's jump right in and discus today's topic. You see, last week the Sensex hit 50,000. I was very happy just as I'm sure, all of us here would be. Who doesn't like a bull market? We all have investments in the market. When the portfolio evaluation goes up, nobody is complaining, right? We all want the markets to go up and get richer and richer from our holdings.
JUST IN: Limited-Time Access to Full Transcript of Our Urgent Broadcast on India's Revival
But what alarmed me after the photographs of the brokers and investors talking cakes outside the BSE building with the statue of a bull in the background, what alarmed me was kite flying. Kite flying to the extent that targets were being laid out as to when India's NSE's market capitalisation would hit Rs 5 trillion which means five lakh crores.
Now there were investors, there were traders, there were journalists, market watchers, and analysts who were giving out targets. So the idea was, if it went from one lakh crores to one lakh fifty thousand crores in so and so time, I resort to linear extrapolation.
By linear extrapolation, it means if the Nifty went up by 50 points yesterday, it will go up by 50 points for the next five days and therefore, in the next five days, the Nifty will go up by 250 points. Does this even come across as something sensible? I'm shocked. Can we assume that the Nifty, which is risen by X points yesterday, will again rise X points today tomorrow and day after tomorrow?
Now this forward projection in statistical data is called linear extrapolation. You draw a line and say this much is one inch and toy care moved from 0 to 1 inch in one second. Therefore, it will move five inches in five seconds. You know what? Friction will slow down the car. Kinetic energy will stop and then the car will come to a grinding halt, maybe after six, maybe after eight inches.
Now, to basically compare it to the market and tell you why I do not agree with this kind of kite flying, I want to give you a very simple, real life example. If I make you stand at the bottom of a 15 storey building and tell you that there's gonna be a race, there's gonna be a running race to climb to the top, and I understand that 15 floors cannot be climbed up in one shot, I'm gonna allow you to take a break at floor 5, floor 10 and then finally the 15th floor.
If I wants to stand with a stopwatch, I and compute the time that you took to climb from the ground floor to the fifth floor, can I multiply that by three and say this is how much time you will take to reach floor 15?
You would obviously laugh at me if I will simply take your timing, multiply line by three because the higher you go up, the more labour will be of breath, you'll gasp for oxygen, you'll start perspiring, your legs will feel like noodles, and the higher you climb, the slower will be your rate of climb.
So the markets are somewhat similar. The higher they get up from a low base, the more effort it takes to pull the markets up. Now remember bull markets are fighting three forces. Number one, the force of finite resource. The bulls have limited money to pour into the market and drag prices higher.
The richest man in the world is Elon Musk. I assure you, even the money that he has a finite number. If he writes a cheque US$ 10 higher than his total net worth, the cheque will bounce. So the bulls have finite resources. They have to work within these limitations and pull the markets up.
Number two is selling pressure by the bears or delivery based sellers. So when the markets have to go up, they encounter a lot of selling pressure.
Number three is the force of gravity. Gravity pulls everything towards itself. Before you say stock prices are intangible things and gravity does not work, hold on to your cryptic comments or adverse comments in the comments section. Do google the centre of gravity of oscillator. Of course, it's a by product of selling pressure. The centre of gravity oscillator will measure that, too, and you can google search it in Investopedia etc.
So the bull markets go up fighting these three forces. Obviously, when the bulls run out of money, the bear selling can bring the price down. If the bulls and bears both stop doing what they are doing in the market, which is buying and selling, the markets will automatically start to drift lower by way of gravity.
So don't assume that what has happened in the past is an exact an exact picture of what will happen in the future. Nothing can be further than the truth. This is the most misleading thing, the most enticing thing, which any rookie or any beginner can tell a story to another. It's like a third standard child convincing his friend in the third standard about the syllabus of the 10th standard.
Be very wary of who you allowed to influence your mind because traders and investors are brain warriors. We are not expected to run races against fellow investors. We are not here to do arm wrestling or boxing with the other guy, but we win with our minds, with our ideas and our trading and investment systems. Keep your mind completely clutter free, basic, grounded, and backed with solid common sense.
I hope you found value in this video. I'm waiting to hear your feedback. I wish you a very, very profitable day ahead.
Vijay Bhambwani signing off for now, till I see you again in my next video. Take care. Thank you.
Bye.
Warm regards,

Vijay L Bhambwani
Editor, Fast Profits Daily
Equitymaster Agora Research Private Limited (Research Analyst)
Recent Articles