An Update on My Trading Blueprint for Crude Oil
Jan 27, 2020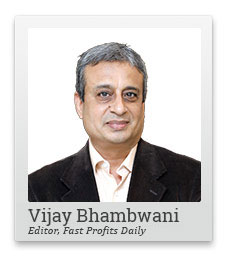 Hi, this is Vijay Bhambwani back again in the Fast Profits Daily.
I have received many queries about crude oil and viewers have asked me for updates on many recent developments.
As a crude oil trader, you need to be on your toes regarding several global events. This can be difficult, if you're not a full-time trader in the markets.
Well, that's where I come in!
I have all the updates you've asked for - and more - in today's video.
Hi, this is Vijay Bhambwani and I'm back with you to talk about a current topic that I am sure must be weighing on every oil trader's mind: What is happening in Libya?
Libya has managed to remain in the news, unfortunately, for all the wrong reasons.
After the 2011-12 social unrest and the deposement of the dictator Colonel Muammar Gaddafi and his ultimate killing, Libya has been in a state of flux. There's political volatility and it's unfortunately causing some amount of volatility in oil prices as well.
Libya happens to be in North Africa and it has desserts that yield very high grade, low sulphur, light sweet crude, to the extent varying between 1.8% to 2.2% of the global supply of crude oil.
Now here there are various factions which are trying to seize power. On one hand, you have the US backed armies. On the other hand, you have the Russians and Turkey etc, who are basically trying to get to hold in Libya. At stake, is the 2% ballpark, 2% stake in the global oil export markets.
Now the cauldron has been stirred by the Turkish strongman, Erdogan. He has got permission from the Turkish parliament to send his armed forces into Libya and try and get a toehold into the Libyan oil export market.
A lot of traders have asked me to comment upon this. So here goes.
My view is that Libya is a very small player as compared to the OPEC, the Russian, and the Norway oil exports. I'm not saying that it's insignificant but I am saying it's small. Let's also not forget that nothing has changed in the other regions.
So you have the Norwegian Sverdrup oil, a giant oil field, pumping out 4.5 lakh barrels a day within the next month or two.
You're going to have the oil wells which are so far shut, on the Kuwait-Saudi border, because a political agreement has been reached between the two nations, and you could have a little over half a million barrels of oil coming in per day in the next 2 to 3 months itself.
You have a late entrant, called Guyana, which is now pumping out 125,000 barrels of oil per day, willing to step it up to 4 times as much in the next 3 to 4 years. As a matter of fact, Guyana has already started shipping its consignments of crude oil in the global market.
Now here is an update that's relatively new. Angola, is now amping up its oil output and it is expected that over the next 24 months, Angola is likely to reach an output of quarter of a million barrels of oil per day and export a major portion of that oil.
So my viewpoint on the oil blueprint that I have been laying out for you that oil prices, post Aramco IPO, are likely to remain under pressure and if at all you were to seek trades, I would say sell on rallies is a better risk reward ratio for oil traders, as compared to buy the dips.
Sure enough, they could be due political events. For example, another surprise outbreak of a new theatre of war, etc, which might cause a short term up trust in oil prices.
But my guess is, and I'm willing to bet my money on it is that all rallies, significant ones at least, will get sold into and the prices will peter down, as you have seen after the Aramco drone attack in September 2019 and even the killing of General of Qassem Suleimani in the recent weeks.
So my guess is oil prices are likely to go down and you have alternate energy sources, especially electric vehicles, solar farming, etc, shale and the huge glut of natural gas, to the extent that the US exporters don't really know what to do with that excess supply.
So my guess is my blueprint in oil remains constant and remember, I do not really make out blueprints which can get impacted by minor events. So this is a fairly solid and bankable blueprint and I would say that nothing much has changed.
If at all, the Libyan oil output is curtailed to a certain degree, there are fresh entrants like Guyana and Angola, which will more than make up for the oil output.
So your equity market portfolio is not really going to get negatively impacted because oil prices will remain under pressure, inflation will be down. Household saving, at least on this front, will not be negatively impacted.
So nothing to worry about financial assets or, for that matter, even oil prices. All peace and good times ahead, hopefully.
Let's not forget, this is the US election year third of November 2020, we expect the US elections to basically complete the process of voting for or against Trump and till then, the US presidential cycle is most likely to ensure a rising US dollar and buoyant or fairly cheerful equity market outlook.
This is Vijay Bhambwani and before I sign off for the day, let me remind you to click like on this video if you're watching it on YouTube.
In the comments section, do not forget to tell me what you think of this video and what else you would want me to cover in my forthcoming videos.
Please do not forget to share this knowledge with your family and friends. Do take very good care of your trades and investments.
Bye for now.
I hope you found the video useful. I'll be back again tomorrow morning it the Fast Profits Daily.
Until then, have a profitable trading day!
Warm regards,

Vijay L Bhambwani
Editor, Fast Profits Daily
Equitymaster Agora Research Private Limited (Research Analyst)
Recent Articles