The Right Way to Play the Budget
Jan 27, 2021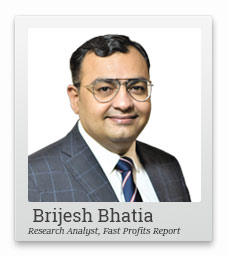 You may have heard opinions of traders about the volatility in the market going up.
Due to this, some people believe it's difficult to make money before the budget.
But is this true?
It sure looks like volatility is going up ahead of budget day.
But what is the real story?
And more importantly, how can you make money out of the market volatility both pre and post budget?
Find out in the video...
Hello viewers. Welcome to the Fast Profits Daily video series. Myself Brijesh Bhatia, senior research analyst and editor at Equitymaster.
In this video, we will be discussing something for derivatives traders. So there is an always an expectation that ahead of the union budget, there is an increasing volatility. Is that true? What do you think?
REVEALED: The Secret to potentially Making Rs 18,870, Rs 9,425 and Rs 7,315 in a Single Day...
Let me pull one chart for you. By the time I pull the chart, I would request everyone click on subscribe button and click the bell icon so that in case as we as soon as we post the videos, you will receive a notification and do not forget to comment on the video so that we can come up with some of the topics which you want to discuss.
Now, coming on to the chart over here...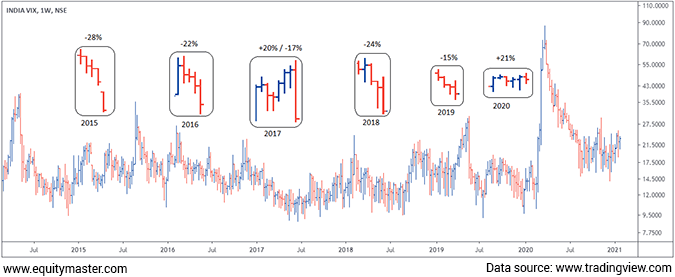 So this is India Vix chart right from 2015 I've taken so the last 6-7 years of data. And if you look at it right from 2015 to 2020, I have taken last three days ahead of budget, previous three days of budget, plus budget day.
If you look at it right from 2015, we have 28% fall. 2016 we have seen around 22% fall. 2017 was some exception because the previous three day a red of budget was up by 20% and on the budget we have seen down to 17%. So to sum up its 3% positive. I have just taken a sum up not the precise number. I have not included decimals.
Again 2018, 2019, down by 20 to 15%. 2020 was slightly ahead. It was up by around 20%.
Overall, we are witnessing a decreasing volatility ahead of the budget. So what should derivative traders do? There is an expectation what traders do generally is to buy straddles and strangles.
But why do the smart derivatives players look to sell straddles and strangles?
So, generally, if you are playing for the budget, there is always an index or stock which you like with the volumes, in case you want to play straddles and strangles, there should be meaningful volumes in the stocks.
If you want to buy 10% away or positive or negative from the CMP, there should be some of the stocks, which should have volumes. Even if you look at the stocks like SBI, which might have a slightly below average volumes of 10-15% away from their CMP. So you have to choose the strike price smartly so that they have the volumes.
Coming onto the index, yes, straddles and strangles are played on the short side rather than buy side. Yes, I am not including the delta move over here. I'm just including the India Vix moves so that in case you find delta move the retailers can benefit out of it.
If I look at the straddle and strangle, the smart players ahead of budgets, tend to look for a short option in the straddle and strangle.
But for retailer, if you are really playing the budget or want to play the delta move with the volatility, I think you should not go very far out of the straddle and strangle.
If I just look at the 14,200-14,300 moves, either you can look for going on 14,100-14,500 or 14,000-14,500 but don't go like 14,000 and 15,000 or 13,800 and 15,000 simultaneously because generally the volatility decrease by the time and the option premium tends to lose its value.
So my suggestion is, if you want to really play straddle and strangle, try to narrow down your ranges slight. Although the premium might be higher for you when the ranges of slightly lower but with the volatility comes or I would say if the delta move were there, you tend to get money out of it.
And if there is a no delta move, the volatility would slightly reduce very fast so that the premium which the huge out of the money strikes won't give you that much. So if you want to really play the budget, straddles and strangles, look at that you're not moving, especially in the strangle part, you're not moving very far out of the CMP. Choose your strike price very, very wisely when it comes to the strangle part when playing the budget.
So that's the video. So we have seen that generally, the India Vix falls in the budget, and it is not true that the volatility or India Vix will increase ahead of budget. So they are lower instances where the India Vix have seen an uptick moving into the budget.
But yes, post budget, it generally tends to fall to fall. So keep a watch on that and if you want to really play the budget, I would suggest look for stocks where you think there might be some announcement in the budget for some of these sectors and stocks, which have a slightly higher or above average volumes on open interest into the strike price. Look for those. So choosing a strike price in stocks is very much important looking at the volumes because they don't give you easy exits when the volumes are slightly over.
That's all in the video. Thanks for watching and again, I would say, do comment on our video so that it really helps us to come up with more and more videos for you. Thank you.
Warm regards,

Brijesh Bhatia
Research Analyst, Fast Profit Report
Equitymaster Agora Research Private Limited (Research Analyst)
Recent Articles