The Glitter is Returning to Bullion
Jan 27, 2022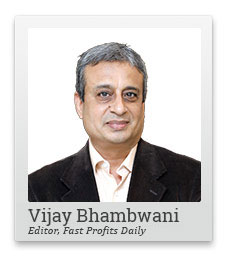 Bullion prices are back in the news. After a period when they were subdued, gold and silver have started to move up again.
I've been bullish on gold and silver for a long time and I think the rally has just begun.
In this video, I'll show you why the glitter is back in bullion prices in 2022.
Let me know your thoughts in the comments.
Hello friends This is Vijay Bhambwani here. I hope the markets are treading you well and you are making good money trading these markets.
In this video, I want to update you about gold and before you go all oh no, not a video on gold, Do please watch this video before you form any conclusions.
Yes, I have been bullish on gold and silver ever since I have started recording videos for Equitymaster's YouTube channel in the middle of 2019, calendar year 2019 and patient investors, especially subscribers of the Weekly Cash Alert service who have picked up deliveries of gold and silver since the second half of 2019, have made decent profits more than decent profits.
Closing tomorrow Midnight: 50% Off The Current Price (Price Going Up)
In my past videos, I have given you ample number of reasons why gold will do well. Earlier, I said the post 2021, gold will do well and then I modified the time frame to post 2022 because in 2022 you have the US midterm elections when historically gold is under pressure and dollar is boosted for obvious reasons of course.
Once you have this period of political compulsions over, I think you're likely to see even better appreciation in gold as compared to what you have seen in the last two months, and in the last two months you've got a trailer of what gold can do when the time is right.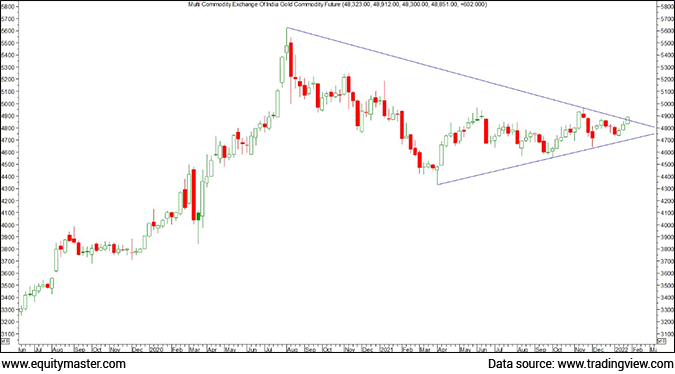 Like you can see on the weekly chart on your screen right now, you can see that gold is edging higher. Slowly but surely it's moving higher, and a crossover of a psychologically critical round figure number of Rs 50,000 for 10 gms on the MCX in rupees, will basically trigger both, number one short covering and number two, fresh buying.
I going to give you some fun facts about what has happened in the year 2021. That should basically a give you a lot more confidence in holding on to the gold that you have bought and possibly buy more on declines.
So central banks of which countries were the ones that were the most aggressive in buying gold in calendar year 2021? Thailand was at number one. Then you have countries like Hungary, Brazil, China, India, Russia, Mexico, Ireland, and Singapore that went all out and a lot of gold. Singapore actually increased its gold reserves by a whopping 20% in calendar year 2021 itself.
Let's talk about Russia. Russia is in the eye of the storm for all the wrong reasons. Aggression in Ukraine, stopping, holding back the natural gas supplies to Europe, and what if the Russians do to kind of buffer the Rubble from falling? They gold worth US$6.6 bn in the month of December 2021 alone.
Worldwide. the gold reserves with central bankers are estimated because the numbers haven't yet come. January is only three weeks old and it is estimated the central bankers ramped collectively, their gold reserves by up to 450 tonnes.
Now the Nikkei Asia newspaper reports that global central bankers have taken their gold reserves to their highest in 31 years. Three decades my friends. And let's take a look at what the RBI has done, our very own India's RBI, the Reserve Bank of India.
It bought 71 tonnes of gold between January and October 2021 alone, taking the reserve of gold in its treasury above the 700 tonne mark to 748 tonnes. Remember, this is only up to October. They put up in more additions, which I am sure there are.
Now India with this purchase by the RBI in calendar, 2021 is among the top 10 central bank countries holding gold. We are now a very, very major power where central bank gold buying is concerned. Of course, where citizens are concerned, where private citizens are concerned, gold stashed away by Indian households, temples, etcetera is already at number one in the world.
Why should gold rise in the year 2021? In spite of the fact and I have received queries and comments from some viewers, which I always welcome, by the way, hey Vijay, central banks are likely to raise interest rates. So don't you think gold should fall?
Hypothetically, yes. When interest rates go up, money moves out of riskier assets to interest bearing assets, fixed income securities. But hey, gold is not a riskier asset. It's a safe heaven. Which is why when gold sees buying, it is said there was safe haven buying in gold. And don't forget, what you are seen around you, look at the markets around you.
You've seen how volatile equity markets are. In October 2021 the Nifty was passed 18,600. In the middle of January. We have basically struggling to see the Nifty keep its head above 17,000. We actually dipped below 17,000 on Friday, which was 24th of January, but the Nifty kind of went up a little.
So equity prices will react first, especially shares of financials, NBFCs, interest rate sensitives, companies that are dependent on EMIs for purchases of their goods that they are selling. So equity prices will come down. Let's not forget a whole lot of currency, unbacked currency, currency that is not backed by gold, has got printed after the covid induced lockdowns.
Now this money, which is sloshing around in financial markets in equities because equities were the only game in town so far, at least in the last year or so, gold shot through the roof in 2020 after the lockdowns and made a peak along with silver. Silver crossed 76,000-77,000 per kg in rupee terms and they have been languishing there after.
So it seems equities were the only game in town. Now the equities are going to fall and if gold and silver are supposed to be safe havens and they have been safe havens for 3,000 years and more. Where do you think money is going to go?
That is a multi-trillion dollar question because we are seen gold ETF companies, companies that are basically running pension funds and low risk kind of investment pools, are now raising their exposure to gold. Let's take the savviest investors of all, central banks. They've now raised their hold reserves to 31 year highs, and it's not done yet.
I believe central banks might buy even more in 2022 for the simple reason that once the stock market starts falling after the US starts triggering interest rate hikes, I have basically made many videos as to why interest rates need to go up in 2022, raising the cost of funds for everyone around, and once the US starts to raise interest rates. Why? Because of the cash carry trade. Everyone else will also have to follow suit.
So equity prices might cool down and if equities are colling down, I think a whole lot of that money will go into gold. Which is why I have been telling you to buy physical gold rather than speculate in futures. Because once you trade in futures, you incur cost of carry, rolling over your long position from one month to the next, you're paying mark-to-market, you're paying brokerage and other taxes, and execution costs, which is counterproductive.
Hey, just take delivery, of it and sit quiet. Don't speculate, because then you will get fed up. You will add to your costs and you might just lose patience. Gold is a trade or an investment rather for people with a lot of patience, and it pays of really, really well.
I think the time for gold is come. We just need to see the price sustain above Rs 50,000 per 10 gms on the MCX, and you basically see escalation in the up move coming in. Sit tight. Hold on to the gold that you're holding already, and by all means go over there and buy some more.
On this cheerful note, I bid goodbye to you, not before reminding you to click like on this video if you liked what you saw. Subscribe to my YouTube channel if you haven't already done so. Click on the bell icon to deceive instant alerts about fresh videos being put up out here. Good, bad or ugly, I welcome all your comments in the comments section and please help me reach out to fellow like-minded investors and traders by referring my video to your family and friends.
Thank you for your patients and watching my video. I wish you have a very profitable day ahead. This is Vijay Bhambwani signing on for now. Till we meet again in my next, take care. Stay safe. Bye.
Warm regards,

Vijay L Bhambwani
Editor, Fast Profits Daily
Equitymaster Agora Research Private Limited (Research Analyst)
Recent Articles