The Simple Foundation of the World's Best Trading System
Jan 28, 2020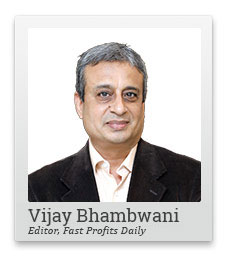 Hi, this is Vijay.
I'm back with you again, this time, fulfilling a promise.
Many of you have asked me to do more videos on my trading system.
I call my system: Behavioural Approach to Trading (BEAT).
What is it about?
How can you use it to make fast profits for yourself?
In today's video, I cover the simple but crucial foundation of my trading system.
I hope this video provides clarity on the most important thing you should look for in any trading system.
Hi, this is Vijay Bhambwani.
I'm back with you again and like I promised, I would do a video on more behavioural analysis style of trading.
So here I am. The key to take away in this behavioural finance video is, 'how vested interest is better than greed' and you can make a trading system out of this.
If you saw the old Wall Street movie, the 1987 Wall Street movie, where Michael Douglas, as a swashbuckling young stockbroker cum speculator, used to mouth of these iconic dialogues, one of which was 'greed is good'.
When I was a management student in my younger days, I used to hear things like the best motivation to a finance professional, is a monetary reward. I completely agree and greed propels us to earn higher and higher financial rewards.
But is greed the best way or the best method adopted to earn financial rewards?
I would beg to differ slightly from this. I think vested interest is a little more powerful as compared to greed.
Let's go back and encapsulate some amount of history here and learn some lessons, and formulate a trading strategy out of it.
We all know how the British and the French empires competed with each other for global domination. Each one wanted to conquer as many countries as far as possible and plunder them for wealth.
Now Napoleon, the French emperor, used to handpick generals who would accompany him for foreign journeys and foreign conquests by land or sea.
But before he handpicked these generals, he would ask them if they would be lucky for him. Some of these generals would not know a clue about how to answer them. They were obviously sent back.
Some, misreading Napoleon's question, would say they've consulted astrologers and Napoleon and the general's horoscope match perfectly, and therefore they would be lucky, were also sent back.
The remaining generals, couple of them would be smart enough saying, 'Yes, we will prove lucky for you, my emperor, because we know you're out to plunder the conquered nations and we side by side will plunder a few villages and to be able to do that, we are willing to risk our lives and fight harder.'
You know what? Napoleon chose these guys!
The reason is they had a vested interest to pocket some riches from the endeavour and from the wars.
Which is proved in behavioural science and behavioural finance, that vested interest motivates people to work harder. If you do not have any profitability to be gained out of doing something, you might actually do it like forced labour.
But if you were to make a good deal of money out of it, you would do it happily and probably in half the time.
Now what am I driving at?
What I'm driving at is, if you were to choose a stock, a commodity, a currency, or a bond, find out if a higher authority, a big institution, a powerful brokerage firm, an investment bank, or even the national governments, have a vested interest in that particular security, commodity, currency, or bond.
Let's take a recent example.
The government has laid out blueprints for PSU disinvestments.
Have you noticed how in the financial years 2016-17, 2017-18, and 2018-19, lists of those counters have been released where the government has endeavoured and in many cases, successfully disinvested shares?
Have you noticed what has happened in the run up to the disinvestment?
Ask yourself this question. Will the government disinvest a stock at a lower price or at a higher price?
You guessed it right.
You have the most powerful body in the market, the power of the state, having a vested interest in raising the stock price before disinvesting shares in that particular company.
This is equal to riding the coattails of a very powerful player and let him do all the heavy lifting.
As long as that coattail is moving in the direction that you anticipate, the profits will keep coming in.
As a behavioural trader, I do not bias myself against any particular stock. So, no such words as boring ever exist in my dictionary.
I am profit oriented. I am result oriented and any commodity, equity share, bond, or currency, where I see a powerful, motivated party, much, much more powerful that I am, interested in moving the price in a particular direction, hey, I'm gonna ride their coattails.
My idea is to put food on the table for my family four times a day and if I can afford a vacation, once in a year based on those profits, so be it.
So, I firmly believe that vested interest is the best trading system out there and we plan an entire structure of a blueprint of investment and trading at the beginning of every year, where we foresee vested interests leading the way and we simply write the coattails.
Before I sign off for day for today, let me remind you to click like on this video if you're watching it on YouTube. In the comments section, let me know what you think about this video and what other topics you would want me to cover in my forthcoming videos.
Please do not forget to share this video with family and friends.
This is Vijay Bhambwani signing off for now. Please take very good care of your investments and trades.
Thank you.
I'll be back again tomorrow with another video for you.
Until then, have a profitable trading day!
Warm regards,

Vijay L Bhambwani
Editor, Fast Profits Daily
Equitymaster Agora Research Private Limited (Research Analyst)
Recent Articles