Silver Gets a Biden Boost
Jan 28, 2021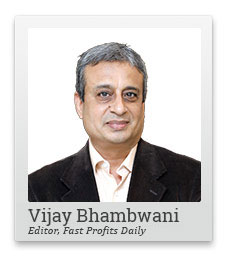 On 4th November, I recorded a video on Joe Biden.
Specifically, it was about the clean energy polices he would adopt as president.
Now that he is the US president and has begun implementing these polices, it's time to look at the best way to profit from it.
As you may have guessed from the title of this video, I believe the best play is to buy silver.
Why do I say that and what is the best way to buy silver?
Find the answers in the video.
Let me know your thoughts in the comments. I love to hear from you.
Hello viewers. This is Vijay Bhambwani and, in this video, I am gonna share my idea about how to make money from the impeding government policies under the new administration of President Joe Biden.
If you think I've added value to your trading and investment experience, I request you to subscribe to my YouTube channel. Click on the bell icon so you receive instant alerts about any fresh videos that I upload daily and do interact with me through the comments section, telling me what you think of this video and what other topics I can record in my future videos.
Also help me reach out to fellow like-minded investors and traders who believe in knowledge-based investments and trades by referring my video to your family and friends.
REVEALED: How to Potentially Make Up to Tens of Thousands of Rupees Within a Few Hours...
So let's dive into the topic for the day that I have chosen. May I draw your attention to my video of 4th of November 2020? On 4th November 2020, I recorded this video in which I laid out the scenario of what would happen if Joe Biden were to occupy the White House as the US president, the 46th US president.
And guess what?
Biden is now in the White House and along the expected lines that I laid out in my fourth November video, he has basically gone back and reversed half a dozen policy moves of his predecessor, Donald Trump.
The one thing that I told you Biden would do, is get America back onto the climate change band waggon. Donald Trump did not really think too much of climate change. He actually rubbished the idea. He thought it was a figment of the imagination of a few alarmists and activists who were basically resorting to much ado about nothing.
President Biden has now reversed that stand and said America will participate in remedial measures to reverse and halt global warming. What does it mean to you? How do you make money out of it? More importantly, how the road forward will basically impact our portfolios next?
You see the way climate change can be basically halted, if not reversed, is that you need to stop polluting our atmosphere by methane and other gases, greenhouse gases, which means clean energy, which means no effluents.
Now there is an entire line of investment thought process called ESG. Environmental, social and corporate governance. This basically means that you should be investing money in those industries. Those areas which are carbon neutral and non-polluting and therefore, beneficial to mankind on earth.
So renewable energy is likely to be a big beneficiary under the president Joe Biden's term and this was in his election manifesto, which I discussed at length in my video on 4th November and the only way I think, as per my understanding, is that Joe Biden will have to step up solar power and dependence on solar power.
Now for solar power and solar power the world over is gaining traction, you need a huge amount of silver. Now I have some fun facts for you, which I haven't discussed at any time in the past. So I'd like to draw your attention to these facts and let you be the judge of whether you want to go along with me in my bullish hypothesis on silver.
So the average solar panel consumes no more than 20 grammes of silver because technology has advanced and it is basically resulted in solar power being generated from smaller and smaller amounts of silver being deployed.
You see, a photovoltaic cell is nothing but covering over an electronic chip of silicon and a silver paste. Over a period of time, thrifting, the word thrift means to economise, the technique of thrifting has resulted in the amount of a silver being used to manufacture one photovoltaic cell has been reduced.
10 years ago in 2009, 11-12 years ago, the amount of silver required to manufacture one photovoltaic cell was 521 mg.
But in 2019, 10 years later, what we need is a bare 111 mg per photovoltaic cell and the solar panel is a cumulative panel of many photovoltaic cells. So the total each solar panel requires is 20 gm.
Now will thrifting take consumption of silver lower in the future? Yes, yes, it will. Technology has estimated that the possibility of 65 mg per photovoltaic cell is not far away. As a matter of fact, it could happen by 2025. Before you think it's too far, remember, we are in 2021 already.
But the overall consumption and the overall use of solar power will jump manifold by 2025. So even though of photovoltaic cells are consuming 111 mg of silver now, which will go down to 65 mg of silver, the absolute number of photovoltaic cells made is likely to jump up geometrically, which means silver consumption will actually go up rather than go down. So thrifting, therefore, is not really a big threat.
Now electrical and electronics, let's call it E and E, remained the top consuming industrial segment of silver but photovoltaic cell manufacturing is fast catching up as the second largest consumer of silver. Now E and E which is electronics and electricals, are responsible for 43.46% of the total silver consumed as of 2019. 2020 data is still awaited.
Whereas photovoltaic cells, less than 25% of the total silver consumed. So that's a very distinct second. Now the electrical industry has conducted a research study. It has found that silver has the highest electrical and thermal conductivity among all metals present in the universe. Yes, even higher when gold.
So if you want to build supercomputers superconductors, higher efficiency led lights, you want to have a very, very conducive highly and active printed circuit boards, you have to have silver rather than gold, aluminium or copper being used in these applications.
So silver beats all other medals hands down in thermal and electrical conductivity. As a matter of fact, the electronics and electrical industry has a deemed silver to be an electrically critical element, ECE, and said mankind cannot do without silver.
The other thing that is basically a fall out of the climate change is, the pollution is not only restricted to the atmosphere, but also the pollution to our groundwater. Basically, industrial effluents, or waste is polluting both our air and water.
What can be better as a biocide or something that can be used to treat the contamination in the water than silver?
Do you know your water filtration machines also have a certain amount of silver being used there? So as more and more people resort to water purification machines, the consumption of silver is likely to skyrocket and hey, water does seem to be the new oil in the making. It's getting precious, is getting more and more scarce and is getting more and more polluted. So this is another use for silver that is going to skyrocket.
Now the thing about the electronic and electrical industry is that it requires 99.9% pure silver. So no amount of for mixing or doping of silver is permitted. The more you use 100% or 99.99% pure silver, the more silver you will basically use up ultimately. So silver consumption is about jump.
Now, if you are familiar or very gung ho on the electric vehicle revolution that's coming up, as a matter of fact, I'm thinking of recording a separate video on this by itself, do note that you can't have long range batteries, which can give you more mileage per charge unless you have new age silver zinc alloy batteries and superconductors used in the car itself because remember, the more conductive and thermal energy which is being transmitted with least resistance, the longer the your car will run without needing a charge. So are the electrical vehicle revolution also is unlikely to happen without silver.
Now, the demand by the photovoltaic cell industry is a between 66 to 18 million ounces per year, and the best part is, it is after thrifting. By thrifting, I mean reducing the number of mg of silver used. So, like I said earlier, it's unlikely to fall below 65 mg per photovoltaic cell, because below that conductivity or production of electricity from sunlight is not possible.
So not only is Joe Biden likely to push for clean and green energy, but countries like Norway have actually started making solar panel roofs on automobiles so that during the night, the car and run on a long range electrical battery and in the daytime, it can utilise solar power to basically run the vehicles. Now, if this were to become a norm, I expect silver consumption to simply skyrocket.
So, friends, this is the reason why I think you're going to be doing a big favour to yourself, your future generations, in terms of a better, healthier, cleaner, disease, free life, and make money by investing in silver.
This basically fortifies my bullish case on silver and I recommend buying silver in the physical format in a coins and bars of 99.5 or higher purity. I've recorded enough videos which you can scroll down in this playlist to help you with how to buy silver and not get cheated.
How to get it electronically tested. How there are scams in the physical silver market where the core could be steel or copper and they're covering or silver on top. How to avoid all these scams. Which is the best place to buy reasonably priced silver and not pay a premium, etc.
Do give me a shout out about what you think of this video and in my next video on silver, sometime in the future, I will let you in on how the electric vehicle industry is likely to revolutionise the way it will consume silver.
I think you're on the path of super profits by being patient with silver. I've wish you have a very profitable day ahead my friends. Thank you for watching me. Thank you for being with me in this video. Stand by till I come up with my next. Thank you. Bye.
Warm regards,

Vijay L Bhambwani
Editor, Fast Profits Daily
Equitymaster Agora Research Private Limited (Research Analyst)
Recent Articles