Which Trade Will Make More Money for You: Going Long or Going Short?
Jan 29, 2020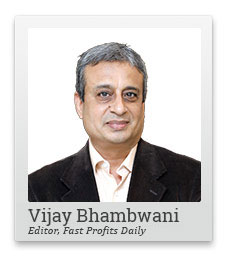 Hi,
It's Vijay here with another video, this time on a hot topic.
What is better for a trader: Being a bull or a bear? Is going long more profitable or going short?
In today's video, I will answer this question.
I don't ask that you agree with me but I ask that you keep an open mind and take your time to absorb the message of this video.
I'm sure you will be wiser if you take this message to heart.
Enjoy!
Hi, this is Vijay Bhambwani and today, I am going to address an issue which is a red-hot topic with day traders.
Is it more profitable to go long or is it more profitable to go short?
Now we all know that are two ways a person can make money. Buy at 100. Sell it at 110. So in that case, you're a bull. The other is to sell at 100. Buy it back at 90. In which case, you're a bear or a short seller. Where does the money come faster?
Now we all know that there are two kinds of stop losses a trader has, and in the case of a day trader, it's actually a no brainer because you are going to close your trade by the end of the day, no matter what.
This is called going flat out. It's like the ECG of a dead person. It's a straight line. So by the end of the trading session, your trade book is going flat out. Whether it's a profit or loss, you're supposed to close that trade. So time is of the essence.
And even if you're not a day trader, as a capitalist who is out to make the most amount of money, you have these criteria to meet.
Number one, you have to make the highest amount of rupee profits.
Number two, you must make it in the shortest possible time.
Number three, you must make it, make the profit, at a reasonable level of risk. If you're going to take an undue amount of risk and go bankrupt at some point in time, that risk is not worth it.
Looking at all these three things together, we are going to examine whether going long is more profitable as compared to going short. Here is my take. You can feel free to differ if you want, but what I am telling you is established by behavioural finance.
What happens when the stock is climbing up? School economics tells us that money is a finite resource. This means everybody, including the world's richest man, has limited amounts of money. He can only spend as much as he has.
So to be able to put the share price in a higher orbit, you need to buy more than people are selling, which means you need money.
So we all know that the bulls have finite or limited resources, so that is one challenge. The other factor that a bull market has to combat or fight along the way is the selling pressure of the actual sellers. The people who hold delivery of that particular share and therefore offer it at higher and higher levels progressively.
The third aspect, which Newton found for us, is the law of gravity. The higher things go above the ground level, the more the Earth's gravity pulls them down again. Which means that a bull market is effectively fighting three forces. Limited resources of the bulls, selling pressure by the delivery holders and even the bears, and three, gravity.
On the other hand, let's examine the situation, which causes the share prices to fall.
At some point in time, the prices stop rising and they start going sideways. The bulls have run out of ammunition, which is money. As we all discussed, they have finite resources. The bears are now smelling blood. They have realised that the bulls have run out of money, and therefore they put out some token short sales.
The price starts to edge lower. The bears now enhance their selling. Once the selling escalates the price falls faster. Guess what? Gravity in this case helped the bears, not the bulls. Therefore, the Earth's gravity pulls the share prices lower faster.
So (a) you have finite resources of the bulls who can't average their long positions, which causes prices to fall, (b) the bears are smelling blood and then short selling aggressively, which accelerates the fall, and (C) you have gravity, which destroys the bullish pyramid in half the time.
So my dear viewer, I'm of the opinion, backed by behavioural science, that falling markets fall much more faster, much more viciously, and with great magnitude as compared to rising markets.
If you made a house of playing cards, I used to make houses of playing cards as a child. It takes hours to make a five storey house made out of playing cards.
But if some mischievous younger sibling was to simply switch on the fan in the room, that house of cards comes tumbling down in a second. This is exactly a replica of the market structure. It takes laborious weeks and months to build up a bull market, but it takes a moment of selling pressure to smash a bull market and turn it into a bear market.
If you can, by your own study, based on mathematics and behavioural finance, which is what I do at Equitymaster, can isolate points where you can sell before the market is about to fall, you will not sleep hungry in the night.
As a professional day trader, you will have enough money to put food on the table for your family for weeks, if not months.
So as far as I'm concerned, I'm of the opinion that trying to gauge a good selling entry point is much, much more profitable than buying a stock and waiting for months for it to go up against the selling pressures of the delivery sellers, against limited resources of the bulls, and Newton's gravity.
Before I wind up for today, let me remind you to click like on this video if you're watching it on YouTube.
In the comments section, do let me know what you think of this video and what further topics you would want me to cover in my forthcoming videos.
Also, do not forget to share this video with your family and friends. Help us to spread the knowledge.
This is Vijay Bhambwani signing off for now. Do take very good care of your trades and investments.
Thank you.
I'll be back again tomorrow morning with another video in the Fast Profits Daily.
Have a profitable trading day!
Warm regards,

Vijay L Bhambwani
Editor, Fast Profits Daily
Equitymaster Agora Research Private Limited (Research Analyst)
Recent Articles