How to Prevent the Market from Taking Your Money
Feb 3, 2020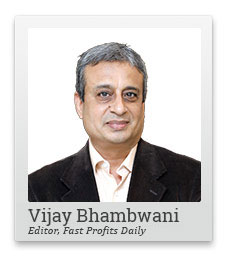 Hi, I'm Vijay and this is the Fast Profits Daily.
Today I am going to talk to you about something I find very interesting. Are there times when the market tries to con you?
The answer is yes!
But how does this happen?
Well, Dalal Street has many tricks up its sleeve. You should be aware of them and take preventive action.
Let's find out how...
Hi, this is Vijay Bhambwani and today I am going to talk to you about something very interesting in the market.
The idea is to discuss whether there is a right time, or a time better than the other times, to get conned by the markets.
Yes, you heard me right. I am warning you about how not to get conned in the markets.
In my other video, I talked about how the first in the last three minutes of trade are dominated by the BTST and STBT traders, which is the buy today, sell tomorrow and sell today, buy tomorrow.
Is this the only time when market forces tried to influence the price? Or are there other times as well? This is what I'm gonna discuss with you, over the next few minutes.
Have you actually noticed how the research industry, the mainstream media, and even on social media, you are getting a particular type of recommendations in slotted periods of the calendar month?
If yes, why does this happen? If no, I will elaborate why and what.
I have observed in the last couple of decades that I have been in the market is that the riskiest investments, are actually recommended in the first few days of the calendar month. If you already guessed it, you know what I'm talking about but for those who haven't, it's your payday.
This is when the salary gets credited to your bank account, and therefore, you have ample amount of money sloshing around in your bank account to take risks with.
The broking industry, the research industry, and the media knows it, which is why the highly risky trades are recommended in the first few days of the month.
As the month progresses and you used of a substantial amount of your pay check towards your survival expenses, school fees of your children, rents, etc, you come to deliverable medium to long-term investments.
Towards the fag end of the month, when you have very little money left and you're postponing your expenses to the next month, you will get extremely long-term investment ideas, mutual fund, and fixed income ideas, because that's when there is the least amount of money which you can be adventurous with.
Let's knock it a slightly bigger picture. Are there other time frames where you need to be guarded about the kind of information that is being failing to your mind?
At the end of every calendar quarter, the mutual funds are interested in boosting their NAVs. So there is cross buying. One mutual fund will buy the holdings that are held by another mutual fund, so that a reciprocal arrangement is often made by the benefiting fund.
This way, the entire mutual fund industry can prop up their NAVs and as long as the NAV is rising, there is higher inflows either by way of one-time inflows or by SIPs or systematic investment plans.
Now, regulations in India require that the end of every calendar quarter, the mutual funds disclose their NAVs in one regional newspaper and one national newspaper. At that point in time, there is a rush for boasting rights. My NAV has beaten the Nifty 50 or the BSE Sensex by so many basis points. Or my NAV has risen higher than the average other mutual funds in the business.
So at the end of every calendar quarter, all other factors being constant, you should not be short-selling the market because you have the vested interest of very large players, the Indian and foreign mutual fund industry, which is insisting that prices go up.
Similarly, you have the year in the calendar year and now this happens to be the financial year end of the foreign investment institutions or the FIIs.
The foreign fund managers are keen to go home to join their families for Christmas and, more importantly, to collect their performance bonuses.
And performance bonuses, as you know, would be paid out on the extent of profits booked as well as mark to market profits on open positions.
Who would want mark to market positions to be in a loss? So here again, FIIs are extremely bullish at the end of the year, in December, around Christmas time, telling you how they will come back in January and invest even more money into India because they feel the long-term outlook for India is extremely bullish.
They try to talk the markets up. If you are thinking trader, which I want you to be by seeing my videos, you will know that this is again a time you should be extremely careful about what you allow to influence your trading or investment decisions.
Then you have the election cycle. I have often spoken about the US presidential cycle. Every four years, as you know, is the US presidential election and in this case of the year 2020, the elections are slated for third of November in the US.
Here you will see that the US will start to cover their economic data with gravy, and you'll have inflation falling down. You'll have employment numbers which are actually improving. Corporate profitability goes up. Inflation is brought down. The dollar is strengthened and it has its own pull and push effect on the global financial markets.
Similarly, we also have our local domestic elections. Here again, the data is pump primed and the oil prices at the pump are brought down. More and more promises are made towards infrastructure, roads, water, electrification, etc and that influences those particular sectors that are being mentioned in the news media.
These are all examples of what not to do.
There is ample word out there in the public domain of what to do but maybe, you need to be a little careful and think as to walk is being said, can actually be done. Or maybe you need to be a little more guarded than that.
So, yes. If you actually apply your mind, there are times out there when there is a higher probability of you getting into a trade or an investment, which is not exactly the best-case scenario for you. I hope in the future, you can take ample preventive measures to be careful out there.
Before I sign up for today, I would like to remind you to click like on this video if you're watching it on YouTube.
In the comments section, do let me know what you think of this video and what else you would want me to cover in my forthcoming videos.
Do not forget to spread this knowledge with your family and friends. This is Vijay Bhambwani signing off for now. Do take very good care of your investments and trades. Thank you.
I hope you found the video useful.
I'll be back again tomorrow in the Fast Profits Daily with my views on the budget and how the market will move. Don't miss it!
Have a profitable trading day!
Warm regards,



Vijay L Bhambwani
Editor, Fast Profits Daily
Equitymaster Agora Research Private Limited (Research Analyst)
PS: Equitymaster's small-cap stocks guru, Richa Agarwal, is hosting the One Stock Crorepati Mega Summit on Tuesday, 11 February. She will talk about her #1 stock for 2020 and beyond. The summit is free and I recommend you register for it here right away.
Recent Articles