Energy Sector to Fuel the Rally
Feb 3, 2021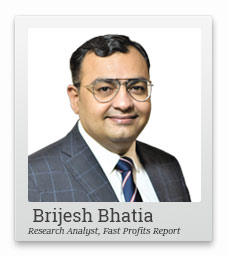 With the budget out of the way, traders are looking for the next big trigger to profit from.
The post budget rally was led by financials but that is not the best sector to trade in the short-term.
If you're looking for short-term profits over the next 8-10 days, then energy stocks are the place to be.
In this video, I'll tell you why I'm bullish on the energy sector.
Enjoy the video and let me know your thoughts in the comments. I love to hear from you.
Hi viewers. Welcome to the Fast Profits Daily video series. Myself Brijesh Bhatia, senior research analyst and editor at Equitymaster.
You might be wondering the post budget rally has been amazing. I would say the dream budget for traders and we have seen right from 13,800-13,7000 levels to 14,700 levels on Nifty. Bank Nifty 30,500 to 34-500. Stellar run for these indices.
Get Details: First Stock to Potentially Accumulate Rs 7 Crore Long-term Wealth
But you may be wondering what should do now? I will be sharing one index or one sector where you should definitely look from a trading point of view where I think that still momentum is left. That is the energy basket.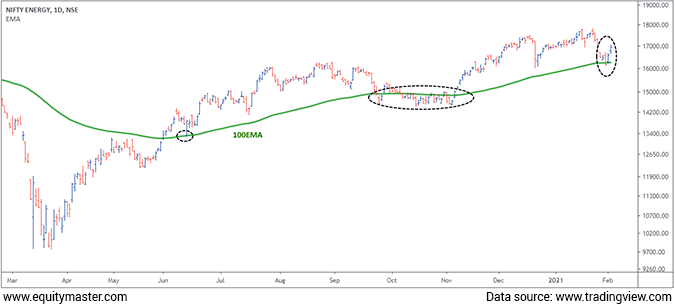 Now if we look at the energy chart over here, the prices have been on a stellar move right from March, and obviously the sector has seen a strong momentum. Now, if you look at the momentum, the 100 days exponential moving average, whenever these indices are testing around in bullish run after it has crossed over on the positive side, when it has tested those average, we have been a huge positive momentum coming back on the indices.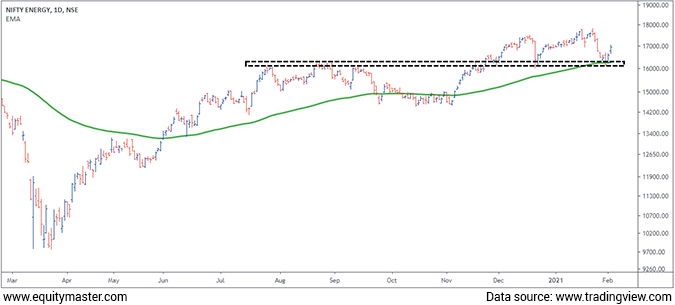 Again now, if you look at the second chart, the previous resistance, which was in July, August, September which was 16,200-16,300 which will be now acting in the strong support. Now we have seen previously also in November December, now back into January of 2021 it has retested those demand zone again and in the last two training sessions, we've seeing these prices giving an uptick, which means that still, a bullish momentum is left and we haven't seen these stocks coming back strongly post budget.
Yes, BPCL and IOC came back very strongly, but the king or I would say the elephant, Reliance, is yet to move. That could make the needle change.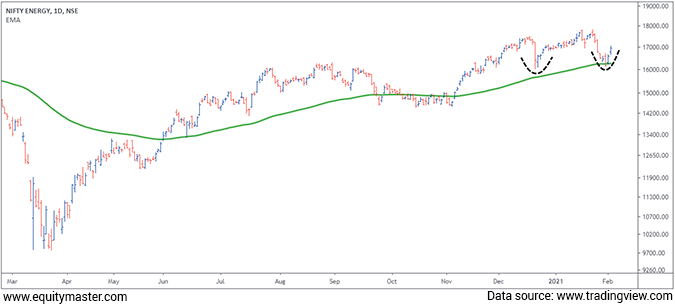 If you look at the third chart over here, the similar bottoms over 16,000 in the current momentum is giving a stronger sign for me that this sector has still has steam or momentum on the upside for a trader's point of view.
The set ups might fail in case these supports are broken down but as of now, we look at the both the support zones, both the bottoms over here are similar, which is giving me a strong conviction that still and upside is left for the energy basket to see an upside momentum. So keep a watch on the energy basket from trading side. I'm expecting this energy basket to gain.
It's trading at around sub 17,000 levels. I am expecting this index to move to over 17,600-17,800 which is another 4-5% upside from the current levels. So keep a watch. This sector can also take the market to the 15,000 level because, remember, energy has a huge weightage on the Nifty.
So we might see the energy basket adding fuel to the markets, taking it to 15,000 and you should not miss the energy basket trade or the stocks which you select and I think that is potential in the energy stocks. So do not miss this rally. Take an opportunity and gain a huge trading momentum from current point of time i.e. energy.
So all we have seen banking has rallied. So there might be a risk reward concern for you. I think from the energy basket, you shouldn't have that risk-reward concern because it's stoploss are slightly nearer than the stoploss in the banking space and financial space which are slightly on a deeper cuts.
So energy could be the one you should look from a trading point of view for the next 8-10 trading sessions.
Thank you. Signing off. Brijesh Bhatia. In case you haven't subscribed to our YouTube channel do click on the subscribe button and also comment how you feel about the videos.
In case you feel that some of the topics we should cover in our Fast Profits Daily video series will definitely come up. Do comment in the comments section.
Thank you.
Warm regards,

Brijesh Bhatia
Research Analyst, Fast Profit Report
Equitymaster Agora Research Private Limited (Research Analyst)
Recent Articles