My Outlook for Traders After the Budget
Feb 4, 2020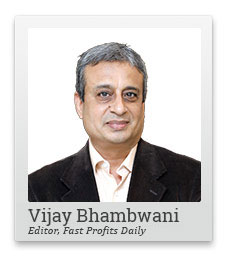 Hi, this is Vijay Bhambwani in the Fast Profits Daily.
As promised, I've recoded my views on the market post the union budget.
Before you watch today's video, let me just say two things...
If you were long on the market on Saturday, I offer you my commiseration. I know how painful losses can be.
But don't forget the wise old saying - This too shall pass.
And if you were short on the market on Saturday, I applaud you. Consider taking a short breather from trading and celebrate your winnings.
Now let's get into the video...
Hi, this is Vijay Bhambwani and I'm back with you today to talk about the market outlook post budget.
I remember in my previous video, at the end of the year, I gave you two outlooks.
One was the January effect in the market and how to make money out of the January effect and be the outlook till the budget.
I had laid out my view and my hypothesis, which is a theory that till the budget, the markets were likely to stay firm.
Barring the last three or four sessions in the run up to the budget, where the markets reacted, the market's played out beautifully as per my expectations. The so called new highs were being logged by the indices.
On the day of the budget, the market long a massive decline. Now this was the initial reaction to the budget.
Statistical analysis of markets, traders would play by mathematical systems, will tell you that huge volatility like that invariably is followed by a counter trend volatility.
So I would expect the next couple of trading sessions to be (a) choppy where prices are thrashing about and (b) a good probability exists that some of these losses might be temporarily reversed.
So I'm going to talk about, (a) the outlook for the month of February and (b) the immediate near term outlook after the budget.
If you were holding long positions in the market, you'd have seen your notional profits erode very substantially or maybe, if you're in a recent entrant on the long side in those counters, you would actually be sitting on some losses.
The concept of overhead supply will now come into play.
As and when prices rise to a point where a person's break-even point is seen in prices or where the losses are substantially reduced to a level where the person feels that a small loss is palatable and therefore okay, I expect selling to emerge again at higher levels.
Now, this is called the concept of overhead supply. Whenever prices go up, there is supply coming in at higher levels from people who have entered the market and extremely bullish levels.
So for the next couple of trading sessions, if not a week or two, the rallies will be caped and the weight of selling pressure at high levels is likely to permeate the sentiments.
There is an old saying in Wall Street and, by extension, in Dalal Street - Buy on expectation. Sell on news.
So where the buying was seen ahead of the budget in the month of January, once the budget is actually out, there is no more suspense, including hope, left to buy for.
The event is already out. The suspense is already out and therefore, the quick money, the big money, and the smart money, tends to lighten up their commitments.
So the selling after the budget is not something which is unexpected or any surprise to veteran players who have seen many budgets in the markets and have participated and traded on budget days.
So 'sell on news' is something that we are seeing right now. The month of February to that extent is a sell on news month.
Much will depend hereafter on corporate earnings on guidance from the FIIs about allocations to India, which is something I talked about the outlook for the month of January video as well.
If FII allocations are to increase, I think the decline will be stemmed and stopped and certain amount of floor support is most likely to come in thereafter but like I said, it is contingent or dependent on the FII buying and allocation outlook.
Secondly, in a falling market, you will be surprised to know, that it is the bear who stops the market from falling further.
Let me explain.
If I was a bear, who has shorted a company called ABC at a price of 100, when the prices are collapsing and the bulls of panicking, it is in my interest to buy the stock at 80, 75, or 70 because I am actually booking a profit.
I am actually gaining from the decline in prices. So it is the squaring up or buying back of short positions by the bears that will provide a floor support to the market.
Now chartical evidence will tell us when the bears are coming out and aggressively squaring up their shorts.
It's early days yet. When I am recording this video on Monday, the bear covering is not being seen in large enough amounts.
So as and when it occurs, remain assured, I will come to you and record another video to provide some more guidance on this front but as of now, I think the markets are in the state of flux. Traders are coming to grips with the new prices, which are substantially lower than where they were at this time last week and we are awaiting corporate earnings as well as FII guidance.
Till then, it's going to be anybody's trading game the day traders, especially the micro trend traders. A micro trend trader is somebody who trades for no more than 59 minutes and 59 seconds, which is less than one hour.
This market belongs to the micro trend trader or at best, an intra-day trader, somebody who enters at open but definitely closes out all their positions by the end of the trading session, which is called going flat out. Just like the ECG of a dead person shows you a straight line, a day trader will close all his or her positions and go flatline out on trade book.
Till then, the trading activity will be dominated by traders who are going flat out. So at this point in time, frankly, I have no clear trends to bring forth to you but like I said, as soon as clarity emerges, remain assured, I will come back to you with a fresh video. Till then, keep trading and play a very, very safe game.
Before I sign off for today, let me remind you to click like on this video if you're watching this on YouTube. In the comments section, I am looking forward to your reviews about this video and what else you would want me to do in my forthcoming videos and please do not forget to share this video with your family and friends. Do take very good care of your trades and investments.
Vijay Bhambwani signing off for now. Thank you.
I'll be back again tomorrow in the Fast Profits Daily.
Have a profitable trading day!
Warm regards,

Vijay L Bhambwani
Editor, Fast Profits Daily
Equitymaster Agora Research Private Limited (Research Analyst)
Recent Articles