Top Sectors to Trade Now
Feb 4, 2021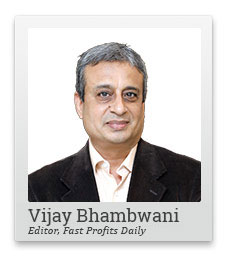 On budget day, I shared my view on the market.
I also promised to record a video on the top sectors to trade after the budget.
Well here it is. In this video, you will find my full list of sectors that I'm bullish on.
You can consider picking stock from these sectors to trade in the short-term.
Enjoy the video and let me know your thoughts. I love to hear from you.
Hello viewers. This is Vijay Bhambwani and I'm back again with you to fulfil my promise which I'd made to you in my video on the day of the budget, which is first of February 2021, which was basically the initial quick reaction to the budget after hearing the honourable finance minister's speech.
I told you a would come out with a sectoral view and give you somewhat greater details as to my initial thoughts amount which sectors and specifically what direction the markets are seemingly likely to go.
Now, the fact that the budget has been well accepted by the markets goes without a saying. The bears have been pushed on the back foot. They are feeling the squeeze. They're covering the short positions, which is what you saw on Monday, Tuesday, and Wednesday. The markets really making strikes and bear covering was apparent immediately because all small dips we're getting bought into.
Revealing Tomorrow: The Great Indian Wealth Project
So the direction of the market largely seems to be upwards with interspersed corrections here and there. As a 360 degree trader, I would like to share with you why I think the markets are likely to be upwards broadly.
You see, while hearing the speech of the honourable finance minister as soon as she touched upon the increase in foreign direct investment limits in insurance, it became immediately clear to a sharp and savvy market watcher that the news media items that you were hearing about the Life Insurance Corporation of India's initial public offering on the public issue, was now gaining concrete ground.
Now as the divestment of the government's stake in the past, either directly or through the CPSE ETFs has shown, in the case of ONGC, particularly in 2017, it's common sense that if at all you were wanting to sell an asset, you would want to sell it at a higher price so that you would get a larger amount for that asset.
So typically speaking LIC which is like a prime jewel in the government's crown, is likely to fetch anything between 80 to 95,000 crores in the initial public offering and the groundwork was being laid by allowing increased FDI in the insurance sector.
So number one you're gonna see a greater activity in insurance but do remember that markets are forward discounting mechanisms and therefore the run up in the shares of many of these bank sponsored insurance companies have actually seen the prices somewhat elevated, and therefore these would be buy on dips unless you're a high risk appetite momentum chaser.
So when at stake is 80 or 90,000, maybe even 95,000 crores from LIC's disinvestment alone, the overall disinvestment of course, the target is 175,000 crores, which means that the PSU sector, especially those stocks which have been specifically marked for disinvestment, become prime candidates.
Now take for example, look at the largest bank in India, SBI. Have you seen how the stock price has been jumping like a kangaroo and all this only on hearsay or the whispers in Dalal Street about a potential part of loading of the government's stake?
There again, you have oil marketing companies, oil pipelines being monetised, which would mean that these pipelines would start to unlock value and you have oil marketing company stocks doing particularly well.
So the markets are likely to remain news driven, and wherever the markets will smell potential of profits, I think dips will get bought into. So lower risk appetite trader should focus on those PSUs which are earmarked for disinvestment.
You have BPCL. You have monetisation of the pipeline of the other oil marketing companies, or OMCs as they are called. You now have the insurance companies. Pay particular attention to the banks sponsored insurance stocks that are listed on the NSE and the BSE.
Another sector that comes to my mind immediately and this is something that I had spoken about in my video far before the budget, based on the movement of the stock price, was the auto and auto ancillary stocks.
If you are connected with me on Equitymaster's Telegram channel, which goes by the Handle Equitymaster Official, which I urge you to join today itself because I keep posting three end of the day reports based on our statistical model, which basically throws out a lot of data about market's trading pattern. You would have seen since the last few weeks as to how auto stocks, along with auto ancillary stocks have been in the highest gainers list.
Now do remember that the honourable finance minister has laid a greater emphasis on urban transport, particularly the bus service within cities. Also metro train the infrastructure in many cities were announced, which means that vehicular traffic is likely to be encouraged provided there are new vehicles, which is why the voluntary vehicles scrapping policy has been followed.
In a democracy, I am very happy that it has not come by way of a rigid law but a voluntary vehicles scrapping policy, which means vehicles over the age of 15, commercial vehicles over the age of 15, will gets scrapped and replacement vehicles will be purchased. In the case of passenger vehicles, it will be 20 years and there are higher taxes for running or plying these older vehicles on the road, which is actually a disincentive.
So you would have seen how stocks of commercial vehicle companies and if the company is also a passenger vehicle company cum a commercial vehicle company, you'd have seen how the stocks have jumped.
Case in point is the run up in Ashok Leyland and Tata Motors. Ashok Leyland is a pure commercial vehicles play whereas Tata Motors PV plus CV. Passenger vehicles plus commercial vehicles. So the auto sector, without actually targeting individual stocks, the auto sector is another sector which is buy on declines for the simple reason that much of the run up has already occurred before the budget.
Do remember that markets are forward discounting mechanisms, and there will always, there will always be people who happen to know a little bit advance or ahead of the actual announcement of the news. So the market basically senses or smells information and takes positions as second guesses or in advance of the action announcement.
So it was immediately apparent to me that the auto sector was buzzing, thanks to these end of the day updates on my on Equitymaster's Telegram channel and even after the budget, they refused to go away from the top gainers list, as you would see once you join the Equitymaster channel if you haven't already done so.
So, friends of these are the sectors, and one more sector that I actually almost omitted due to oversight is the technology space. Over the lockdown period, you'd have seen how, basically, we learnt to buy our groceries, vegetables, milk, eggs, medicines, etc, online. So technology and e-commerce are another area which I think is likely to boom.
As a matter of fact, it also proved to be a surprise employment provider in times of the lockdown. This industry has actually recruited people thanks to the boom in digital transactions, online transactions. So technology is again something that you must have in your portfolio from the long term perspective, with a long term of you in mind.
All these sectors, I think, are buys on declines as long as you have a long term time frame in mind. I wish you a very, very happy and prosperous investment game plan, keeping these investments in mind in the post budget scenario.
If you liked this video, please do subscribe to my YouTube channel if you haven't already done so. Click on the bell icon to receive instant alerts for any fresh videos being put up out here. In the comments section, I would love to hear from you and please keep the communication channel open.
Also help me reach out to fellow like-minded investors and traders who are looking out for knowledge based investments and trades by referring my video to your family and friends.
Have a very profitable day ahead. Vijay Bhambwani signing off for now.
Thank you for watching.
Warm regards,

Vijay L Bhambwani
Editor, Fast Profits Daily
Equitymaster Agora Research Private Limited (Research Analyst)
Recent Articles