Will Your Trade Go Up or Down Today?
Feb 5, 2020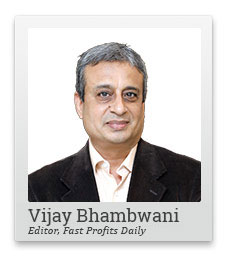 Hi, this is Vijay here in the Fast Profits Daily.
Today, I'm sending you a video of the kind that you've asked me to do more of - My Behavioural Approach to Trading (BEAT) system.
I want to show you a simple method to find out if your trade will go up or down.
Yes, it's actually possible to estimate this to a reasonable degree!
So let's get right into the video...
Hi, this is Vijay Bhambwani and I'm going to talk to you again about the behavioural method of achieving trading success.
I am very glad that I am getting a lot of feedback on my social media pages and also through the YouTube comments about what you want me to do in my videos and how well you like my videos.
Keep the feedback coming guys so we can tailor make our future videos for you and also help you become better traders and investors.
So today, I am going to use a behavioural method of trying to gauge how much any trade and security, whether it is an equity share, a currency, a commodity, an index, or a bond, likely to fluctuate during a training session.
If, as a day trader, I was to tell you that I can give you a reasonably bankable and reasonably reliable method of trying to estimate, I'm using the word estimate here, of how much the share or the traded security can go up or go down during the trading session, I think professional traders would love to give their right arm and a leg for this kind of knowledge.
So I am gonna share my secret sauce with you. Here it goes.
Behavioural finance deals with simplicity. It breaks down very complex of phenomena or occurrence and breaks it down into day to day examples of living.
So I'm going to take you to a very routine example of you observing a man taking a dog out for a walk.
Notice how the man relatively walks along a straight line. The dog, especially if it is a young, small puppy dog, happens to be frisky, mischievous, and a bundle of energy, the dog seldom walks on a straight line. He happens to go forward net-net, but he'll gyrate from the left, go to the right, go past the centre line, and deep sniffing things around, playing with things around and yet, move ahead with the owner of the dog.
Have you noticed how far that dog can move away from the owner?
It's dependent on the length of the leash around the neck of the dog. So if the leash is 10 feet long, the dog can gyrate to the extreme left to the extent of 10 feet and extreme right to the extent of 10 feet.
Similarly, all traded instruments - commodities, currencies, bonds, equities, indices - have a leash of their own and if you actually observe, these securities happen to move on an intraday basis, depending on the leash that is there.
The only difference between a dog on a leash and a trading security is that in the market, because human emotions are involved, and human emotions can get stronger or weaker, depending on sentiments, news flow, etc, therefore, the length of the leash is variable.
Sometimes, a security's intraday volatility contracts. Sometimes it expands. Which is why, I used the word 'estimate'.
Now how would you like to calculate the length of the leash or the potential intraday volatility of any traded security?
All you need to do is take the last 10 days intraday range. That is the difference between the high and the low of a trading security and take an average of the last 10 days.
Microsoft Excel, your cell phone, calculator or simple tools will be able to tell you that if the average traded range of a security say hypothetically was Rs 10 over the last 10 days, you can assume, I emphasised on the world assume, that on the 11th day, the security will move approximately Rs 10 on an intraday basis.
So if it falls Rs 10 as compared to yesterday's close, you can presume with a certain degree of probability that it will rise from there and if it goes Rs 10 higher as compared to the previous close, you can assume with a certain degree of probability that it will possibly fall, even if for a brief period of time, on an intraday basis.
While this is not a laser precise or a fool proof method where you can bet your house on. As a matter of fact, you should never do that in the first place.
But if you're planning to put food on the table for your family four times a day and thereby make a couple of thousands of rupees scalping on an intraday basis, I would swear by this strategy
So what is a routine, simple example of a man walking the dog, I actually made a trading system out of?
This is what behavioural finance and behavioural method of trading is all about. I will be sharing many more such examples with you as to how to become more profitable trader, using real-world, real life examples, so simple that they don't strike you as a trading system.
Before I sign off for this video, let me remind you to please click like on this video. Do share this knowledge with your family and friends and in the comments section, do let me know what you think of this video and what next would you look like me to record for your trading purpose.
Do take very good care of your trades and investments. This is Vijay Bhambwani signing off for now today.
Thank you.
I hope you found the video useful. Let me know what you think by clicking here.
I'll be back again tomorrow in the Fast Profits Daily.
Warm regards,

Vijay L Bhambwani
Editor, Fast Profits Daily
Equitymaster Agora Research Private Limited (Research Analyst)
PS: Richa Agarwal, Equitymaster's head of smallcap research, recently published a special guide: Small Caps That Will Race Ahead of the Sensex. You can get it for free - just click here to learn how.
Recent Articles