How I Increased My Trading Profits... and You Can Too
Feb 6, 2020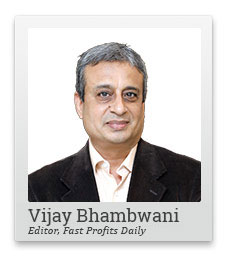 Hi, this is Vijay in the Fast Profits Daily.
Today's video is a little different. I'm sharing with you what I did a few years back to boost my trading profits significantly.
I believe you can copy this in your trading as well.
I'm talking about getting a higher rate of return on your trading capital - per trade, per day, per week, per month, per quarter, and therefore, at the end of the year.
Believe me it wasn't easy but I did it and it was totally worth it.
In today's video, I have simplified it for you so that you can implement it right away.
Hi, this is Vijay Bhambwani and I'm back to talk with you again, this time with a slight difference.
For a change, I'm going to discuss what I did at my company to basically try and achieve a higher rate of probability, both in percentage terms as well as in absolute rupees.
I wanted to optimise the rate of return on the capital that I was employing in my trading with my brokers.
Frankly, this process was not quick. It was long drawn out. It took us trial and error but since I'm sharing my knowledge with you, I expect that the learning curve will be much shorter of you.
What I'm talking about is achieving a higher rate of return on your trades per trade, per day, week, month, quarter, and therefore at the end of the year.
Trading is an extremely serious business. Professional traders would tell you that. Just like any other business out there, a trader must know what his expenses are, how much he earns after being all these expenses, whether the earning is higher, equal to, or lower than his expenses, and therefore whether the trading is working for the broker and the exchange, or working for himself.
For example, if I was to have a shop which is selling these shirts, it is my duty to find out how much it actually costs me to sell each shirt.
It goes beyond calculating the price of the shirt, the electricity, telephone expenses, staff salaries, municipal taxes, etc. I must add all these to my cost and then sell the shirt at a price higher than that cost, to be able to achieve a profit.
To a trader, there are various types of expenses which he must get familiar with. The first and foremost, is the brokerage expanse. This is a recurring expense, mercifully variable in nature, variable to the extent that you can negotiate with your broker to achieve a lower rate of brokerage. The lower easy of brokerage on each transaction, the higher to that extent will be your take home profits.
Also, the GST that you pay on the transaction will be dependent on the brokerage. So the lower is your brokerage, the lower will be your GST outgo.
The second is the STT or CTT. STT is the security transaction tax applicable in the stock markets and CTT is the commodity transaction tax in the commodities markets. Mercifully, we do not have a STT or CTT in the currency market. STT and CTT is the biggest expense by far out of all these expenses which I'm listing out. These are not variable and standard across the country.
Then comes your stamp duty, which varies from state to state. Then SEBI transaction tax, which is again non-negotiable and therefore uniform, and the exchange turnover charges, which again is a standard charge.
So if at all you're trading, you must typically aim to earn profits, net take home profits, which are higher than all these costs combined together.
This is something I call my trade efficiency ratio.
Now, obviously, my trading profits will be higher if I trade lesser because the more I churn my trades, the more STT, brokerage, GST, exchange turnover taxes, stamp duty, and SEBI charges.
But my trading should not fall to an extent where I am actually missing out on profitable opportunities.
So it's a question of finding and equilibrium. Neither should my trades be too low in order to save on taxes, I also sacrificed my profits. Nor should they be too high that my profits are actually smaller than all the execution costs, commissions, and taxes that I am paying.
Over a period of the last two and half years that we implemented this program at my company, we found that the best trades are those, where the trade efficiency ratio is at least two, which means my take home profits is at least twice more than all these execution costs, commissions, and taxes that I pay. If it is any less, I am actually working for the broker and the exchange, and, of course, the government.
It is in my favour that I need to work for myself and put food on the table for my family. So I essentially take those trades, where the risk reward ratio is extremely profitable and hugely tilted in my favour.
If it all the trade doesn't look like it's going to result in a trade efficiency ratio of two or higher, I skip the trade.
What happens if you were to skip consecutive trades for a few weeks?
That itself is detrimental. So in a period where the markets are dull and profits are not really forthcoming, I would be a little lenient and allow the trade efficiency ratio to fall to 1.5.
Which means, if my take home profits are one and half times instead of the usual two, as compared to all these taxes, execution costs, and commissions, I'm, okay with it.
But that is compromising.
Over a period of time, I must ensure that quarter on quarter and therefore, by default, year on year, my trade efficiency ratio is kept to a minimum of two or higher.
Frankly, in the first year that we started implementing this programme, the profitability went all over the place.
We either went into a state of shock and cut down too many trades and therefore lower profits or sometimes to overcompensate, we traded a huge amount and the exchange costs and commissions went through the roof.
But believe me, maintaining a trading log helped us a lot.
So every time we traded, we put in the trade time, the rate, the quantity, and the reason why the trade was implemented.
Similarly, the execution of the exit, the price, the time, and the reason of the exit, was also logged.
It helped us to kind of super refine as to which kinds of trades, at what time of the day, was actually yielding the best results. Then it was a simple case of extrapolation. Extrapolation is continuing to do the same thing which works for you.
Therefore, over a period of time, we have, I'm happy to announce, achieved trade efficiency ratio of 2 is to 1 and sometimes even higher.
To my mind, this has been a make or break factor of my long-term profitability and the profitability of my company's trading experience.
I am sure by maintaining a trading log and trading journal, you can do so too.
If it all you succumb to the temptation of trading without having a game plan, then you're at the mercy of the market forces, where you're being kicked around like a football, not knowing what you're doing.
If you're trading without a plan, you're basically throwing darts in the air without knowing where the dart board is.
I would say you study the game, treat trading as a very, very serious business because that's what it actually is.
Before I sign off for now, let me remind you to click like on this video if you're watching it on YouTube. In the comments section, do let me know what you think about this video and what more topics you would like me to cover in my forthcoming videos.
And do not forget to share this knowledgeable video with your family and friends. This is Vijay Bhambwani signing off for now. Do take very good care of your trades and investments.
Thank you.
I hope you found the information in this video, useful.
Let me know what you think in the comments section below. I love to hear from you.
Have a profitable trading day!
Warm regards,

Vijay L Bhambwani
Editor, Fast Profits Daily
Equitymaster Agora Research Private Limited (Research Analyst)
PS: Richa Agarwal, Equitymaster's small-cap stocks guru, recently published a special investing guide: Small Caps That Will Race Ahead of the Sensex. You can get it for free. - Click here to learn how.
Recent Articles