The Gold Bull Market is Still On
Feb 9, 2021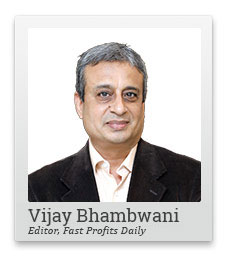 This video, is in response to requests made by my dear viewers to share my view on gold.
As you may know, I'm bullish on gold and I have been for a long time. I even put out a 2021 target of Rs 60,000/ 10 gm for gold.
Should the recent correction in gold worry you? Is the gold bull market under threat?
My answer is no.
And in this video, I'll tell you why.
The gold bull market is firmly intact. Watch the video and let me know your thoughts.
Hi. I am with you in this video to answer a very critical question that a lot of my viewers have been asking me about gold.
Why is gold not rising and on the contrary, why has it eased of a little bit? Is the bull market in gold dead? Is the taper tantrum likely to impact bullion prices adversely? And what should we do with the bullion that we have about now?
Friends, I'm Vijay Bhambwani, a trader with 35 years of trading under my belt, 28 of which are as a founder, CEO of a limited company that trades for the living. I through these videos intend to make you better investors and traders as compared to what you were before you started watching my videos on this channel.
LIVE NOW: 3 Super Smallcap Stocks You Don't Want to Miss Out On
If you feel I'm adding value to your investment and trading knowledge, please subscribe to my YouTube channel. In the comments section, do let me know what you think of these videos and what you would want me to record next. Click on the bell icon so you receive instant alerts about fresh content and help me reach out to like-minded traders and investors by referring my video to your family and friends.
So let's dive right in and see and rather take a health check on all the positions that you have built up in your portfolio with specific reference to bullion. Silver is doing relatively well. So it is gold that my feedback from the comments that I am receiving both on my social media pages and in the YouTube comments here in this channel itself, is that my viewer friends are more concerned with gold as compared to silver, because silver is still flipping around Rs 70,000 a kilo on the multi commodity exchange in India.
Now what my friends and viewers from overseas need to keep in mind before posting any comments here is I am referring to the prices here in India, in Indian rupees per kilo, where silver is concerned and in Indian rupees for 10 gm where gold is concerned. So when I say gold's going to hit 60,000 or silver is going to hit 75,000, I don't mean US dollars, but I mean Rs 60,000 for gold in terms of 10 grammes and Rs 75,000 per kilo in Indian rupees for silver.
So gold, as I see on my screen now is trading approximately close to 48,000 and silver is approximately 70,000. The target that I had given for a calendar year 2021, remember, we are still in February, we've got 10 more months to go minimum. So the target was 60,000 per 10 gm in rupees for gold and 75,000 for a kilo in silver. Silver has almost by almost I mean almost reached there. It's made a highway close to 74,000, during the Wall Street Bets silver squeeze or attempted silver squeeze a week ago, but it still has not reached 75,000.
Gold, on the contrary, is witnessing a whole lot more sluggishness. So I'm gonna guide you through the underlying reasons why I was bullish on gold and like a 360 degree view trader, I'm gonna take a health check on whether those reasons are still valid and whether we can still expect gold to hit Rs 60,000 per 10 gm on the MCX.
You see the underlying reason number one for recommending gold was that like 2008, my expectation was the central banks the world over would flood the financial markets with unbacked currency printing.
Now, that's going to be inflationary. The buying power of paper currency would erode, and this is as conducive and as bullish scenario for precious metals as you can really hope for. Historically, whenever currency printing like this, it is called the debasement or debauchment of the fiat currency. Fiat currency is paper currency. What you are basically doing is eroding the purchasing power of the paper currency because you're printing so much of it and flooding it. The demand and supply scenario and the basics of economics will tell you that anything which is abundantly available loses its value.
Just take a look around and go to the vegetable market, go to your nearest grocery store and ask him about pulses, grains, vegetable oils, fruits, milk, eggs, etc. You will see that the rupee is able to buy less and less of your daily essentials. Now, high inflation is a very conducive market for gold. So that primary situation, which I anticipated has worked out and you have a thick mark on your spreadsheet where that is concerned.
Number two. I talked about how inflation would mean that people who rushed towards the safety of keeping their newfound cash in bullion because the bullion is the safest haven for investment. Here things seem to have gone a little off my expectations.
You see the reason why silver has been relatively stronger compared to gold is silver goes into making photovoltaic cells, and solar power is the must have thing of the decade of the twenties and thirties. So electric vehicles, alternate sources of power, renewable energy are the buzz words, and silver is finding a lot of takers, which is more to do with industrial applications.
But where gold is concerned, what has happened is, and remember, all your investments and trades are like a military operation. You can plan all you want at the general headquarters on a planning table with maps and vectors and scalers but in a real military operation, there are 10,000 permutations and combinations of things that can go wrong, unplanned, unexpected things, which a soldier in the field learns to adapt himself to counter.
Now, what nearly happened was my expectation was that people would actually rush towards gold and gold prices would jump in short time in double quick time. There is something in financial markets called risk on and risk off. Risk on is when risk appetite of traders is basically high and they buy high risk assets like equity shares. Risk off is when they are put off by risk, they dump all their paper assets and jump into safe haven buying, typically gold.
Now what happened after corona make hit was that the markets made a panic bottom. I thought risk off would last longer but risk on came earlier than usual, and equity shares received preference over gold. Silver, like I told you, has industrial applications, which is why it is relatively outperforming gold.
If you go down in this playlist, you will see that right from 2019, when I started recording videos in this playlist, I have been saying that silver is the new gold and it will outperform gold where percentage returns are concerned. The only thing is that you will have to be ready for a roller coaster of high volatility ride along the way, which is fine.
Now, will this risk on mean that gold will not rise up at all. Will my target of Rs 60,000 for 10 gm by the end of December 2021 be elusive and therefore remain unmet? I don't think so. I think what people are ignoring is the fact that essentials are getting even more expensive at a faster clip as compared to what it was six months ago.
At some point in time there is definitely going to be a correction in the equity markets. I'm not wanting that direction but I'm saying that if the laws of physics, economics, and financial market cycles are concerned, at some point in time between now December 2021 there is bound to be a correction in the equity market and deep correction which would basically see that safe heaven buying come back to gold again, when people will start dumping paper assets and run to the relative safety of bullion. Now, that is why I am still confident that the bull market in gold is alive and kicking. The bull is far from dead.
As a matter of fact, if you are a Weekly Cash Alert subscriber, you would have already bought two tranches of gold as per the morning mails that I send you between Monday to Friday and the weekend The Final Word email that you receive on Sunday. So two tranches of physical gold delivery buying is already done. Maybe 2 to 3 tranches of delivery buying in gold are still going to be suggested to you.
Please do take the effort and time out to read these morning mails, Monday to Friday, and the one on Sunday, which is a little more detailed, and see at what prices, you're supposed to buy even more and sink your teeth even deeper into gold because I am not yet of the opinion that the gold bull market is under any kind of threat or any kind of risk whatsoever.
We continue to debase and debauch the fiat currency and gold is likely to surprise you on the upside. That's all from me in this video, my friends. Till we meet again in my next, I wish you a very, very profitable day ahead. Vijay Bhambwani signing off for now. Thank you for watching.
Warm regards,

Vijay L Bhambwani
Editor, Fast Profits Daily
Equitymaster Agora Research Private Limited (Research Analyst)
Recent Articles