Follow the Money for Higher Trading Profits
Feb 10, 2020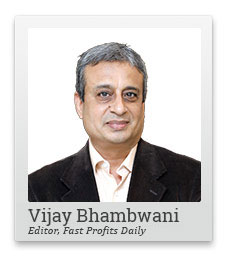 Hi, this is Vijay in the Fast Profits Daily.
Today, I want to share my view on an important topic for traders.
Money is fungible. It is not loyal to any asset class. It moves where it can make the highest profits.
As a trader, you should follow the money. Don't be stuck trading only one asset class.
Grow your trading business and your profits by expanding your horizons into various markets.
In today's video, I'll tell you all about it...
Hi, this is Vijay Bhambwani and I'm back with you talking about a critical aspect of the markets.
I feel markets are promiscuous entity. Before you let your mind to go wild, let me assure you, we are not talking about physical relationships. The dictionary meaning of promiscuity might mean that one person having multiple partners and therefore risking ill health but in this case, in financial markets, what I mean is that the market is not really loyal.
It moves money from one asset class to the other and money, being a ruthless provider of profits and seeker of profits, will actually exit the asset class where it feels the rate of return is falling or any other asset class where rate of return is higher, will attract that money flow.
To think that money will restrict itself into any particular asset class or you can box it into any particular asset class is a folly. Veteran traders who've spent some time in the market will tell you that.
Have you seen the Hollywood super hit movie the Titanic?
You would know that the engineers who made the Titanic, boasted that this ship was unsinkable thanks to its multiple steel doors that were built into the hull.
The idea was, if at any point the hull developed a leak, that particular steel door would be shut and it would automatically seal the ship from taking in any water.
What the engineers forgot that water, like money, is extremely fungible and has a mind of its own and not only did the ship sink, a steel ship broke into half by the force of that water.
Similarly, you cannot compartmentalise money into any one asset class. If money feels that equity returns are falling and commodity returns might be a better place to be, I assure you, money will flow out of equities and go into commodities.
Similarly, if currency markets are enticing enough to exit the commodity markets, the money will leave the commodity markets and go into currency markets. Same for bonds.
Let's also not forget that the element of safety, risk appetite, etc will also play its part. This is why, 19 countries are offering negative yields on sovereign bonds. It's also a fact of risk appetite. Does it really help you to wear a ghode ka chashma or horse's blinkers to look at only one market?
I don't think so.
It is only the rookie, a newbie, or a new entrant to the market who would be foolish enough to confine himself or herself into any one asset class.
If money is promiscuous and has multiple partners, believe me, it becomes your duty to your family, for whom you have to put food on the table, to be able to understand, trade, and profit from all four asset classes. If money does not restrict itself, nor can you.
Remember, money is the raw material for us traders to be able to generate even more profits, which again is measured in money terms. So wherever money goes, you must follow.
If the markets are promiscuous, please be promiscuous yourself. In physical relationships, promiscuous behaviour might be undesirable but in financial markets, promiscuous behaviour is something that I would thoroughly advocate.
So please expand your ease of doing business in all asset classes, familiarise yourself with all asset classes, and do not nurse the thought that I'm an equities trader, what happens in commodities or currencies is not my business.
As long as you're in the business of trading or investing, every asset class becomes your business.
I am going to bring you a lot more videos on how to become a better trader. Thanks for keeping the feedback coming. I really enjoy reading all your messages, comments, and the messages that you send on my social media accounts.
Before I sign off for the day, I would request you to like this video if you're watching it on YouTube. In the comments section, do tell me what you think about this video and tell me what you would want me to cover in my future videos to help you better.
And do not forget to share this knowledgeable video with your family and friends. This is Vijay Bhambwani signing off for now. Please do take very good care of your trades and investments.
Thank you.
I hope you found the information useful. I'll be back again tomorrow in the Fast Profits Daily.
Have a profitable trading day!
Warm regards,

Vijay L Bhambwani
Editor, Fast Profits Daily
Equitymaster Agora Research Private Limited (Research Analyst)
Recent Articles