Sensex for Investors
Feb 10, 2021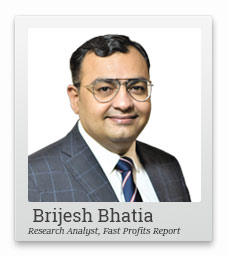 I would like to thank our viewers for sharing their views on the last Momentum Moves video. I had called a short-term top on the Nifty.
But what about the long-term?
Will the market continue to go up? Should long-term investors hold on to their shares?
In this video, I'll show you why the bull market is still intact.
Watch the video and let me know your thoughts.
Sensex at 50,000. The party on the street and investors are worry what to do with the markets. Should I book some of the profits? Should I sit on cash?
Well in today's video will be covering from our previous video on Nifty about a short term top where we have received a huge positive feedback and some were asking to come up with a video for investors.
So in today's video we will be discussing Sensex for investors. Myself Brijesh Bhatia, senior research analyst and editor at Equitymaster.
Urgent New Alert: About Coming Once-in-a-generation Wealth Shift
So if you look at the Sensex right from 2000, we have seen a stellar performance from the markets. We are very far ahead, right from 10,000, 20,000, 30,000, 40,000, 50,000 milestones are going on, going on, going on and the cake cutting ceremony goes on.
Now for investors, I think there is a huge potential for markets to go up from current levels as well and it's not a biased decision which I am making looking at the market which are roaring at the new highs every day.
But I would like to share one chart with you, which will keep as an investor for you to hold your positions as long as you don't find a conclusive I would say the charts which gives this signal of exiting some portfolios and sitting on cash.
So look, let's look at the Sensex chart right from 2005.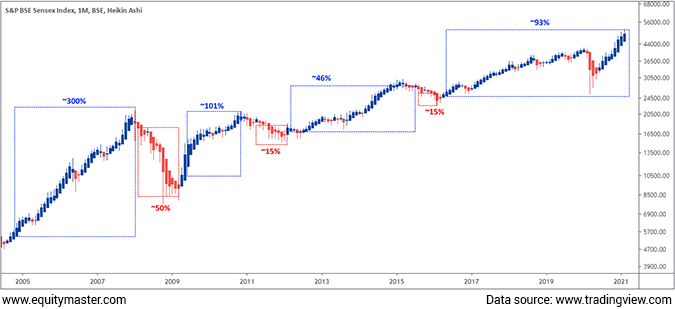 So I've just taken nearly 1.5 decade of data for you. So if we look at the monthly chart and this is the Heikin Ashi chart and many have asked the questions that where so we find the charts?
So you can just write down the website, www.tradingview.com. Then go on to the Indian website www.investing.com. Both these websites are free which can give you such kind of charts. Just go to the Sensex, Nifty or any stock you want to find out about and the chart will be in front of you.
Coming onto this chart again. Now, look at 2005 to 2008. How to read this chart? Every blue candle is bullish, every red candle is bearish. There are three types of Heikin Ashi candles you should look at. First is bullish when the open and lower are same. The bearish when the open and high are same and Doji which are likely indecisive in nature.
Look at 2005 to 2008. Markets were consistently forming a bullish scenario. None of the monthly candle were bearish. We have seen right from 2005 to 2008, in three years Sensex has been gained around 300%.
As an investor, should you be worried the market has doubled in a one year's time frame, in two years' time frame, in 1.5 year time frame and I should profits? I would say no.
Till there is a confirmation of market turning the tide, I think you should hold your positions or your stocks, which, are showing a sign of turning the tide on the monthly chart, then you should look to book profits.
As now from 2005 to 2008, 300% and when you look at 2008-2009 market has given an early indication and how I met taking the confirmation? If you look at the first bearish candle, the first bearish candle, when the lows are broken off that bearish monthly candle, I am considering that the bearish trend has started.
When the first bearish candle you see when the open high are the same and that monthly candle the low is broken, I am taking this as the trend has changed on a monthly candles and I turn from longs to shorts.
You can book 30% or 50% and sit on cash. Then look for fresh entry when the markets turn the tide on the bullish side again. Similarly, the bullish trend. When you find a bullish candle and high is crossed, I'll enter a trade.
Now coming on 2008 to 2009 market has seen a 50% dip. I'm again taking a close on Heikin Ashi basis, not a move from the highs to lows. Again in 2009 markets have turned to the positive side and to 2011 we have seen an amazing return of 100%.
Similarly on the same lines of analysis. Now, from 2017 this bluish candle has started. We have seen 2002, due to covid fall market have seen a correction of 25-30% or probably more than that but if look at that monthly candle, the low is not breached.
Which means that as per the rules for me the bullish trend is still intact and from those lows, from March lows, we are back by around 100%. If I just look at 2017 where it was around, I guess, 27,000 Sensex. Back to the 2021, we are at around 50-51,000 now. So an amazing 93% return.
So as an investor, till the time you don't see a bearish Heikin Ashi candle breaking the lows, ride the waves. Hold on to your positions.
Many asked want to look for, for an investor. I think this is good strategy. Till you don't find markets turning their tide, I think you should not pre-empt or be biased that market has kind of run up so much I should be on cash.
For me till markets are turning the tide, I will continue to hold my positions just depending upon the stock to stock. You can look at that but for me as a portfolio, I'll be on a higher side in equity, rather than cash, till the tides are turning.
Once the tides are turning, I will trim down my position's and similarly we have seen a couple of times market has corrected 15%, consolidated, and again the fresh trend has started. Previously in 2008 we have seen 50% fall.
But overall till the tides are turning, I'll hold on do my positions.
I am glad that people are liking our videos and commenting, and from that comment or from a request of our subscribers, we are coming up with this video on Sensex for investors.
That's all signing off. Before signing of I would request do comment. We might come up with one of the videos from your comments and do subscribe to our YouTube channel. Click on the bell icon so that you receive the notifications as soon as we release the videos. Signing off Brijesh Bhatia.
Thank you.
Warm regards,

Brijesh Bhatia
Research Analyst, Fast Profit Report
Equitymaster Agora Research Private Limited (Research Analyst)
Recent Articles