Will Algo Traders Take Away All Your Profits?
Feb 11, 2020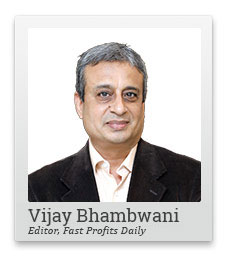 Hi, it's Vijay in the Fast Profits Daily.
Today, we're discussing an important and worrying topic for all traders: Algo trading systems.
These systems are faster than human traders... much faster.
They will always get in and out of trades before you do.
Does this mean that these guys will take away all your profits and leave you with nothing?
No. You can beat them.
In today's video, I'll show you how.
Hi, this is Vijay Bhambwani and today, I am going to talk about a topic which is weighing on the minds of all veteran day traders, at least, if not even investors.
Are algo systems out to take away your job as a trader or an investor and will they take away your money and your livelihood from investing and trading?
My emphatic answer is no.
We have seen enough disruption in the past and mankind has survived and we are likely to see mankind survive in spite of artificial intelligence, algo systems, and mechanical trading systems.
Let us not forget the industrial revolution. As is known in behavioural finance, the fear of the unknown leads people to overreact.
People thought that the steam engine were displace human beings. Tractors would displace farmers. Mechanical harvesters would again displace farmers. Nothing of that sort ever happened.
Mercedes Benz has now robotised at least 50% of its process of making world class cars. Does it mean that human beings will be completely out of jobs?
I don't think so.
So also, you have algo systems which are now prevalent in the Indian stock markets.
What exactly is an algo system?
It's a software which basically has speeds of executing a million to a million and a half trades per second, which is 10 lakhs to 15 lakh trades per second.
As a day trader, in many of the counters that I do trade, in commodities, currencies, and in equity futures, and in the cash segment, what I have seen is, if I attempt to be the best buyer or best seller, after modifying my price, before my finger even leaves the keyboard, a better buyer or seller is already in place. Now this kind of quick reaction is almost probably coming in from an algo system.
So is this algo going to ensure that Vijay Bhambwani is irrelevant? Driven out of a job in the future? I don't think so. Let me tell you why.
So far, algo systems are basically focusing on speed of execution. So on the snap quote window, you have the top five bidders or buyers. You have the top five sellers. At this point in time, what they are trying to do is use their advantage of speed, and remember they have speeds up to 1.5 million transactions per second, they are basically snatching away your trades by remaining the top five buyers and the top of the list of five sellers. Your order is not getting executed as fast as you wanted to be.
But that's just speed of execution. What human beings still enjoy an edge over the algos is which direction the market is likely to go.
For example, if a company announces its quarterly results and if the results are better than expectation, the algo might be programmed to buy that stock, saying that the results are better than one of the markets expected, and therefore by five lakh shares of this company.
But hey, if the result was already known, rumoured, or expected in the public domain, and a lot of people have already bought the share in expectations of good results, maybe the old Wall Street saying, 'buy on expectations, sell on news,' will play out and people will actually come out and sell the stock.
Where does that leave the algo?
In hot water.
So the algo is not exactly an infallible or an invincible adversary of the discerning, discretionary trader who manually enters his or her orders in a computer system. All is not lost.
Sure enough, you have adversaries like vulture traders, who have at their disposal vast sums of money, they can either take buy or hit sell and then remove all your stop losses before your stock actually goes into the anticipated direction. Yes, that happens.
But it also happened in the day and age of Jesse Livermore, right in the 19th and in the 20th century. So these are not aspects that you should worry about.
If it all, there are bigger players coming in the market using money, muscle power, the markets themselves have become big enough to absorb all these guys and more. There is always a piece of pie for the savvy trader and investor to take enough food on the table for his family.
So focus on generating and upgrading your skills to a level where you can fight these short-term imbalances in the market caused by smart algos, who are basically focusing on speed.
In boxing, when I was in college I used to learn boxing, in boxing I was told that, a younger boxer will focus more on brute strength, whereas an older boxer, knowing that he lacked in strength, would therefore use his experience and skill and style, to win over the younger boxer, deploying only blunt force trauma.
So veterans will be able to adopt significantly better means of trying to beat algos at their own game. All is not lost. It never is.
The very fact that you're in the market means, you're betting money on somebody else's company, putting money into that company, and saying that the guys running the company will do a better job than you would of promoting a similar company.
The very fact that you're an equity trader or an investor means, that you're betting on optimism. Fearing that algos will take over the markets is pessimism, and therefore, against the grain.
I think the market will get a little challenging but it would be wrong to say that all is lost.
On this positive note before I sign off, let me remind you, please do not forget to click like on this video.
In the comments section, tell me what you thought of this video and what future videos you would want me to record for you. Do not forget to share this message and this video with your family and friends.
This is Vijay Bhambwani signing off for today. Please do take very good care of your trades and investments.
Thank you.
I hope you enjoyed today's video. I'll be back again tomorrow in the Fast Profits Daily.
Have a profitable trading day!
Warm regards,

Vijay L Bhambwani
Editor, Fast Profits Daily
Equitymaster Agora Research Private Limited (Research Analyst)
PS: More than 13,000 astute investors have registered for Richa Agarwal's free online summit - One Stock Crorepati. The summit goes live TODAY at 5 pm. Don't miss it! Register for free here.
Recent Articles