How You Can Become a Professional Trader
Feb 11, 2021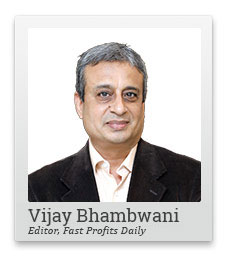 This video is different from most of the videos I do in the Fast Profits Daily.
Today, I'm starting a new series of videos specific to a single topic - how you can become a successful professional trader.
I will go in depth in to the thinking, planning, strategies, execution, and analysis you need to beat Dalal Street at its own game.
In this first video, I'll cover the basics. You will learn what it takes to make it as a true professional trader.
This might seem daunting to some people but trust me, the journey is well worth the effort.
Let's take our first step together. Watch the video and let me know your thoughts.
Hi, this is Vijay Bhambwani. I am a trader with 35 years of trading experience under my belt, 28 of which are as a founder, promoter of an incorporated company that trades for a living only.
Friends, in this video, I am going to provide you some tips, or some handholding, kind of do it yourself points as to how you can be a professional and a successful professional trader at that.
This is one of the series of videos that I am going to do that is focused on trading rather than a broad general market talk or any kind of a generic sectoral view at best.
You see, trading can actually make a lot of difference to you, even though you might be a hard core investor. Say, for example, you're taking a five year view on a stock and you are sure that this stock is going to be a multibagger.
I have nothing against that but remember that in those five years there are going to be 60 months, and in those 60 months you're going to have to pay your electricity and telephone bill 60 times your maid servant or your domestic help will ask you for 60 salaries. You will have to pay your child's school fees, tuition fees, etc.
REVEALED: How to Potentially Make Up to Tens of Thousands of Rupees Within a Few Hours...
Therefore, in order to be able to be a long term investor, you need to have short term revenue coming in before you can think of the long term. Trading, therefore, is extremely important for every market participant because it generates cash flow.
Now how do you go about being a good trader? I remember this is only first of the many videos that I am going to discuss trading for a living as a central theme of the video itself. There are three aspects to trading.
Number one, the pre-trading session preparation. Number two the actual trading itself and number three, which is the most neglected and understated aspect of trading, which is the post trading analysis.
The pre-trading preparation is, of course, a very critical area, because unless you know what you're going to trade and in which direction you're going to trade, believe me, you've lost the battle before you even started fighting it.
If you are made up your mind that you are going to trade long but you're trading a stock that is likely to go down, that will result in a loss. If it all you've chosen the right counter but instead of going with the buy or going with the sell, then again you're going to wind up with a loss.
So it's very important for you to trade in the direction of the market and trade the counter, it could be a commodity, it could be a currency, it could be an equity future, it could be taking delivery, but being aligned with the market rather than being opposed to it, is what is the critical element here to make money in the market.
Now, how do you do this? I depend very heavily on statistics coupled with behavioural aspects of the market. If you haven't already done so, I would strongly suggest you join Equitymaster's Telegram channel, which goes by the Handle Equitymaster Official, wherein I put out three reports at the end of the day late in the evening based on what my statistical data is indicating.
I'll share a very small example with you today being the 10th of February 2021, my system actually generated a sell on an auto ancillary counter, which had recently are declared its results and the results were fantastic. There was nothing but rave reviews and buy recommendations in the social media as well as the mainstream media.
And yet my system indicated a sell. I kind of went out there as carefully as you walk on eggshells. Not really extremely convinced, but I did. So I shorted extremely small lots, starting with one lot at a time of this counter and guest what? We wound up making money.
So statistical analysis basically takes emotions out of the picture, and it gives you hard core mathematical data to back you up with, which is what I put up on Equitymaster's Telegram channel. Therefore, it tells you which direction and what counter to trade.
Now coming to number two. The actual trading session itself. If you have to go and clear your stomach, better do it before the trading session begins. Once the trading session begins, you're not going to get up from that chair unless the world is coming to an end.
You've gotta sit with your eyes fixed on your computer screen and not budge. That is how we traders make money. I'm basically talking about micro trend traders and micro scalp traders. For us, 59 minutes and 59 seconds is the maximum holding period of any position whatsoever.
The faster you get out of a trade, the less likely you are to lose money in it because adverse news can impact you. Therefore you can't really miss an opportunity because every opportunity that you miss, you're going to have to claw back and come up from a loss making trade to a profit making trade.
So the execution part is extremely important. In terms of importance, however, your execution is less important as compared to the pre-trade preparation because if you're pre-trade preparation is very loose, reckless or careless, you could be executing at a good possible point, you're bargaining for 15 20, 30, paise in your entry and exit, what we professional traders called ingress and egress, your English and egress, maybe well negotiated, maybe well, bargained for, but if your direction is wrong, hey, it's a disaster.
Number three. Your post trade analysis. What if I were to tell you that your post trade analysis can actually separate the loss making trader from the profit making trader? Many people refuse to believe it. I would swear by it.
I have trained thousands of traders in the last 25 years that I have been training and mentoring people as a guest trainer at many organisations, including stock and commodity exchanges, management institutes, mutual funds, and brokerage firms. I can tell you this for sure.
When I started trading in 1986 we used to have a trading ring. The brokers came out at 2:30 even though the official trading time was till 2 pm, they would come out and 2:30 and believe me, they came out like school children were coming out of the school after the school bell.
They would care to listen to no one, wait for no one, and head to the nearest a food cart, which was there below Dalal Street. Have their lunch have tea coffee, fruit juices. Somebody would smoke, somebody would chew on paan and there would be a sigh of relief. They would rest for an hour, half an hour, and then start noting down that trades they had done for the day and head home.
Typically speaking and average trader's day ended and 4:30 or 5 pm. This is not, I repeat, not what you are going to do. My trade analysis at the end of the day can actually take as much time as my pre-trade analysis.
In future videos, I am gonna share with you some metrics that I am sure would surprise a lot of people who think trading is an element of guesswork, some luck, some good fortune, and maybe watching the right television channel. It's none of that. This is science with, of course, some degree of art coming in because your intuition plays a part.
But your institution plays a part because you had the experience of doing the right thing for a number of years, and that is why it's built into a system itself. It's not just a hunch. It's not tickly feeling in your nerves that tells you hey, buy this. It's based on experience. That's your subconscious mind digging out trades from the past and telling you what you must do.
So please spend a minimum, I am telling you a minimum of two hours after trading session is over in going back in retracing your steps and see, why did you enter the trade that you entered either the long side or a short side.
How did you manage it well? How many times you got an opportunity to get out with the profit but you probably missed it and wound up either taking a smaller profit or even turning it into a loss? What could you have done better so that tomorrow is a better day than how you have performed today?
This will be repeated on Saturday and Sunday for the entire week, and this will be repeated on the last weekend of the month for the entire month. If you think you want to make lots of money as a day trader and you're going to be partying like everybody else after 4:35 pm or on Saturdays and Sundays or go out for holidays almost every month to the fanciest of locations abroad, that's not happening.
It's hard work, of course, these foreign holidays, a good car that you want a good life for your children, your family are all going to come once you start doing well.
But I assure you, the minute you let your guard down, the market knows where it must hit you, and that's where it will hit you.
So, friends, this winds up the first part of my series of how to become a professional trader. In my next upcoming videos, I will go into greater detail of each aspect of pre-trading preparation, the trading session itself, and the post session analysis. Once the post session analysis is over, about how you traded and how you could have become better, trading preparation for the next trading session begins.
So, as the old saying goes, there is no rest for the best. We traders must keep working hard. Trading hours are getting longer. Commodity markets work from 9 am to midnight and therefore, 15 hours of trading, plus a minimum, a minimum of 2 to 3 hours of preparation, means that you're going to be on your toes for a minimum of 18 hours a day.
If you thought it's going to be a cakewalk, believe me, it's not. Every successful trader you meet, you talk to, and whose pictures or lifestyle you see on social media, has worked hard towards it. It's a well won fight.
Friends, I'll bid goodbye to you in this video till we meet in my next video on how to be a professional trader and how to earn super normal profits. I wish you have a very profitable day ahead. If you think this video is helping you become a better trader, do subscribe to my YouTube channel. Click on the bell icon so you receive alerts about my new videos being put up here. In the comments section, do let me know what you think of this video and what you want me to record next.
Also help me reach out to like-minded investors and traders by forwarding this video to your family and friends. Thank you for watching. Bye.
Warm regards,

Vijay L Bhambwani
Editor, Fast Profits Daily
Equitymaster Agora Research Private Limited (Research Analyst)
Recent Articles