How You Can Make Rapid Fire Profits
Feb 12, 2021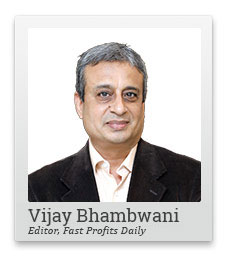 I hope you liked the content of the last video.
In it, I showed you what it takes to become a professional trader.
Today, as promised, we will go one step further.
In this video, I'll show you a very simple trading tool and how to use it to make fast profits.
I'll also demonstrate it's use with the help of a real example.
Watch the video and share your thoughts. If you have any queries, do let me know.
On Monday, we will go deeper into the world of professional trading.
Hello friends. This is Vijay Bhambwani back with you in this video to fulfil my promise I made to you yesterday that I am going to be recording lot of videos in my Fast Profits Daily channel, which will help you become superlative traders and beat the street and your contemporaries by a big margin.
Now, in today's video, I am going to be a little more specific or rather a lot more specific compared to what I said in my video yesterday. Yesterday's video you could treat as groundwork being laid for the videos that are coming up in the future.
Today's video is about how to make extra quick profits from the markets using a simple tool that is available on your mobile trading app or on your desktop trading terminal. Now, you see if you were to highlight any security with your mouse or by long press the security on your mobile terminal, you will receive on desktop terminal, 90% of the trading software will respond to the syntax of F5. On pressing F5 square or rectangular box will open as you can see on your screen right now, and this box is called a snap quote window or a market quick view.

This contains the top five buyers, the top five sellers. Buyers are in blue. Sellers are in red and a whole lot of other data professional day trader uses. Now this is one I consider as traders cockpit. Just as a pilot has a cockpit with hundreds of controls to fly his aircraft, you have this traders cockpit called the snap quote window, which will come up pressing F5 on most of the desktop software and long pressing on your mobile app.
EV Stocks: Make a Fortune from Automobile Sector's Colossal Disruption
Now you see, on the left hand side of the top five buyers and sellers. On the right hand side, you have the first thing called the LTQ. This is the last traded quantity. As you can see on your screen. The last traded quantity was 224.10. This is ITC and as you can see in the red mark spaces, I have the time stamp of 11th of February 2021. This is as recent as it can be. You can see the time stamp also, it is before lunch hour and I've already traded once and there is a little bit of a profit of Rs 800 which is being marked on the right hand side in the marking of G/L gain or loss.
How did this come about? How you can do it and how you can keep repeating this time and time again so that this figure can become 4, 5, 10 or even 20,000 per day?
Now a little bit of ground work here. The pre-budget rally in ITC was unlike any other. You see before any routine budget ITC normally tends to get the jitters because there are fears among the trading community of a 'sin tax'. A sin tax is something that is imposed on those goods and services which the government does not want to consume. So, for example, cigarettes, alcohol aerated water, ice creams, junk foods, etc are invariably taxed higher so as to discourage people from consuming.
So typically, before any budget, I would say 7 to 8 times out of 10, ITC is weak and after the budget is announced, in spite of the fact that excise duty, or GST, or whatever it is the local taxes, etc, being raised, people take a fatalistic view. Smokers might just cut down on smoking for 2 to 3 days once the stick of cigarette becomes a little more expensive, and then it's back to business again, and it invariably tends to rise after the initial hiccup.
But this year it was firm ahead of the budget. The rally in the market on budget day was primarily because no new taxes were imposed. No covid cess was imposed, and therefore a huge amount of short covering resulted.
Now, since it did not see much of short selling ahead of the budget, there wasn't too much of short covering left, either. Now I had to wait for ITC to kind of stop rising and then move in once the screen or the snap quote window indicated to make that ITC was now ready to fall. This trade, by the way, is a short sell.
I'm gonna record separate videos on how to be a master at short selling, and why short selling might just be a little more profitable or a lot more profitable as compared to going long. Now why did I short sell ITC?
If you notice something it with the last traded quote at 224.10 on this snap quote window is actually trading below the previous day's close, which is there on your right hand side. The average traded price, or ATP again marked in red rectangle, is at 225.30. Which means that all the trades averaged together have been transacted around 225.30. So I waited for the ATP, or the average traded price to fall below yesterday's close and the LTQ to fall below the ATP itself.
So, as you can see, it's like a person coming down a staircase. Now when a person is coming down, a staircase his momentum continues till he reaches the ground floor. Now ITC was shot sold that minute I saw the LTQ or the last traded price fall below the ATP and immediately within a few minutes I realised the profit of Rs 800 and I squared up trade.
Now do remember like you can see in the snap quote window, it is before lunchtime. There is nothing to stop me, nothing to stop you from doing this 4, 5, 8, and 12 times till you reach a respectable figure. This, my friends, is a very simple hack. It's a very simple tool. I would call it a do it yourself, tool to embark upon a path to being a millionaire trader.
But by itself, it is not the be all and end all tool, because I'm gonna be sharing a lot more trading secrets, a lot more secret sauce that I have in my arsenal, collected over 35 years of trading experience under my belt, 28 of which are as a founder, promoter and a CEO of a limited company that only trades for a living.
And I'm here to help you become a master trader yourself. So friends I'll sign off from this video not before reminding you, if you like this video, please click on the like button subscribe to my YouTube channel and click on the bell icon to receive instant alerts for any videos and content being uploaded here. In the comments section, please let me know what you think of this video. Let's keep the communication lines open and if you like this video, if you want to help somebody else become a better trader please share this video with your family and friends and help me reach out to fellow like-minded traders.
I wish you of a very profitable day ahead my friends. This is Vijay Bhambwani signing off for now. Thank you for watching. Bye.
Warm regards,

Vijay L Bhambwani
Editor, Fast Profits Daily
Equitymaster Agora Research Private Limited (Research Analyst)
Recent Articles