Intraday Trading for a Living
Feb 15, 2021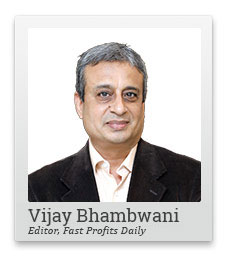 Last week we covered the basics of becoming a professional trader in two videos.
You can watch them here and here.
Today, I'll take your queries on these videos and also dive deeper into the topic.
Specifically, I want to cover the basics of intraday trading like stop losses and target prices.
Please keep your feedback coming. I love to hear from you.
Enjoy the video.
Hello friends. I'm Vijay Bhambwani and I am back with you in this video to continue where we left off from in the previous video.
In the previous video, I showed you the snap quote window, which comes up with the clicking F5 on your trading terminal or long press on your mobile app.
Now a lot of you had queries. Some in the comments section. Some have direct messaged me on my social media accounts. Please keep the lines of communications open. Your feedback can tell me what else to record and how much deeper I can go into this very exciting subject of intraday trading for a living.
You see, the guy who is making the video might suffer from the knowledge curse. He knows it all and he assumes that the viewer understands it. So it is important for the viewer to basically come up with feedback and say, hey, what about clarifying this?
India's Revival: A Once-in-a-Generation Wealth Making Opportunity
So the feedback that I received on the previous video was it's all right to enter based on the last traded quote versus the average traded price, the LTQ versus the ATP but where do you keep a stop loss? The target, of course, we will determine later, as the screen starts to retrace and some of your mark to market profit starts to erode, you can exit and jump of the bus.
But you must also know where to keep a stop loss so that you can limit your downside. There is a remedy to this. As a matter of fact, that is also a screen reading remedy to this. So I am going to discuss this remedy with you.
Now I understand most of the viewers will have diverse brokerage firms with whom you're doing your trades and no trading terminals need be exactly alike. So some features maybe missing on your terminal as compared to what I'm showing you on my screen. Believe me, there is a solution to all that. I am going to give you alternates as well so that nobody misses out on anything at all.
Friends, I'm Vijay Bhambwani. I'm a trader with 35 years of experience under my belt, 28 of which is as a founder, promoter, and CEO of a limited company that engages only in proprietary trading for a living.
I made these videos to help my viewers become expert intraday traders and also swing traders because I focus on intraday trades, therefore, I talk more about intraday trades so as to generate superlative cash flows and run your house on trading.
So in this video, coming up on your screen is a volume weighted average price. There you see it. Now this is basically set to show you the average traded price, the open, high, low, close, the traded volumes, broken into half an hour segments.
Is it customisable? Yes, it is. You can set it to five minutes. You can set it to 15 minutes. You can set it to one hour, but I find half an hour to be good enough for me. How you get this window up and which software is this?
This is the ODIN terminal. At least 60 to 70% of all brokerage firms give you the ODIN platform or a derivative of the ODIN platform. So if you are using ODIN and like I told you earlier, what if you don't have this feature? I am gonna come to that later as well. So nobody gets left out.
So when you click on a security and press shift F12, you will get this window on your screen. Now observe what this window is telling you. On the right hand side is the average traded price for every half an hour.
This is crude oil for that particular day. As you can see, the price starts from 9:30 am, which means this is the ending time. 9:30 means 9 to 9:30. 10:30 would means that it is 9:30 to 10:30. So as you can see from the average traded price, it is progressively higher every half an hour. What does it tell you?
In real life, you can liken it, you can compare it, to somebody climbing a staircase. Every half an hour, the price is climbing to the next higher step up. There are some half an hour periods where the price gain is minuscule. It's not really too great, but it is invariably going higher rather than falling progressively. So that tells you that this is a day when you should be seeking long opportunities on this counter rather than shorting it.
So on one side you opened the LTQ versus the ATP window. On the other side, you can open the volume weighted average price window spread into half an hour by clicking shift plus 12. The beauty of Windows and of course, even Apple and other software, Linux etcetera is that you can multi task. You can open multiple windows simultaneously and multi task. So you can keep your LTP versus ATP and your volume weighted average price (VWAP) window open simultaneously.
As soon as the trade gets triggered based on the snap quote window check out, and I am assuming that you would have traded crude on this particular day, check out the average traded price. If it is lower in the previous half an hour, that becomes your stop loss because you're willing to retrace only one step lower on the staircase and no more.
If you feel that you have a higher risk appetite or the price in the previous half an hour is lower by just 50 paise to a rupee or maybe Rs 2 which is too narrow, by all means, go to the half an hour window even earlier than that.
But don't let the price retrace all the way to the bottom before getting out of a trade and enforcing a stop loss.
Now comes the important question. There would be some of you who are not on the ODIN software. What do you do then?
Open your charting feature on your trading terminal, both on the mobile app as well as the trading terminal on your desktop on laptop. When you opened the charts, 99.99% chances are, actually I am saying I think it's 100% but hey, 99.99% chances are on the charting software feature of the trading terminal, you will have the volume weighted average price showing either as a moving average or as an oscillator as a study on the price.
You will see that the value made it average price is moving along with the price graph itself. You can keep a stop loss at the VWAP. Now the volume weighted average price is nothing but the weightage given to the price, depending on how much trading was done in terms of volumes executed there.
So if crude oil is trading at 4,500 and 4,520 as a band, the number of lots traded at 4,520 is higher as compared to a number of lots traded at 4,500 itself, the volume weighted average price will give higher importance to 4,520 as compared to 4,500 because more trading is taking place and for 4,520.
Now, this is very common sensical but in the heat of the market, you need numerical handholding and support which statistical studies like these provide. This is all the edge that you need to turn from a mediocre trader to a superlative one. I hope this answers the queries of all my viewers as to where to keep a stop loss.
Now where do you keep profit targets?
As long as the price continues to rise, nobody is complaining. I am fine. My profit are rising. So why get off the bus?
But if I see the price fall on this volume weighted average price window for two half an hour periods consecutively hey, I'm getting off. I've had my fill. Maybe the market has had its fill also. Maybe it's going to fall. Is it possible that I get out too early, only to see the price jump again after I get out?
Yes, of course. I'm not here to pick bottoms and pick tops. I am here to put food on the table for my family every day based on the trading profits that I make. Sometimes it's less. Sometimes it's more. Sometimes it could even be a loss. We've got to learn to live with that.
But this is how you can keep a trailing stop loss based on the volume weighted average price window, which I repeat, will come by highlighting a security and clicking on Shift plus F12.
I promise you there are more videos coming your way so that you can become cutting edge intraday traders with these videos.
Vijay Ambani signing off for now, but not before reminding you to please click like on this video if you like the content. Subscribe to my YouTube channel, if you haven't already done so. Click on the bell icon so you receive alerts of new videos being put up here and in the comments section, do let me know what you think of this video and help me reach out to fellow like-minded traders who are looking for cutting edge trading solutions by referring of video to your family and friends.
I wish we have a very profitable day my friends. Vijay Bhambwani signing off for now. Thank you for watching. Bye.
Warm regards,

Vijay L Bhambwani
Editor, Fast Profits Daily
Equitymaster Agora Research Private Limited (Research Analyst)
Recent Articles