Short Selling Like a Pro
Feb 16, 2021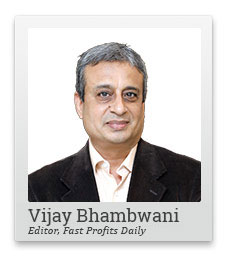 In my previous videos in the series of how to be a better and more effective trader, I've prepared the groundwork for you.
Now it's time to get into the details of making trading profits like the pros.
The first thing you need to know is how to short sell effectively.
In this video, I'll show you why short selling can be more profitable than going long, what you need to know before you short sell, and how to go about it in a profitable manner.
Enjoy the video and let me know your thoughts in the comments. I love to hear from you.
Hi. In my previous videos in the series of how to be a better and more effective trader, I basically prepared the groundwork of how the market trading terminal screen actually talks to you. Of course it talks. The language of numbers.
The ATP above the LTQ means short, and the LTQ above the ATP means long. We also saw a 30 minute breakdown of the volume weighted average price (VWAP) and a 30 minute break up of the open, high, low, close, volume, open interest, which correlated with the volume weighted average price and in turn, correlated with the LTQ versus the ATP system, could give you buy and sell.
So this should basically tell you that the market terminal indeed talks to the trader. It's up to the trader to listen to what the market is saying. Now in this video, I am going to talk to you about a very profitable aspect of the market, which is basically the domain of the experts.
REVEALED: How to Potentially Make Up to Tens of Thousands of Rupees Within a Few Hours...
But there is no reason why you cannot garner this expertise for yourself. I am talking about short selling, one of the most profitable activities in financial markets. Trading this system will apply to currencies commodities, equities, derivatives, any kind of tradable instrument where shorting is allowed.
Why do we want to short? For a simple reason that prices tend to fall faster than they tend to rise. The decline might be brief but the fall indeed is noticeable. There are three reasons why declines are a lot more vicious.
Number one, the bulls have run out of money. Number two, the selling pressure of the bears and delivery based investors is quickening the pace of decline, and number three, the force of gravity is pulling prices lower.
Before you scoff at the idea of gravity pulling prices lower, do Google search or go to Investopedia. There is actually a study called Centre of Gravity Oscillator that basically tells you how to read this indicator.
So, as the old Wall Street saying goes, prices climb up the staircase but fall down the elevator shaft. Besides, if you just ignore that short selling is a lot more profitable than going long, of course, you should be able to time the market and that is what this videos over about, it is also important for the simple reason that you should know how to short sell so you can put food on the table for your family even during bear markets.
You're are gonna stop consuming electricity or stop paying your child's tuition bills and school fees or putting food on the table just because the market is down. You can't tell your domestic help, I can't pay your salary because the market is falling, and I only know how to go long.
So a good trader is somebody who makes money in bull markets and bears. I am going to teach you how to read the signals of the market from your trading terminal and charting software so you can make money even in short sales.
Do remember that short sellers are often vilified and projected as villains who tear down prices. If you read an excellent book called Don't Blame the Shorts, you will basically see that a short seller is somebody who provides a cushion in a falling market. He provides support because he has shorted at higher levels, and he is the only guy interested in buying at lower levels when the bulls have run away with fear.
So short sellers provide the liquidity needed in a bear market, without which, the markets would turn absolutely dry. It's very critical for the market to continue trading with good volumes in bull and bear markets. This is where short sellers come into the play.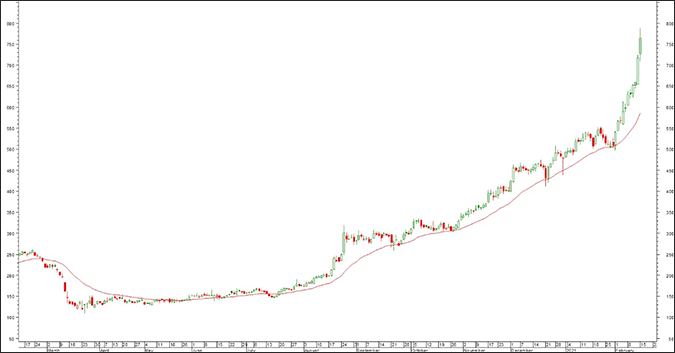 Now, coming up on your screen is a chart of a company whose name I have deliberately blanked out because I don't want to give a stock recommendation in this video. I would rather teach you how to fish for yourself, then give you a free fish and make you dependent on me. Now, look at this stock price chart. Does this look like is giving you any hint of weakness?
In my humble opinion, no. The only way this chart is appearing is it's like going to the moon. So this is not a counter you want to short sell. This is called eyeball testing. The first apparent view of the chart itself tells you that this stock is bullish and it is not to be trifled with.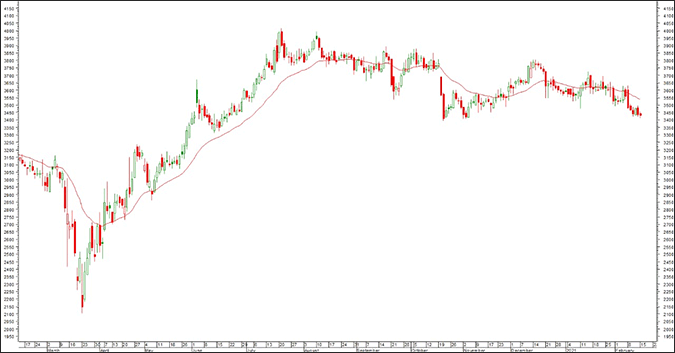 Coming up on your screen now is chart number two. Again, I have blanked out the name of this company and look at this chart. This is radically different and these charts are valid and they are updated up to the 15th of February 2021. It is as current as they can be, but what a difference in a bull market. One is rising and the other is falling. So you should be focusing on chart number two when it comes to picking out a stock to short. I will narrow down a very real life situation, a very simple minded situation to compare the situation which I showed you between two charts.
Supposing you our alliance in the jungle and you're hungry. You want a meal. You see a herd of deer approximately half a kilometre away. You want to chase a couple of deer or maybe even just one deer and have it for lunch. What is more important to you? Chasing the biggest and the fastest deer or chasing any deer which comes in your hand?
You know what? The first deer to get caught is the slowest one. He is the weakest and the laziest runner and therefore he gets slaughtered first. Your job as a lion is to find a stock which is like that lazy deer, which is not rising even in a market which is running upwards. These are the stocks that you should be targeting for short selling.
Now, eyeball testing with a stock price chart will tell you which stock is appearing weak overall, vis-a-vis the overall markets. Then the reason why I told you in my previous videos, please do not start trading till we finish up this series of videos is, after the eyeball testing of the chart you will then open your snap quote window, which is coming up with the syntax of F5 and then you will also open the volume weighted average price window, which comes with Shift+F12.
Only if the last traded price is trading continuously below the average traded price, which is below the previous day's close and the 30 minute volume weighted average chart shows that the price is coming down the staircase every half an hour, representing one step, and the price is falling one step at a time every 30 minute interval, will you go out there and short.
You see, these are filters that eliminate all or almost all possibilities of a loss. The more careful you are about doing your pre-trade groundwork, the higher will be your probability of success, and playing the game by the rules definitely improves your chances of making it big I mean, really big in the market as a trader.
Friends do let me know what you think of this video by commenting in the comments section and click on the like button for this video if you really agree with what I say. Subscribe to my YouTube channel if you haven't already done so and click on the bell icon to receive instant alerts of fresh videos being put up out here. Also help me reach out fellow like-minded traders by referring my video to your family and friends.
I bit goodbye to you in this video, but not before promising you there are more videos and trading tutorials in store for you in the pipeline. We will be releasing them one day at a time. I wish you have a very, very profitable day ahead. Vijay Bhambwani signing on for now. Thank you for watching. Bye.
Warm regards,

Vijay L Bhambwani
Editor, Fast Profits Daily
Equitymaster Agora Research Private Limited (Research Analyst)
Recent Articles