Smallcaps Will Outperform the Nifty
Feb 17, 2021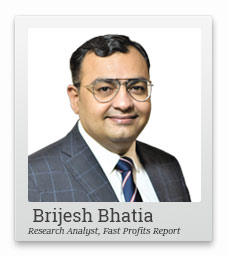 The markets are roaring higher. The sensex has hit 52,000, the Nifty has crossed 15,000.
But smallcaps have underperformed their largecap counterparts.
Why is that and will this change anytime soon?
If you are an investor in smallcaps, I have good news for you.
In this video, I'll show you why smallcaps will start to outperform the Nifty and for how long such outperformance could last.
The smallcap rally has only just begun.
Enjoy the video and let me know what you think. Please send in your feedback in the comments section.
Nifty at 15,000. Sensex at 52,000. Markets have been roaring higher and higher. Where should you invest, largecap, midcap, smallcap?
Myself Brijesh Bhatia senior research analyst and editor at Equitymaster. In this video, I'll be showing you one chart where I think that it's time for smallcap to outshine.
Before I show you the chart, I request everyone to click on the bell icon so that you receive the notification in case you haven't subscribed. If you are new to our YouTube channel do click the subscribe button and comment on our video. Do you think that our videos are helping you or not?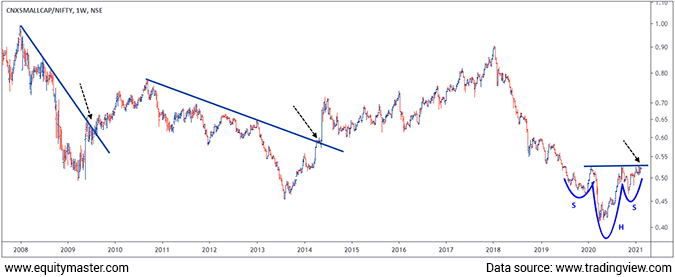 So coming onto the chart, this is the ratio chart of smallcap index versus Nifty. So what I'm doing here is, comparing the smallcap moves with the Nifty moves. So now if I just look at the back 1, 1.5 decade of this chart right from 2009, we have seen a V-shaped recovery in 2008-2009, where markets have taken a dip, recovered in a faster phase, and the first leg of the recovery, was into the large caps, followed by midcaps, and the last leg of the recovery, which was, I guess, August 2009, where smallcaps started outperforming the Nifty.
EV Stocks: Which is Tanushree's Top Pick?
So if you look at August 2009 to August 2010, the one year of rally, post the large caps and midcaps outperformance, the smallcaps were the last ones to outperform. That rally if you look at August 2009 to August 2010, smallcaps have seen a rally of 50% against in Nifty, which has seen around 27-28% on an average. So there the last leg of momentum was led by smallcaps.
Then markets went to slide consolidation between end of 2010 to 2011. Then again if we look, they started underperforming. Smallcaps started underperforming against the Nifty and bottomed out right in the 2013-2014. So if you look at the trend line break out which was in June 2014, since then, for next 3, 3.5 years smallcaps continued to perform.
In June 2014 to start of 2018 January, smallcap has nearly doubled, which has gained 105% against the Nifty rally at the same period. Nifty has seen a rally of around 43%. So there again, after a phase where the momentum started in 2013, for some of the largecaps, smallcaps also during 2014, started outperforming.
Now why am I saying this? Back to 2020 where we have seen a huge dip into the market due to the covid-19. Recovery was on a faster pace with the V-shaped recovery which we say markets were trending strongly and still it is trending to all-time highs. Smallcaps though trending at higher levels, but they are underperforming against the Nifty, which is the benchmark index for the largecaps.
Now, if you look at the current scenario, the ratio chart is forming bullish head and shoulders. So bullish head and shoulders is basically a bullish reversal pattern which forms the major bottoms. Now it's on the verge of the break out over here and in case the ratio breaks out on the positive site, smallcap will continue to outperform for the next we are expecting for another 12 to 15 months where we might see a smallcap continue to outperform.
So this breakout level should be key to watch out at the current phase. Generally, the last phase of momentum is for the smallcaps and we haven't seen smallcaps majorly outperforming against the largecaps and midcaps as of now but this could be the time that it might start to outperform.
Even if you look at the Russel 2000 index the US, it's strongly outperforming at the current point of time. So we think that the smallcaps phase could start as soon as this ratio breaks out. So keep a watch on this ratio chart. As soon as this ratio breaks out, we might see for 12-15 months of smallcaps outperformance against the Nifty.
That's all in this video and again, do not forget to comment how do you like this video.
Thanking you. Bye.
Warm regards,

Brijesh Bhatia
Research Analyst, Fast Profit Report
Equitymaster Agora Research Private Limited (Research Analyst)
Recent Articles