Why I Expect the Coronavirus to Benefit My Latest Trade Recommendation
Feb 19, 2020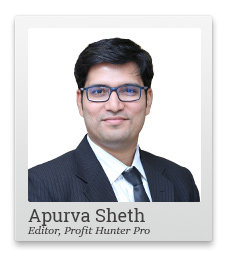 The market may be afraid of the Coronavirus but I'm not. In fact, I recommended a stock recently to my subscribers of the Fast Profits Report.
Why am I so bullish on this one stock?
The answer is the 3Cs: Crude oil, Coronavirus, and Capex.
In today's video, I share my view of this trade... and why I think this stock will go up from here.
Enjoy the video.
Hi, I'm Apurva Sheth and I welcome you to this latest edition of Fast Profits Daily.
Coronavirus is hitting the headlines every day. The number of deaths have crossed the 1,000-mark so far. The disease or the virus is spreading to countries outside China with every passing day. Unfortunately, we are not yet able to find vaccine or a cure for this virus.
However, I believe that the human spirit will prevail and we will be able to find a solution to this virus but until then, we must learn to survive these tough times.
Now, Coronavirus is having a lot of unintended consequences on many walks of life and one among them is the financial markets.
After the Coronavirus broke out, the financial markets have been going through a lot of volatility and one example of it is crude oil, which is the widest and most traded commodity across the world.
Now crude oil futures on the Indian commodity exchanges, have dropped from a level of 4,700 per barrel to a low of 3,600 per barrel over the last one and a half months. Now for someone who's producing crude, this is bad news.
However, for a country like India, who imports most of its crude oil demand, this is a very good news. This is good news for companies which use crude oil or crude oil based derivatives as a major part of their raw material. So companies like oil marketing companies, paint companies, plastic manufacturing companies, all such companies benefit from lower crude oil prices.
Apart from this, there is one set of industry and one set of company which benefits a lot from lower crude oil prices and these are the specialty chemical companies.
In fact, I have even found out one specialty chemical company which benefits the most out of all these things that I just spoke about. Now, as I said, that crude oil based derivatives are a major raw material for this company. So as and when the crude oil prices fall, it benefits this company.
Apart from that as I just said, the Coronavirus is leading to unintended consequences and one of them is its impact on the specialty chemical companies. Coronavirus first originated in the Wuhan city of the Hubei Province in China. Now Hubei province or district, is famous for chemical companies.
So back in 2016, the China government cracked down on most of the chemical manufacturing companies in the Hubei Province and many of these companies had to shut their factories down because they were violating environmental norms.
Now, as these companies shut their factories, this lead to unintended consequences on the manufacturers of specialty chemicals in India. These companies in India had a windfall profit as they were getting a lot of orders from the companies which were initially procuring their raw materials from these Chinese manufacturers.
So this time around, if the Coronavirus outbreak continues like this, then it could lead to a similar kind of consequences for manufacturers in India. It could benefit a lot to the manufacturers in India and the company which I just recommended to my subscribers. It could also benefit from the same.
Now, apart from these two things, crude oil and Coronavirus, the company is also benefiting from another thing, which is capex.
The company, which I have just recommended, has been going through capacity expansion and is about to complete its capacity expansion shortly. So once this capacity expansion is over, it could benefit. It could add to the top line of this company. So the three C's that benefits this company are crude oil, coronavirus, and capacity expansion.
Now, apart from all these things, I also look at price action, which is any which way, very positive. The company is trading almost at its 52-week highs and the momentum is very strong. So it is likely to head even higher as all these things are working in favour of the company.
If you want to know more about this company, then I recommend you subscribe to our newsletter, the First Profits Daily to know more about this company.
Now before I sign off, I'd like to remind you to like, share, and subscribe to this video if you like it. Now I'd also like to remind you to send your comments and queries at the bottom of this video. We'd like to hear your feedback and your views on the videos that we produce regularly.
So that's all from me for today. Thanks a lot and have a nice day.
I will be back again next week in the Fast Profits Daily.
Have a profitable trading day.
Warm regards,



Apurva Sheth
Analyst, Fast Profits Report
Equitymaster Agora Research Private Limited (Research Analyst)
Recent Articles