Lunch Time and Your Trading Profits
Feb 19, 2021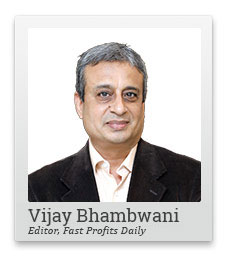 Today we will get back to our series of becoming a successful trader.
In this video, I'll tell you about a little known aspect of trading. You won't find much information about this on the internet.
It's something I have understood only due to losses made during real-life trading.
I hope to protect you from the same and perhaps help you make some money out of it.
Let's dive right into how your lunch can eat into your trading profits.
Let me know your thoughts in the comments. I love to hear from you.
Hi, this is Vijay Bhambwani and I resume my trading tutorials with a topic that's very close to my heart.
Friends, I hope my videos on how to be a better trader, a series of videos I promised you, I hope they are helping you become better market traders and to be able to analyse things better, to find directions, to find trades, to find better entries and exits, and to identify more profitable opportunities for you.
As a trader with more than 3.5 decades of trading experience, 28 years of which was as a founder, promoter and CEO of a limited company that trades for a living, there are a lot of trading experiences and nuances that one picks up, which cannot be Google searched for, found in trading manuals, trading guides, and trading books.
There is no substitute for this evidence, and what I'm going to share with you today in this video is distillation of evidence that I have garnered by losing money during the lunch hour and identifying that lunch hour trading is like no other time of the day.
JUST IN: Limited-Time Access to Full Transcript of Our Urgent Broadcast on India's Revival
Now let me also share the rationale behind what I'm saying. You see when the trading session opens in the morning, there is a lot of pent up energy in the market. Traders who are actually losing money are rushing to limit their losses and exit the trade. Traders who have no position in the market but do have some view of what they want to do with the market, are rushing to enter into fresh trades. This process goes on till at least the first hour. Over a period of time trading activity, trading volume tends to slow down.
As we all know, lunch hour is a time when most people get off their trading terminals and walk down or walk away for lunch. There are many people who do to religious or personal reasons stick to a particular time at which they have lunch. So trading volumes and be fairly low during the lunchtime. In this day and age of digital markets, electronic markets that are bound to be traders, there are bound to be people who will deploy algos, which is a software based grey box or black box systems that basically provide system based order entries.
So these algos find it easier to impact prices during lunch are because the depth of the market tends to be very poor. If you were to Google search dark pools and vulture traders, you will come up with very interesting data about what happens in the market that is unseen.
You see, to be able to succeed in the market, you must know the known knowns and the known unknowns. Of course, the unknown unknown the something we will never know. But dark pools and vulture traders are the known unknowns, which means that they exist. We know they exist, but a lot of people, unfortunately, don't know that they exist and therefore, this video is about shedding light on this.
So when lifetime volumes paper off and they basically market shrinks down into a relative state of calm, a little bit of a buying or a little bit of selling results in exaggerated price moves. So the price is kicked about like a football in an exaggerated manner, and the slightest of nudge in either direction sends the prices flying off.
Now, this can actually result in a panic situation where you entered into a trade and suddenly you saw your stop losses getting hit. As soon as you enforce a stop loss because you know that a trader, a good trader, must know how to limit his losses and get out early. There are many trading journals, books, guide books that are gold standard books, must have books which says that as a trader, a full time trader who runs his house on trading income, you must know how to cut your losses in double quick time.
But you know what? When you should cut and how fast you should cut your losses also depends on the time of the day. During the lunch hour, all these shams, scams, and price influencing is at its peak because volume, and open interest tends to fall. Don't take my word for it. Note down as to what happens to your trade.
If you're somebody who trades for a living every day, note down what happens to your trade during the lunchtime, around lunchtime, half before and half an hour after lunch time and, of course, the hour of lunch.
So maybe from between one hour to two hours, depending on what kind of a day it is, what kind of volatility there is in the market, you'll realise that there is a set pattern in the markets when a slight nudge will send prices flying off the cuff and moving into the stratosphere or going underground with selling, depending on weather is going up going down.
So lunch hour is an extremely critical time. The most cautious traders, who have very small risk appetite prefer not to trade in the lunch hour. More savvy traders who have a little bit of experience, have risk appetite, and have the money to back it up would like to curtail their exposure during lunch.
If you're keeping stop losses in the lunch hour, you're stop losses need not be as tight as the other times of the day. You will have to give it some more leeway. Remember that you are trading, if at all your trading, you should be trading on smaller volumes. Therefore, your stop losses can be a little bit wider, which means that the trade will go against you but not take you out of the trade, only to see your targets being hit unfortunately.
This leaves you demoralised, and the remaining hour or two left after the lunch time is something you're so upset that you either make more mistakes or you walk away from the trading terminal and shut trading for the day. Both these situations that you walk away from the terminal or start making mistakes are unhealthy and undesired.
So if you know the small bit of information about how and why, the lunchtime is actually a very critical time, which can actually make or break you as a trader, you can take effective steps to safeguard your money.
On this note, I bid goodbye to you in this video, promising you that I'll bring you much more in terms of how to be better traders, kind of knowledge from my experience in my future videos and I remind you to play like on this video if you agree with what you see.
In the comments section do let me know what you think of this video and what you want me to record next. Subscribe to my YouTube channel if you haven't already done so and click on the bell icon so that you receive alerts about fresh content that is being put up on my channel.
Friends help me reach out to like-minded traders by referring my video to your family and friends, and I wish you have a very, very profitable day ahead. Vijay Bhambwani signing off for now. Thank you for watching. Bye.
Warm regards,

Vijay L Bhambwani
Editor, Fast Profits Daily
Equitymaster Agora Research Private Limited (Research Analyst
Recent Articles