When Will the Coronavirus Fear Fade Away from the Market?
Feb 20, 2020
Editor's note: Join me on Telegram! Get my latest views on how to make fast profits, my Behavioural Approach to Trading (BEAT) System, and a lot more on the Equitymaster Telegram Channel. Join our Telegram channel here!
---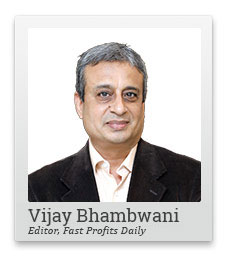 The recent market volatility has rattled traders.
It's mostly driven by the fear of the coronavirus. Specifically, the markets fear its potential for spreading rapidly around the world.
So how should you deal with this as a trader?
In today's video, I dive into this issue and give you my view.
Before you watch this video, please note that I've recorded this from my home. I hope you do not face any difficulties with either the video or audio quality. If you do, please let me know.
Hi, this is Vijay Bhambwani and I'm recording this video from my residence because I found it extremely critical to update my subscribers and viewers of the Fast Profit Daily.
I wanted to discuss with you as to why the Coronavirus scare is so critical to the financial markets, especially the hard assets, the commodities, and the currency markets and since the commodities and currency markets are impacted, by default and by extension, the equities and the bond markets are also seeing a fallout.
You see, the Coronavirus is a lot more prolific, a lot more dangerous, and a lot more fearful, as compared to the previous viruses we've seen which have turned out to be pandemics. Take for example, the SARS virus, the bird flu, the swine flu, the mad cow disease that Europe experienced more than a decade ago. These were contained fairly quickly.
The Coronavirus, especially a few autopsies that have been done on the victim's respiratory systems, have shown extensive damage. Which means this virus is a lot more fearful and fearsome as compared to the previous infections mankind has grappled with and unfortunately for financial markets, it has impacted an area in the world, which happens to be the largest consumer of resources: China.
The Chinese consume one-fifth of all industrial metals, especially copper. They are now the second largest consumer of crude oil after the United States of America. How big is the consumption of crude oil?
Let me give you a sense of some metrics, a sense of perspective here. When a Boeing 747 aircraft is cruising at an altitude of 30,000+ feet, it consumes four litres of fuel every second, which translates to between 10 and 11 tonnes of fuel every hour. So, a typical flight from New York City to London Heathrow Airport, would basically burn something like 82,000 to 83,000 litres of fuel. Now, that's pure aviation turbine fuel, which obviously means a lot more barrels because that's pure unrefined oil.
If you were to Google search the number of airlines that have cancelled their flights to Asia, you will see how much less fuel is now being consumed in the world. Which explains to you why the crude oil price has come down by approximately 20% - 22% after the Coronavirus broke out.
Ditto for industrial metals. Like I reminded you earlier, the Chinese consume one-fifth of all industrial metals year after year and the Chinese are the worst hit with the Coronavirus outbreak. So, their plants, their factories, they're warehouses, their transport systems, are all crippled. Which means the world is now consuming less of these metals. Hey, the prices are bound to fall. Which tells you why the market is in a freefall.
Now if these raw materials are not being consumed, obviously the companies that are manufacturing finished goods using these raw materials are also not really earning profits. Which is what is making the stock markets fall. Which in turn is dragging the currency markets with it and people are running helter-skelter to the relative safety of sovereign bonds. Which tells you why bond yields are therefore, heartening. So, the Coronavirus is not something that can be trifled with.
Warren Buffett, as I have spoken about in the other videos that have recorded for Fast Profits Daily, has a very simple style of investing and especially squaring up an investment. He says, we invest when the justification for investment exists and we hold on to our investment as long as the justification still exists.
So, when will the Coronavirus fear be lifted as a dark cloud prevalent above the commodity markets? My guess is only when mankind has found a workable and a reasonably reliable cure for the Coronavirus.
Till then, the markets will continue to run helter-skelter like headless chickens. Which means that most of our predictions that we were hearing at the beginning of the year about a reflation rally because of the beginning of a year, and maybe, improved chances of industrial commodities rallying from here, are likely to take a backseat.
Welcome to the financial markets where nothing is uncertain! The only thing that is certain is that the markets will remain uncertain.
I will continue to record more and more videos as and when the time demands such videos and I will keep updating all my viewers and my subscribers especially, about what they must do in order to cope up with these challenging times.
If you're watching this video on YouTube, please don't forget to click like on my video. In the comments section, tell me what you think about this video and what other videos you would want me to record in the future for you. Also, do not forget to share this video with your family and friends and spread the knowledge.
Do you know we are also on Telegram now? Please do subscribe to the Equitymaster Telegram group where I keep posting my updates every day. See you there soon.
This is Vijay Bhambwani signing off for now till we meet again. Please do take very good care of your trades and investments.
Thank you.
I hope you found this video informative.
Have a profitable trading day and enjoy the long weekend!
Warm regards,

Vijay L Bhambwani
Editor, Fast Profits Daily
Equitymaster Agora Research Private Limited (Research Analyst)
Recent Articles