How Much Money For Day Trading?
Feb 22, 2021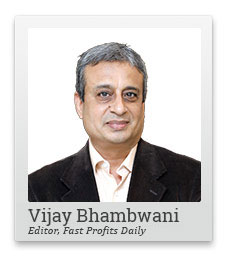 This video will cover a very important aspect of trading: capital allocation.
It is something most traders fail to do properly and hence lose money in the long term.
If you can get this right, you will be well on your way to becoming a pro day trader.
In this video, I've shown you how I go about it. You may prefer a strategy which is slightly different.
Watch the video and let me know your thoughts.
Hi, this is Vijay Bhambwani and in this video, I want to touch upon a very critical aspect of day trading.
Please remember, I am underscoring the word, day trading. A day trader is somebody who initiates a trade in the beginning of the session and does not allow the trade to span over or spill over to the next day. So you go flat out, which means close the positions by the end of the day, irrespective of whether it's a profit or a loss.
So a lot of viewers have asked me this question as to how much capital should they allocate to day trading?
I am going to answer this question in the simplest possible manner, the simple manner being, How do I do it? What do I do in terms of capital allocation? Feel free to disagree with me or even follow their system if you like it.
India's Revival: A Once-in-a-Generation Wealth Making Opportunity
First of all, there are lot of myths floating around in Cyberia, by Cyberia I mean the public domain, www, the internet, call it what you will. There are a whole lot of theories going around as to how much capital you really mean for day trading. Some people actually claim that you don't need too much money for trading, and some people are of the opinion that your account must be, well capitalised to be able to day trade.
I belong to the category, which feels that your account must be well capitalised. You see, trading is a psychological endeavour as much as it is physical, if not more so. How your mind behaves is extremely important, and it's not about the fastest computer, the fastest internet connection, the fastest refresh rate of your trading terminal alone, which will determine whether you make or lose money for the day but it's your idea for the day that will make you your money and believe me, your subconscious mind is extremely alert with what's happening around it.
Take, for example, I have this habit, and it's a habit which I have developed or acquired over many decades. I have been trading this market for 35 years, 28 of which, as a founder, promoter and CEO of a limited company that trades for a living. Now my habit is I take notes of each and every counter where the supports and resistances are likely for the coming trading session, where I would go long, where I would go short, where I would if at all the trade initiates, I would book profits or keep stop losses.
Now unless I do this my subconscious mind is extremely uncomfortable and I'm trading like a wet hen the next day. I lack conviction, jumping around a little too much at the slightest hint of a reversal or trouble or mark to market loss. I get nervous because the preparation is lacking. Similarly, if my account is under capitalised, if there is very little money for the day, I know that I won't be able to stand my ground if the trade goes against me and then again, I am trading nervously.
So number one, your account has to be well capitalised. In this day and age of rising span and exposure margins, it's a myth propagated, probably by non-market participating experts, who don't know much about trading that you can start with 5, 10, 20 or Rs 50,000. Try trading one lot of Nifty, one single lot of Nifty unless you have 125,000 or 130,000 in your account.
Your broker's a computer trading terminal is directly linked or mapped to the back office to your margin funding account where your order will be rejected for lack of funds and if you want to do two, three, four, five lots, which is what you will need to do to make sizable amounts of money, forget about starting with 10, 15 and 20,000.
Now how much of my total capital do I allocate trading? I am talking about me. Feel free to disagree. Feel free to adopt this system. You see, I love talking to people on the weekends, especially like-minded people in the same line of business who put their money at risk in the market to earn a reward called a profit. So these are doers of deeds, not just a master of spoken world.
Now, what I have found a through trial and error is that I am happiest or I'm the most comfortable when I allocate no more than 15 to 20% of my total capital in trading, day trading, and I'll tell you why.
The most underrated, least understood and to most of the people, the most boring market is the fixed income market. It's not surprising because at the end of the day, no matter what happened, you're gonna take home like the word says, fixed income, a fixed amount of money on your investment. People find it extremely boring. They want to be millionaires overnight. Enter a trade, make 500,000. Enter another trade, make one million bucks.
Now it's not really how it works. There are times when you have to dig in your heels into a trade, wait for the trade to fructify and trade is like a military operation, it doesn't really go as per plan. There are a lot of variables. There are lot of unforeseen circumstances which can come between you and closure of trade, and therefore, the trade can get prolonged and it might even reside in a loss.
So your account needs to be capitalised at the same time. When I'm trading, I am trying to put food on the table from my family with the trading profits, knowing fully well at the that back of my mind of the subconscious mind, remember what I told you about the mind being uncomfortable when it is not prepared? The subconscious mind must also know that there is a Plan B if my trading is not really taking off, or if at all, there is a month in which I run a string of losses.
Is that possible? Yes, definitely. You could be making money on some days losing money on the next day. It could happen. The flip flop would give you either very little or no money for the month, or it might result in a lost but hey, the domestic help salary has to be paid. Electricity, telephone and other utility bills have to be paid. So plan B is what differentiates a successful trader from a mediocre one.
A majority of my capital is invested in fixed income. I for one, am a big fan of sovereign debt. Sovereign debt, meaning lending money to the government in investment schemes, which are guaranteed either by the central government or by the state government. I prefer central government securities more than state securities. Not that state government securities are not treated as sovereign but hey, that's just me. Now, why do I prefer sovereign guaranteed securities?
The government runs the printing press. If it all, it finds trouble and repaying me on my fixed income securities in the sovereign guarantee it will simply print currency and pay me back with that money. At least I want to lose that money, which I run a risk of losing in private sector fixed income investments.
So with falling interest rates, I agree that my fixed income is falling. So I need to put in more and more amount of money in the capital to be able to get the same amount of interest per month and since trading is high risk, but it's leveraged, I trade in the future space. Now, the very fact that I am leveraging in futures means that I am taking exposure 10 times more than my capital, sometimes even 12 times more than my capital in the indices, the Nifty and the bank nifty, and I am taking up to six times more exposure as compared to my capital in individual stock futures due to the span margin structure.
If in all you want the intraday limits at this point in time, for this quarter, SEBI has allowed brokers 4x, which means four times the amount of leverage that is normally allowed, and it is to be progressively brought down by 25% over the next four quarters. So that by the quarter ending September 2021, you will not get intraday trading limits. At least that's what the plan is.
So right now, if I don't take brokers margin funding, I'm leveraging my capital 10 times in intraday. If I take brokers margin funding, it's 40 times. In individual stocks, it is 5 to 6 times. If I take brokers margin funding, it is 25 to 26 times. Now when you're taking exposure of such high magnitude, you are obviously taking a risk and reward backlash, which is significantly higher than the delivery guys.
Which means my exposure is enough paying only 15 to 20% of my capitol in day trading towards span margin, mark to market, and exposure margins. A majority of the money is into fixed income, preferably sovereign debt. Of course, you can also allocate money to capitol appreciating assets like equities. Maybe some amount in bullion. Some people may even be big fans of real estate where they feel over 10, 20 and 30 years real estate prices do tend to appreciate and therefore, some allocation must be made there. By all means feel free to invest this money in percentages in allocation methods that are most comfortable with your aptitude and attitude.
But believe me, more than 15 to 20% of your capital in trading would mean that you are going to over trade. Of course, I am going with the assumption that the capital base itself that you have is a reasonable, fairly big ticket size, so 20% of that amount will also come as very reasonable and decent figure.
Friends, this is my therapy, or this is my recipe for capital allocation towards trading. I'd love to hear your thoughts in the comments section and let me know what you think of this. I bid goodbye to you in this video not before reminding you to click light on this video if you agree with what you see. Subscribe to my YouTube channel if you haven't already done so, click on the bell icon to receive alerts about new videos being put up here.
Also help me reach out to fellow like-minded traders by referring my videos to your family and friends. I wish you have a very, very profitable day ahead. This is Vijay of Bhambwani signing off for now. Thank you for watching.
Warm regards,

Vijay L Bhambwani
Editor, Fast Profits Daily
Equitymaster Agora Research Private Limited (Research Analyst
Recent Articles