Make Trading Profits All Day Long
Feb 23, 2021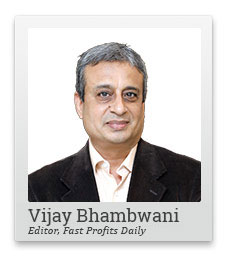 In this video you will receive trading knowledge that you won't find anywhere else on the internet... and certainly not for free.
I will show you how you can profitably trade all the 3 major asset classes, stocks, currencies, and commodities.
Yes, this is possible... and you can do it every day without suffering burn out.
And most importantly, you can give your trading profits a significant boost.
So, dive into the video and let me know what you think about this topic.
Hello friends. In this video, I want to basically take forward the topic of how to be better traders, how to trade for a living, how to be completely independent and run your home and hearth on trading profits.
I'm Vijay Bhambwani. I'm a trader with 35 years of experience under my belt, 28 years of which are as a founder, promoter and CEO of a limited company that trades for a living. Through these videos I want to help reach out to people and help them become very traders and basically have a lot more fulfilling life.
But at the same time, I think trading cannot overwhelm you to the extent that you do nothing else in life but think about trading all day. At the same time, we are pure capitalists. The fact that we are playing in the capital market makes us capitalists. We basically want to make the most amount of money. We want to make this most amount of money in the shortest possible time, and we want to have money and profits at a reasonable risk, or rather, a controlled risk to our capital deployed in the markets.
India's Revival: A Once-in-a-Generation Wealth Making Opportunity
So obviously, when time is of essence, you will try to extract the most out of the markets so that you can be ahead of the competition. Now the one thing that I have over a period of years realised that the more markets I trade, the more diverse is my view. Of course, there are challenges to it also because the way the markets operate are different.
For example, the Nifty might move 100 points in a day, which is routine. As a matter of fact, the Nifty moves a lot more than 100 points in a day. Then go to the currency market and you will see that the USDINR does not even move 25 paise a day from the opening to the close. There could be gap ups and gap downs, but that's all. On the other hand, you could see silver move up Rs 3,000-4,000 a day with relative ease. So the way you trade these markets will be different. Once you master the difference, you will be a frankly very comfortable trading all these three markets simultaneously.
But is that what you want? The markets open at nine in the morning, uniformly all three markets, and at 3:30 the equity markets shut, at five o'clock the currency market shut, and the commodity market shuts close to midnight. So should you be trading all day long and do nothing else? Believe me, that's the best recipe for disaster. You will go from your youth to old age with no middle age in between. You'll risk heart attacks, ruin your health, and the money that you will make will be spent with doctors.
So the best way is to basically pace yourself. Now I am gonna share my secret sauce as to how I have lived in this market or these markets rather, for more than three decades and I am still in a mood to go on as long as my body permits. You see that quality of earnings are as important as the quantity of earnings. You have to remain sane. You have to remain healthy enough to enjoy the fruits of your labour. We are brain warriors like I've said in my earlier videos, and I am going to tell you how to use your brain basically to effectively deploy common sensical techniques so you can trade morning, afternoon, evening, and night and earn profits.
Let's were start with the equity markets. Friends, four days ago, I recorded a video about how lunchtime impacts your trading profits. I began that video by saying that in the morning when the markets open, there's a lot of pent up energy when traders are raring to go. Those who haven't had any exposure at all because they went flat out and closed all their positions in the previous trading session, are eager to jump into the market and start afresh. Those who are carrying over-night positions are anxious whether the positions will open in their favour or against them, which is and a profit or at a loss.
So the maximum amount of volatility is seen in the beginning of the trading session. If it all you know how to handle this volatility, most of your trading profits should be coming in the first half of the trading session. Lunchtime and thereafter is something you can please refer to my video four days ago, which is how lunch time impacts your trading. So you should be focusing on equity markets pre-lunch.
I am sure you want to make some more money. Therefore, you should also be focusing on the currency markets but here again, the European markets don't really open well after 11 am Indian standard time. Therefore, currency might be trading, but volumes are like lacklustre. There is a general lack of market trends. There is a lack of any cohesive pattern in the trading. So typically, around level 11, 11:30, afterwards the currency market starts humming to life.
The RBI also announces the reference rates. Reference rates are prices which the RBI thinks should be prevalent in the market. Of course, if the RBI thinks that these rates should prevail, then the rates do in the currency derivative segment called the CDS on the NSE, these rates tend to go towards the RBI reference rates. If the rates are too high above the RBI reference rates, they fall and if they are too low below the RBI reference rates they rise. So typically, the RBI starts announcing in reference rates well after the European markets open and therefore at that point in time, you should be focused on the currency market.
Now let me tell you a typical thing about the currency markets. The markets shuts at five. You and I can trade up to 5 pm but the biggest participants in the currency markets are the banks. They are allowed to only square up their forward positions in the last 30 minutes of trade.
So if you watch the last 30 minutes of trade off the currency market, you have a head start over the others because you know what? The largest, the most dominant and the most experienced players in the market think like. If they are selling their long positions, they are expecting the markets to be soft. If they are aggressively buying back their shorts, they think the markets will open higher tomorrow. So up to five o'clock, you're completely emersed in the currency markets.
The US market, depending on whether it is summer or winter which is March to November and November to march again, the markets will basically open well after seven pm. Believe me, majority of the turnover, majority of the turnover in the commodity market will come only after the US markets open. So you will start focusing on the commodity market maybe after 7:30 or maybe around eight.
So, you see, this is one good way of selecting the times when you will be present, in which market, and therefore being focused on what you want to do. There is absolutely no point in you spreading yourself too thin and tiring yourself out and driving yourself into bad health. So if I want to take a walk in the park, which I do, I will see to it that I will go after the currency market is shut but the US market is not yet open. So I will utilise that window period to go out and take a walk.
If I want to eat my lunch, I will try to eat my lunch when I have wound up my equity trades pre-lunch and the RBI reference rates have either been announced or are going to be announced after a while so that I don't miss out on any action in the currency space.
Just like I told you about lunchtime in the equity markets, there is a lunchtime in the US markets as well, So when it's lunchtime in the US markets. it may be a little late for many people in India to have dinner, but that is the time I will have my dinner because the commodity markets are a little flat, a little quiet, and therefore, I am not missing out on any trades.
So you see, if you were to apply your mind, you can still stay healthy. You can still not burn out. You can't push yourself to fall ill and yet you will be able to enjoy trading in the markets morning, afternoon, evening, and night. I hope this video helps you to exploit even more profitable opportunities in all three asset classes, which you should do because all of us have a limited shelf life when commercial productivity is concerned. I would want my viewers, my friends, to make the maximum possible opportunity and grab these opportunities with both hands in all these three markets.
So here's to a very, very profitable time ahead. Vijay Bhambwani signing off from this video not before requesting you to like this video and subscribe to my YouTube channel if you liked what you saw. Also click on the bell icon to receive instant alerts of fresh content being put up here. In the comments section, do let me know what you think of this video and what you would want me to record next. Also help me reach out to like-minded people by referring my video to your family and friends. Have a very, very profitable day ahead. Vijay Bhambwani signing off for now. Thank you for watching.
Warm regards,

Vijay L Bhambwani
Editor, Fast Profits Daily
Equitymaster Agora Research Private Limited (Research Analyst
Recent Articles