Will Gold and Silver Prices Fall because of the Coronavirus?
Feb 24, 2020
Editor's note: Join me on Telegram! Get my latest views on how to make fast profits, my Behavioural Approach to Trading (BEAT) System, and a lot more on the Equitymaster Telegram Channel. Join our Telegram channel here!
---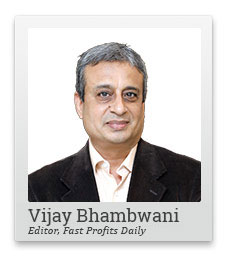 I am very bullish on Gold and Silver. I think their value will go up over time.
However, in the short-term, I think there is enough reason not to be so bullish.
Why do I say that?
The answer lies in the fallout of the Coronavirus.
In today's video, I've played devil's advocate and explained this point of view in detail. I ask that you keep an open mind dear viewer.
Also, before you watch this video, I'd like to inform you that I've recorded this at home. I hope you do not face any difficulties with either the video or audio quality. If you do, please let me know.
This is Vijay Bhambwani and I want to talk to you about something that's been on the top of my mind since in the last few days but I didn't have enough conviction and data to back this up.
Now I have a little bit of ground work done and I want to share this work with you. In my last video on Coronavirus, I said the only certainty in this market can be that this market is really uncertain.
And to take this point further, let's talk about bullion. I have an extremely bullish view on both gold and silver with a slight tilt towards silver because of the higher volatility and the photovoltaic cells, and the demand by electric vehicle industry.
Here again can we basically play the devil's advocate and examine if there are any possibilities of bullion having some kind of roadblock to price appreciation and therefore a counter argument also exists?
The first and foremost, of course, is the Coronavirus, which has afflicted humanity. That cannot be negotiated with. That cannot be bargained with. We can only hope that humanity finds a cure ASAP.
Which obviously means that buying bullion, by a rank and file retail investor, is not exactly his top priority. Surviving, buying medical supplies, and staying alive, would be top of the mind priority right now. So bullion buying is actually taking a slight amount of backseat.
In my video of the US Presidential election cycle, I have said that the US Federal Reserve takes some deliberate steps as far as financial markets are concerned. The first and foremost is the employment data is gravy dressed and made to appear more bullish than it actually is. The US dollar is pump primed and made stronger. Bullion and fuel prices are basically subdued so as to push equity markets higher. That basically gives you a feel-good factor.
So the US election overhang is as it is likely to remain on bullion prices. Which is why I've kept saying, the US election being on third of November 2020, bullion prices will probably appreciate significantly only after the US elections.
But here is some more data. Some time back, I updated on the Equitymaster Telegram group there are swarms of locusts. These are extremely harmful pests. There are very gigantic bugs that come and destroy farm crops.
And believe me when I tell you this, two Locusts, let lose in a two-hectare field early in the morning, can finish the entire crop by noon.
In Africa, the size of the swarms of Locusts that is ravaging the fields across nations can be sometimes as bail as a mid-sized city. They're actually causing a food problem. Now if this problem is not contained, I fear along with the Coronavirus, there can be a possibility of extremely high food price inflation.
That will be a double jeopardy for the markets. Which means there is a big probability, that people will opt to go for cash to be able to buy food. What can be more precious than life? You can't really seriously talk about buying bullion when you can't afford food. So if it all food prices jump, I think asset markets, all assets, will basically see unwinding or selling.
The other aspect. Let's take a look in the calendar year 2019. The top producers of gold were China, top of the world, 400 tonnes in 2019. Australia - 312 tonnes, Russia - 282 tonnes, Indonesia - 190 tonnes, South Africa - 124 tonnes, and Mexico - 122 tonnes.
Do you know what's common about these top producers of gold as nations?
They're all under some kind of financial distress. Yes, you got that right. Australia is ravaged by these fires. The Russians have punishing sanctions imposed on themselves by NATO and the United States. Mexico's petroleum revenue is falling, inflation is jumping. South Africa is witnessing a de-growth which means a fall in the fall in the GDP growth, which is absolutely alarming.
What do you think these top producing countries in the world will do if push comes to shove?
You're right. They will try and sell gold in the market to raise cash. Which is why, let us also keep in mind the contra view that while gold and silver are bullish, no doubt about it, there can also be the possibility that push can come to shove and gold and silver might just witness a little bit of extra selling from these producing nations, if their economy is going to deceleration and they need cash desperately.
As long as you temper your thoughts, you will basically stop yourself from allowing to go overboard and allocating too much money to any asset class, including gold.
I still maintain my view that gold is God's own currency but everything has a cycle. So let's be careful on there. Let's not go overboard and resort to the fine art of asset allocation.
Before a sign off from this video. Let me remind you, we are now on Telegram. Please do subscribe to Equitymaster's channel on Telegram. I regularly post my updates there and you can catch me on the telegram channel as well.
Please do click on like on this video of you're watching this on YouTube. In the comments section, let me know what you think about this video. Also let me know what other videos you want me to record for you in the future.
Also, do not forget to share this video with your family and friends. This is Vijay Bhambwani signing off for now. Do take care of investments and trades. Thank you.
I hope you found the video to be informative and enlightening.
I'll be back again tomorrow with more in the Fast Profits Daily.
Have a profitable start to the trading week.
Warm regards,

Vijay L Bhambwani
Editor, Fast Profits Daily
Equitymaster Agora Research Private Limited (Research Analyst)
PS: Tomorrow at 10 AM sharp, Equitymaster's Co-head of research, Tanushree Banerjee, will reveal details of the Greatest Money-Making Opportunity very few Indians know about! Get the details of this event here.
Recent Articles