I Found My Guru. Have You Found Yours?
Feb 24, 2021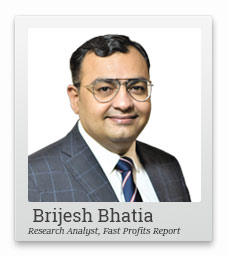 This video is slightly different compared to my usual ones.
This video is all about expressing gratitude.
You see, when I started my career, I didn't know much about trading the market.
I was fortunate to find someone who I could learn from.
This gentleman has shaped my career in many ways. He has always been generous to me with his advice.
The least I can do is share with world this story. I hope I can follow in his footsteps.
How many of you remember your school teacher's name? You're a college teacher's name? Well, you might recollect couple of names of school teachers, probably college teachers, but when you discuss with some of your friends, you might recollect that oh that was a teacher as well.
But the teacher's whose words have hit your mind and some of the sayings or learnings which have really been put into your brains, you might remember that teacher's name easily.
When you start your career as well, when you are new to your professional career, you really needs one of the gurus.
Revealed: 3 Stocks for Potentially Massive Gains
So sometimes your boos can't be your guru because he really needs your work to be done. So as you hunger for learning at the early stage of your career and you try to find more and more stuff where you can learn. So in this video I will be discussing about one person who I believe that has really shaped my starting leg of my career.
I started my career in commodities in 2006. Commodities was, I would say, not well known markets, especially the people who would only know about the gold and silver. The MCX and NCDEX were the two major exchanges and that point of time. The person I'm talking about has really made me learn about more than just giving a market view, just giving a call on how to read the markets. What are the factors that are affecting the market?
So I started in 2006, I was like, what is commodity market? Especially for those who was having a career into an industry where none of your family members have experience. So for those are joining their father's business or family business might be aware of what other terminologies or whatever stuff because of the day in, day out discussions at home, you hear it.
But when you come from a family where they don't know anything about your industry, it's very difficult for a person to learn at an early stage of your career.
So this person is Mr Vijay Bhambwani.
He used to appear on CNBC in 2006. I guess it was a commodity show right from 4:30 to 5 and I used to daily watch that programme not just for the sake of views but for gaining knowledge. The reason why he is leaving a call, maybe a gold, maybe a silver, maybe a copper. I started with a dealer and when the dealer calls a client without any giving any reasons, no one gets a conviction to trade on that.
So at an early stage of my career reasons, which Mr Vijay used to speak on the TV, that was eye catching for me and there's a perception in the industry that the people who are coming on TV a just blah blah, bluff bluff!
But you have to cherry pick the person who really helps you to maximise your knowledge, to multiply your knowledge and can really implement in your probably day to day life or if you are doing some of the part time trading also.
When Vijay used to appear on the TV he used to give a clear cut answer and do not miss his book on commodity trading. The guide on commodity trading. It's a fantastic book that one should read when it comes to the commodity markets. So his knowledge, wide area of being a geopolitical being a technical, having a derivatives and being commodity and being into the markets for nearly 30-35 years, you can know the bouquet of knowledge a person can have be it any industry. Those who are into the market for so long they might know it in and out and his knowledge is like, unbelievable.
So I guess I got enough to meet with him in 2011 when I was attending an FMC training in Mumbai. He was a lecturer over there, a guest lecturer over there and I got an opportunity to meet with him. Then I got an opportunity to meet with him at the CNBC studio, when I was doing show for equity. He was doing a show for commodities and we were in the lobby, the lounge were guests sitting. So I got an opportunity to meet him there as well.
It's always I would say, the encouraging part that when he'll discuss various stuff with you, be it any part of the markets, as I said, be it geopolitical, the fundamental, technical side and he will give a precise answer. See, going right and wrong into the markets are part and parcel of the game and every trader, every research analyst might go through this journey of going right and wrong but sticking on with those knowledge, sticking on with that stuff of why I am giving a call, why I should trade this gold, why should I trade silver, why should I go long on gold, go short on copper, the reason behind this is very much important.
And he goes that extra mile to get in touch with the jewellers in Mumbai, the metal scrap traders in Mumbai or other parts of India. He tries to connect with most of the contacts he has globally to gain more and more conviction on his view.
So there are two things when you are doing research. One part of your research is the prices and one part of research is what the on ground people are facing. So he connects with both of them and that best part of his research, I would say.
I have seen it's very rare that people do such kind of research. Even if you're looking at the fundamental side of any company where you meet management and you meet the dealer of a car seller. So if the views are diversified you know that something is wrong. So he does such kind of research when it comes to giving a small call as well.
So his wide knowledge has really encouraged me, motivated me. He will always stay my guru. The reason I did a video on this in today's Fast Profits Daily is because I always wanted to share, I wanted him to know that how the simple stuff that he uses are motivating many of them and when you write a book or come on the TV and speak, you are reaching out lakhs and lakhs of people but you are not knowing that you are encouraging them, motivating them.
But when such people know that this book, his words are encouraging the people, it really helps him as well it is encouraging for him as well, it is motivating for him as well. So the reason was so that people should know that some of the stuff which they are sharing is equally important for others.
Again, I would say, he is a gem of a person and now I'm working in Equitymaster with him, I realise, that what kind of down to earth person he is, the kind of research he does and I am very glad to work under his product the Fast Profits Report where we do equities and commodities both.
So it's my honour to work with him and Vijay ji, I would say, I'm on cloud nine when I'm working with you. Thanks a lot. Thanks for watching this video.
Warm regards,

Brijesh Bhatia
Research Analyst, Fast Profit Report
Equitymaster Agora Research Private Limited (Research Analyst)
Recent Articles