This is What You Must Know as an Options Trader Today
Feb 27, 2020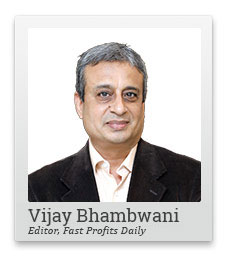 Options have become popular among experienced traders as well as novices in the market.
Options selling (i.e. writing) especially, is now seen as viable source of income.
I've been an options trader, for many years and I'm happy that so many traders are now actively involved in this exciting segment of the market.
But I must caution you here.
Options are a great tool for earning regular income from the market but it's not as easy as it used to be.
In today's video, you will find out why...
Hi, this is Vijay Bhambwani and I begin by inviting you to join the Equitymaster's Telegram channel where you get updates 24/7. The name of the channel is Equitymaster Official. Please do join this channel. I'll see you out there.
Coming back to the video, this video is about how options trading, especially option writing or options selling, is turning out to be more challenging.
In my earlier videos on Equitymaster, I have said how India will have to fight a three-pronged war.
Number one: reduction in taxes which we have seen.
Number two: reduction in interest rates, which we are witnessing right now.
Number three is allowing the rupee to depreciate slightly versus the dollar.
Now, option writing is directly linked to the interest rates. One of the few Greeks that go into pricing of options is the risk-free return rate or the RBI sovereign bond rate, or the fixed deposit rates. As you are witnessing, the bank deposit rates over the last couple of years have been falling.
In my article of June 2019 on Equitymaster's website, I wrote how the erstwhile badla financer or people who used to lend money in the old badla system of carryover of trades in the Bombay Stock Exchange, have now turned to option writing as a means of fixed income. Do go through this article to get a sense of what I'm trying to convey to you in this video.
In my other video, I have also said how without actually knowing it, we are all actually options traders.
I gave you an example of trying to buy a house. If you were to buy a house which is, say at a price of Rs 1 crore being offered to you and when you pay Rs 1 lakh token or a deposit amount, you are booking that house at a price of Rs 1 crore by paying a token of Rs 1 lakh. Now this Rs 1 lakh is the option premium and the strike price is Rs 1 crore.
The beauty of this is that if the flat owner knows that his flat is actually worth Rs 90 lakhs and he is striking up a deal at Rs 1 crore, he knows that sooner or later, the buyer of the house will realise that the house is not worth Rs 1 crore but only Rs 90 lakhs and therefore, will not by the house, in which case, he will forfeit that Rs 1 lakh deposit.
The owner of the house is actually selling a call option on that house. He is betting on the fact that one of the two things will happen.
Either he will be able to sell this house which is actually worth Rs 90 lakhs for Rs 1 crore and therefore pocket Rs 10 lakh in profits.
Or he is betting on the fact that the buyer of the house will realise his folly, that the house is actually worth only Rs 90 lakhs and therefore will walk away by giving a non-refundable deposit of Rs 1 lakh in which case, the house owner gets to keep the Rs 1 lakh and his own house still under his possession.
Similarly, up to a couple of years ago, the distance between the spot price, which is the prevalent market price in the deliverable segment and the strike price in the options that you were writing, used to be very wide.
Which means, if you know your house was worth Rs 90 lakh, you could offer it for Rs 1 crore, Rs 1.1 crore, Rs 1.2 crore, etc. The higher the difference between the actual or the spot price and the strike price, the better is the probability that you will pocket the premium because the buyer will realise the folly that the house was not really worth that much.
But the challenge is now laid out by falling yields the world over. More than a dozen and half countries are now offering zero to negative years on their sovereign bonds.
There is a mad rush to generate absolute returns from fixed income products, to the extent that one of the largest markets in carry trade, carry trade means where you borrow money from a low interest-bearing economy and you invested in a high interest paying economy, one of the best carry trades in 2020 is surprise, surprise: Egypt, a country that is politically unstable and economically not very strong.
Why is the money going there?
Because it is yielding a good differential between the interest paid from the low interest-bearing economy where you borrowed from and the higher amount of interest paid by the Egyptian securities markets.
This kind of a mad rush to generate returns is only indicating that desperation of the investors to extract as much as possible by way of returns on fixed income securities.
Similarly, just as I told you, a house owner, knowing that his house is actually worth Rs 90 lakhs, was able to strike up deals at Rs 1.1 crore, Rs 1.2 crore, Rs 1.3 crore, etc knowing that the house was not actually worth it, was available in the past as an option.
But now, if you actually realise, the window period between the spot and the strike price has come down.
To the extent, people are willing to write options very close to or near the money or near the spot price, which means they are willing to take an excessive amount of risk to generate fixed amount of income.
Therein lies the challenge for the options trader, especially the options writer. This is something that the Fast Income Alerts subscribers will also face but hey, we are there to lend our expertise and experience and try and see that you get, as far as possible, the best deals available in the market.
But the falling income scenario is not something that any individual or any adviser can control. It's a systemic problem and it's a worldwide problem. Countries like Japan, which are going to ZIRP, which is zero interest rate policy and other countries like Denmark, which have NIRP, which is negative interest rate policy, are basically exerting an excruciatingly high amount of pain on fixed income investors.
It's something I have spoken about in my video on the outlook for the year 2020. It's going to be a challenging period for a fixed income investor.
And what is challenging for a fixed income investor will also be a challenge for the option writer for the simple reason that the option premium is determined by, in addition to other factors, by the risk-free return rate and as India reduces interest rates, the returns on your option writings will also compress by that margin.
But like I said, we're going to work overtime and try and mitigate as much as possible so as to bring you the best deals available in the options market. We are watching your back for you, remain assured.
Before I sign off from this video, let me remind you click like on this video if you're watching it on YouTube.
In the comments section, do let me know what you think of this video and what more videos would you want me to record in the future.
Do not forget to share this video with your family and friends. This is Vijay Bhambwani signing off for now. Please do take very good care of your investments in trade.
Thank you.
Have a profitable trading day. I'll be back tomorrow with another video.
Warm regards,

Vijay L Bhambwani
Editor, Fast Profits Daily
Equitymaster Agora Research Private Limited (Research Analyst)
Recent Articles