Inflation & Your Investments
Mar 4, 2021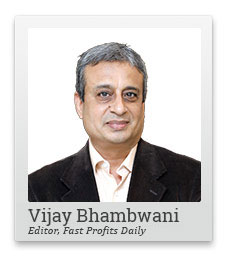 Rising inflation is hurting our wallets.
But it is also hurting our investments and trades.
How?
Well, this is a touchy topic. It makes some people uncomfortable. After all, we like the idea that we are in control of our money.
Unfortunately, this is not true.
In this video, I'll show you how inflation is affecting your money in the market and why you need to keep a close eye on it.
Let me know your feedback on this important issue. I love to hear from you.
Hi, this is Vijay Bhambwani and in this video I want to talk about a very touchy topic.
A few of these words and phrases that you would have heard in the past few days or maybe a week or two, and you didn't know what really to make out of it, how it impacts your portfolio, how it impacts your investments and your trading, and because you didn't know where to go, you basically were left wondering as to what it all meant. Now I am going to shed light on this as best as I can in this very short video.
Friends I'm Vijay Bhambwani. I'm a trader with 35 years' experience under my belt, 28 of which are as a founder, promoter and CEO of a limited company that trades for a living.
QUICK REQUEST: Grab Your Free Spot at Richa's Summit Now
You see, over a period of time, it's not my intelligence, but it is compulsion, they say necessity is the mother of invention, I realised that if I want to put food on the table for my family with trading profits, it became my responsibility to look at as many aspects as far as possible, which would impact the prices of securities that I was trading or investing my money in or the company's money in.
Now, the more I looked it factors that impacted prices, the higher was my probability of success. Remember, we in financial markets, deal and probabilities and not certainties. So if I wanted a higher probability of success, I needed to look at as many factors as possible.
Now, inflation therefore, became a study that I focused on. Some of my Weekly Cash Alert subscribers who have been with me for a while now and some of you who have seen my videos and online launches and products have heard me and Rahul talk about how I used to go to the vegetable market. As a matter of fact, I still do. I go to the vegetable market, collect prices of 16 vegetables, five or six fruits, milk, eggs, meets etc, and I jot them down.
If out of these items, out of these approximately two dozen items, more than 80-85% are inflating, I think the markets will basically run into a wall of resistance. So what does inflation have to do with your investments and trades?
You see, there are various schools of economics and various schools of thought, and there is a school of economics called the Austrian School of Economics. If you Google search it, you'll get more details on this.
Now, the Austrian School of Economics is a theory that subscribed by some economists who believe that inflation is nothing but a misery and therefore the inflation index is also known as the misery index.
Inflation is nothing but the rise of prices in both essential and/or non-essential items. The more your essential items become expensive and these are items that you cannot do without, for example, food, shelter, clothing, medicines, the more these items become expensive, the more money or more portion of your earnings you will be spending in fulfilling your consumption wants of these essential items and therefore, the smaller and smaller will be your savings that obviously you will put in the stock market as a trader or as an investor.
So suffice it to say that higher the inflation, the lower the amount of money a retail investor will be able to invest in the market. I am emphasising on the word retail investor. Please understand that after 9/11 occurred, in 2001, the US Federal Reserve started the printing unbacked currency at the fastest pace possible and flooded this money in the financial markets, thereby strengthening the institutional or corporate and mutual funds/hedge fund investor.
So over a period of time, the retail investor, his presence in the market will go down and the markets will become more and more institutionalised. In the world of trading, the more the span margins become expensive and higher, the fewer will be the retail traders who will be able to trade in F&O. They will basically be forced to go into either delivery mode or into the mutual fund mode, which means their proactive participation on a day to day basis in the market will go down.
You see whether the margin goes up as a trader, in which case you will trade less or inflation goes up in the world as an economic process where you have less money left to invest in the market, your presence in the market will be curtailed.
So over a period of time, higher inflation means that there will be stronger hands, institutional hands, corporate hands and pension and mutual funds, which will be investing in the market more than you will be able to.
It's because inflation is rising that the fixed income or the bond investors are feeling that the negative or very poor yields that they are getting on the bonds are not enough. They are selling their bonds, sending bond yields higher, and demanding higher interest rates, which will basically make the cost of capital higher.
It will make the cost of doing business and trading and investing is also a business because money has a cost to it. it is making all types of business, including trading more expensive, which means that you are now slowly feeling resistance on the upside because the cost of money might just go up, which is what inflation does. Remember the Austrian School of Economics, which says inflation is nothing but misery, and the higher the inflation, the higher will be the misery.
Those of you, Aha! This is, of course, a joke. Those of you who have the misfortune of being connected with me on social media would have been bombarded with factual evidence of the Food and Agricultural Organisation (FAO). The website's name is www.fao.org. This is a subsidiary of the United Nations Organisation and have given new factual evidence as to how food prices, global food prices are at the highest after July 2014.
Don't take my word for it. Visit the UN FAO, food and agricultural organisation and you will find out food inflation is the worst kind of inflation. This is the item which you cannot live without. You will have to buy this for yourself and your family and the more expensive food becomes less money you have to invest and spend anywhere else.
So the FAO has been warning that in some parts of the world, food inflation might hit even as high as 25 to 30%. Now this, as for the Austrian School of Economics, is misery index hitting a level where it is screeching like an air raid siren. Now these are not levels of inflation that old school of thought people like me would want. We basically do not want very high inflation. In a growing economy of course, inflation will occur, but food inflation to the extent where it will be in high double digits and stick around there, is something that is going to make people miserable.
This means that the rich will become richer. The poor will become poorer. The iniquity or the difference between the wealth distribution will become even more sharper and the way investments or the hurdles to investments and trading are coming up, it will mean that the markets will become more and more institutionalised.
So you see, I am not just raising red flags out of sheer want of raising a red flag, or I love raising red flags or I am a bear by heart. These are factual evidence is which are coming from multilateral agencies. A multilateral agency is an organisation which is for social good, spread across many, many countries in the world, and the UN is a multi-lateral agency.
Now when the UN says that food inflation is rising with facts, figures, data, excel sheets, country by country split of food inflation, you basically cannot deny this hard evidence. Now keep watching the inflation figure, and if you are interested like me, go to the vegetable market once a week. Note down prices of fruits and vegetables, eggs, milk, poultry, etc on a week on week basis, and slowly you will see a pattern emerge.
If food inflation is going up for 3 to 5 weeks in a row, you will realise that certain things happen. For example, the USDINR rises, which means the rupee becomes weaker and the dollar becomes stronger. You will see that the Nifty starts approaching a resistance on the upside.
This approach is called weight of evidence approach. As you put together this evidence you will realise that there is a pattern to it. You can definitely make a pattern out of this and use this information to trade and invest better for yourself. I repeat, my friends, everything that happens in the money markets or financial markets happens for a reason, and that reason itself is financial. Inflation is also a financial event. You must watch it for your sake and the sake of your family.
On this sombre note, I bid goodbye to you, but not before reminding you to click like on this video if you agree with what I said. Subscribe to my YouTube channel if you haven't already done so. Keep the lines of communication going by commenting in the comments section in this video and help me reach out to fellow like-minded investors and traders by referring my video to your family and friends.
Thank you for watching me. Have a very, very profitable day ahead. Vijay Bhambwani signing off for now. Thank you.
Warm regards,

Vijay L Bhambwani
Editor, Fast Profits Daily
Equitymaster Agora Research Private Limited (Research Analyst
Recent Articles