How to Predict the Future with the Markets
Mar 2, 2020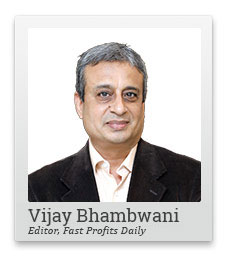 Markets have one purpose: To discover prices of everything which is being traded on it.
How does that happen?
The market essentially discounts the future. It tries to anticipate events before they happen and set prices accordingly.
This process isn't always accurate but when it is... you can make a lot of money.
In today's video, I'll share with you, real-life examples of how to use the markets as a guide to anticipate events before they happen.
Enjoy!
Hi, this is Vijay Bhambwani and I am with you today to talk about a very revealing aspect of the market.
I am very excited about this aspect of the market which is linked to behavioural finance: Do markets, and especially commodities and currency markets, warn of future events or events which have occurred but have not yet been revealed in the free domain or the public domain?
A very well-known CNBC anchor Ron Insana, who later on started his own hedge fund, wrote two exciting books on the markets and in one of those books titled Message of the Markets, he narrates two incidences during his tenure with CNBC as an anchor. I will walk you through these two incidents and with a learning a kind of incident of my own.
The US is constantly under attack in the Middle East by radical forces. In one such incident, a US Embassy was bombed by radicals, who were ultimately linked to Colonel Muammar Gaddafi of Libya and his armed forces. Obviously, the US was expected to retaliate.
Now Ron Insana, as an anchor with CNBC, was tracking a US based company listed on the New York Stock Exchange, which manufactured denim fabrics.
So a denim shirt like this, denim jeans, etc and to cut costs, this factory had been located on the outskirts of Egypt, almost on the border with Libya, close to Libya.
Without any warning, the stock price of this denim manufacturing company actually started tanking and calls to the management evoked the standard reply of all is well.
Now Ron Insana started digging around and trying to do a cursory check on whether Egyptian cotton prices have gone up because of which the raw material prices were expected to go up, and profits come down etc. He found nothing of that sort happening and then, he requested the Middle East bureau to go out and check on the company's plant in Egypt. To his amazement, the plant was shut.
Now it was a question of putting two and two together. The plant was shut and the US personnel had been told to go home. Ron Insana said, this was a screaming message from the markets that the US was expected to launch a strike on Libya and guess what?
The US Air Force bombed Muammar Gaddafi's home in Libya, in which his young daughter died. This is the way the market was basically warning the investors of a future catastrophe or a future strife or geopolitical tension coming up in the future.
Let me tell you an even bigger incident that happened. April 1984. The Chernobyl disaster.
Now Chernobyl is in that part of Russia, which is called the breadbasket of Russia. Just like Punjab and Haryana is India's bread basket, this is an area where Russia grows most of its wheat and even exports it.
We all know the Chernobyl nuclear reactor simply had a meltdown and there was a huge amount of leakage of radiation, with more than 65 lakh people getting directly or indirectly impacted, lakhs of cattle and goats to be slaughtered for the fear of spreading Cancer.
Obviously, the crop of wheat also had to be burned.
Now the Russians being Russians, in those days it was a Soviet era, threw an iron curtain over the incident.
Of course, the US spy satellites and the US Pentagon knew about it but in trying to accommodate a fellow head of state, they basically kept this news under wraps and evaded revealing anything to the media.
To the amazement of Ron Insana, he saw some pretty obviously Russian looking officials at the US bourses booking millions of tonnes of futures of wheat.
Now this was very alarming and a very surprising aspect. Why were two bitter competitors, bordering on enmity, helping each other? Why were Russian government officials buying wheat by the millions of tonnes from the American bourses?
He put two and two together, thinking that there would obviously be some kind of a problem in Ukraine. The Soviet bureau of CNBC again found murmurs or rumours of some kind of a problem at Chernobyl.
This is how Ron Insana basically came to know of a problem at the Chernobyl nuclear disaster site before the news was even put out in the public domain.
So yes, markets, especially commodities markets, do give you very loud and clear indications of an upcoming problem.
Let us not forget how gold and silver zoomed up a few days before the 9/11 terror attacks on WTC in America and other sites of course.
Somebody who knew these terror attacks were going to be launched, went long in sizable numbers in gold and silver, pushing up the price and at the same time hammering the US dollar and airline stocks in America. So the financial markets invariably do scream out loud.
Let's go forward to 2018. In those days, I was doing a series of television interviews with a business channel.
And if you remember, Kim Jong Un, the dictator of North Korea, was firing missiles almost every weekend. So the burning question on every a television anchor, the investor's mind etc, was whether North Korea and America, were going to go to war, if not immediately, at some later date?
I remember giving an answer to the anchor, saying, I don't think there is going to be any war for the simple reason that if any war or any such military strike was imminent, the first thing you would see is the US commodity market reacting.
So prices of wheat orange juice, live hogs, cattle, etc, especially food and essentials, shooting up on the commodity exchanges.
And if you were to check the price charts of these commodities of that period, you will realise that these markets were not moving at all.
If at all, wants there was going to be a war, I would have expected at least a few percentage points, if not upper circuits, in these essential commodities in the markets. Since that was not happening, I was very confident and advocated to my viewers on that channel that you should not touch your portfolio investments out of fright or anticipation of an unlikely war.
Guess what? My reading of the market was spot on. As you will see from 2018 onwards, we have seen no military strike. No war between the US and North Korea. Sure enough, there's been a lot of sabre rattling. There's a lot of rhetoric. There's a lot of tough guy talk but no military action.
So do keep your ears to the ground, especially in the commodities and currencies market. These are the best guides that can tell you whether there is any crisis impeding. We are not talking of natural calamities like earthquakes, landslides, volcanic eruptions. Etc.
These, of course, come as a hand of God or out of the unknown, which we have no clue about but manmade events? I would bet my money on it!
And are the commodity prices telling you?
Hey, I think everything is under control. I don't think there is any risk of imminent war right now. Lay yours fears to rest and hold on to your portfolio.
Before I sign off from this video, let me remind you to like this video if you're watching it on YouTube. In the comments section, please let me know what you think about this video and any topics that you would want me to record in my future videos.
Please also do not forget to share this video with your family and friends and good news here... we are now on telegram!
Please join Equitymaster's Telegram channel and get updates 24/7 on your cell phone. This is Vijay Bhambwani signing off for now. Do take very good care of your trades and investments.
Thank you.
I'll be back again tomorrow with another video.
Have a great start to the trading week!
Warm regards,

Vijay L Bhambwani
Editor, Fast Profits Daily
Equitymaster Agora Research Private Limited (Research Analyst)
Recent Articles