Before You Make Your Next Investment Decision, Think Lycra Tights...
Mar 3, 2020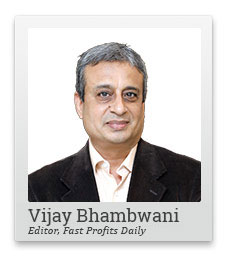 Who would have ever thought that lycra tights would form the basis of a very critical investing lesson.
Today I discuss how you should go about deciding where to get advise from when it comes to investing your money.
This is very critical. More so in today's environment when I am seeing research houses and brokerages cutting corners to save their margins...at your expense!
Watch now...
"Hi, This is Vijay, Bhambwani, and today I am going to talk to you about various asset classes in the market and whether one size actually fits all.
Women now adays are wearing Lycra tights instead of salwars. The beauty of the Lycra tight is that you get it in various colours to go as beautifully suitable combinations with any kind of tops and kurtas. Besides being made of Lycra or a stretching material, one size fits all, so it's a free size. In financial markets, does the concept of one size fits all really exist?
In this day and age of cost cutting, rationalization and trimming of the workforce, I am seeing a lot of advisory companies brokerages, mutual funds, etc. giving multiple tasks to the analysts, the research analysts, fund managers, advisers, portfolio managers, etcetera. And the guy who's actually an equity specialist is also being given the task of commodities, maybe currencies, maybe even bonds or combinations, there on. Is this really a workable proposition?
Yes, it does save costs, but does it result in a equally good amount of advisory output, as it would have been. Should Equity advisors stick to equities, commodities adviser stake into commodities or a currency advisers taking two currencies, respectively?
Honestly, the answer is no.
The reason is the hue, the character and the characteristics of each asset class.
In commodities, there is no such thing as a profit and loss account or a balance sheet of proper crude oil, natural gas, aluminum, gold or silver to actually analyse.
In currencies, the supply and demand of currencies is so big that, apart from technical analysis, there is little you can do.
In the bond market, you do not know what the government will do next.
In the equity market, the demand might be variable because the public sentiment will change from hour to hour, but the supply is constant because the paid up capital of a company does not really change.
So each of these asset classes, even though they have a pull and push on each other, has its own use, unique tone and tenure.
Take, for example, currencies. In 2020 as we speak, currencies are traded in four decimal points, so the USD-INR is not 72. It's 72.00025 by 2022 if not 2023. The International Derivatives Association is talking about trading currencies in six decimals.
Can you actually practice the technical analysis that you use for trading crude oil, which is traded in multiples of 1 rupee and extrapolated that as a template on trading the USD-INR which is traded in four decimals? The answer is no.
You have to be laser precise in currencies, whereas you might allow a little bit of a leeway, just a little in commodities.
So the same metrics, the same studies will not work, which means that you cannot really have one size fits all in all asset classes. You do need specialized services for all asset classes as per your needs.
So if you are looking out for an adviser in a bond market or a bond mutual fund, do talk to somebody who specializes in debt instruments.
For your requirements in currencies and commodities, do come to somebody like me who handles the weekly cash alerts.
For equities, go to somebody like Apurva, Rahul Shah or Richa.
Which is why we basically believe at Equitymaster in segregating the duties of handling and monitoring various asset classes across different people. We know that each market has its own unique characteristics.
In order to be a holistic investor, you must definitely acclimatize yourself, familiarise yourself with the wearing asset classes that you're going to invest your money in. By all means play favourites with one asset class but do remember that what you do in one asset class does not necessarily work like the other.
It is your money, it is your duty, right and responsibility to know what you're doing with your money.
Do remember that unlike Lycra tights, one size does not fit all in financial markets.
Before I sign off from this video, let me remind you to click like on this video, if you're watching it on YouTube.
Do share this knowledgeable video with your family and friends and in the comments section, do let me know what you think about this video and what future videos you would want me to record for you.
Do not forget to subscribe to our telegram channel where we put up our views and news, 24/7. It's called the Equitymaster Official Telegram Channel. See you soon .
This is Vijay Bhambwani, signing off for now.
Do take very good care of your trades and investments.
Thank you.
Warm regards,



Vijay L Bhambwani
Editor, Fast Profits Daily
Equitymaster Agora Research Private Limited (Research Analyst)
Recent Articles