Dollar at 80?
Mar 3, 2021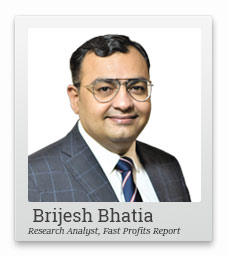 Recently, the Indian rupee fell against the dollar. It wasn't a big correction, but it was significant.
However, most people in the market are not talking about the USDINR. If the rupee were to depreciate, I think most traders and investors will be caught on the back foot.
Remember the currency market affects all other financial markets. Thus, you need to be aware of this development and how it could affect your trades.
In this video, I'll show you why I think there is a possibility of the rupee falling to 80 against the dollar in 2021.
Let me know your thoughts in the comments.
Hi viewers. Welcome to the Fast Profits Daily video series. Myself Brijesh Bhatia, senior research analyst and editor at Equitymaster.
So every time we bring something new for you all, we are covering equity, we are covering bonds and today's video, we are covering currencies as well for you. So one currency, which is the flavour for all and everyone keeps an eye on it, be it forex trader be it the equity trader, be it the investor or be it the commodities traders. So today we are covering USDINR which is dollar against the rupee.
FREE Event: The Great Indian Wealth Project
So if we look at the recent spike in the momentum last week where it has gone cover on 72.2 72.3 to around 73.5 that spike has really been an eye catching for me. Why? It has taken support at the decade long trendline.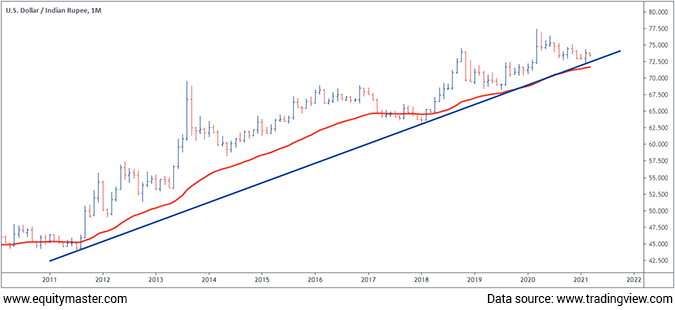 Now, if we look at the chart over here on the screen, this is a monthly chart of the USDINR right from 2009-2010 and if we look at the trend line connecting the lows, these lows have held very, very strongly and at current point of time in 2021, this currency has taken right support at the decade trendline and it has resumed its upward journey.
So if you look at the recent movement, it was majorly a consolidation and now the momentum has spiked up towards January which is in the bulls' favour. We think this is not just a spike or a momentum, but it is the resumption of the fresh trend? So I believe that if these levels are held strongly, the 72 levels is held strongly and the monthly trendline is not broken on the downside, we are heading for much higher.
Now if you look, the 30 exponential moving average monthly is acting as a major support here as well, and it is just right at the support of trendline. So it is a double support for me with the trend line 30 exponential moving average is very strong at the current point of time.
So till 72 is held, the bulls are in favour of dollars as of now and rupee is going to become weakened.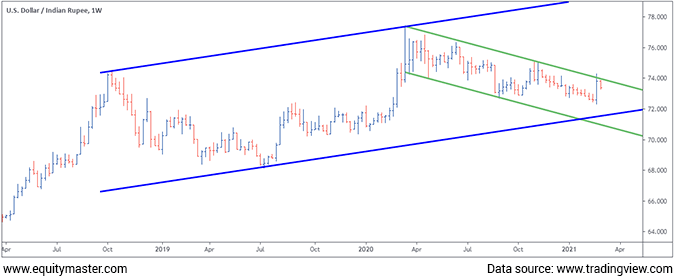 Now the second chart on is the weekly chart. Now, if you look at the weekly chart, there are two channels, first, the rising channel and the falling channel. First if we look at the rising channel, the currency has taken support over here at the lower band of the channel now and it is heading on the higher side.
If you look at the falling channel, it is yet to be broken out, which means that the minor trend or the short term trend is yet to be broken out, giving in confirmation that the price trend has emerged.
So if we look at the recent time, if the 73.80-74 following trend and resistance is broken out, it is more convincing that 72 will be held as a strong support zone and we are heading to much higher. These 72 low, once 74 broken, this 72 low will be the key level for 2021. Once 74 is broken we think that for 2021 we are forming the base and it is being confirmed that 72 won't breach in 2021.
This is what I believe convincingly that this set up is very, very strong in favour of the bulls now, so 74 will be very, very crucial for a traders point of view from a hedges point of view as well.
So once 74 is broken, I think we are heading for dollar towards probably very much higher levels. 78-80 cannot be ruled out, though I am not taking from a minor or short term trades point of view, but certainly from the medium term point of view, from 2021 point of view, these levels will be very, very crucial, confirming that the bulls are in favour and 72 is the base for 2021.
So let's hope that as, we are Indians, we always look for our markets in our favour. So if in case 74 is not breached and we break 72, so it will be boom boom for us. So definitely these two levels should be watched 72 and 74 in the recent times for currency to get a conformation, whether it is in bulls favour or it in the bears favour.
Before signing off I would request you to click on to the like button and also click on the subscribe button so that we as soon as we post the videos, it's in your list and in case you press the bell icon, you will receive notifications as soon as we post videos as well.
So signing of Brijesh Bhatia. Thank you.
Warm regards,

Brijesh Bhatia
Research Analyst, Fast Profit Report
Equitymaster Agora Research Private Limited (Research Analyst)
Recent Articles